The continuing challenge of rising rice prices 
Rice makes up 8.9% of the basket of goods and services used to measure inflation. How we manage the price of rice in periods of volatility is critical.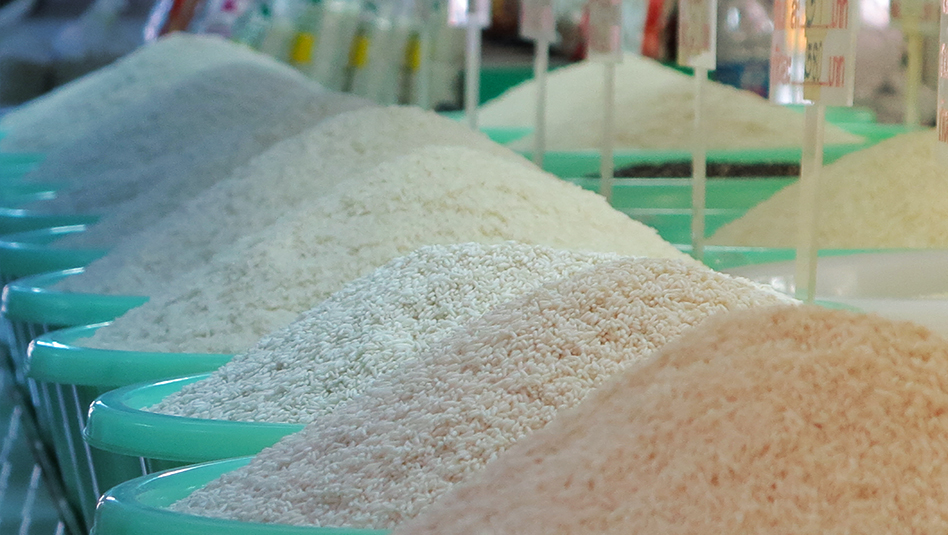 Headline inflation steered to the upside at 5.3% in August 2023 after a consistent downtrend in the prior months, driven primarily by the uptick in prices of food and non-alcoholic beverages, particularly rice prices.
The August inflation print came in higher than our anticipated print, which indicates that the upside risks projected from increasing global rice prices have already fed into headline inflation faster than expected.
Rice inflation has increased sharply to 8.7% in August 2023 from 4.2% in the previous month (see below). This has been the highest uptick since the 2018 rice crisis where rice inflation soared to its highest level of 12.6% in October 2018, bumping up headline inflation to 6.9%.
As we know, rice captures 8.9% of the Consumer Price Index (CPI) basket, and therefore any significant changes in rice prices translate to lower or higher headline inflation.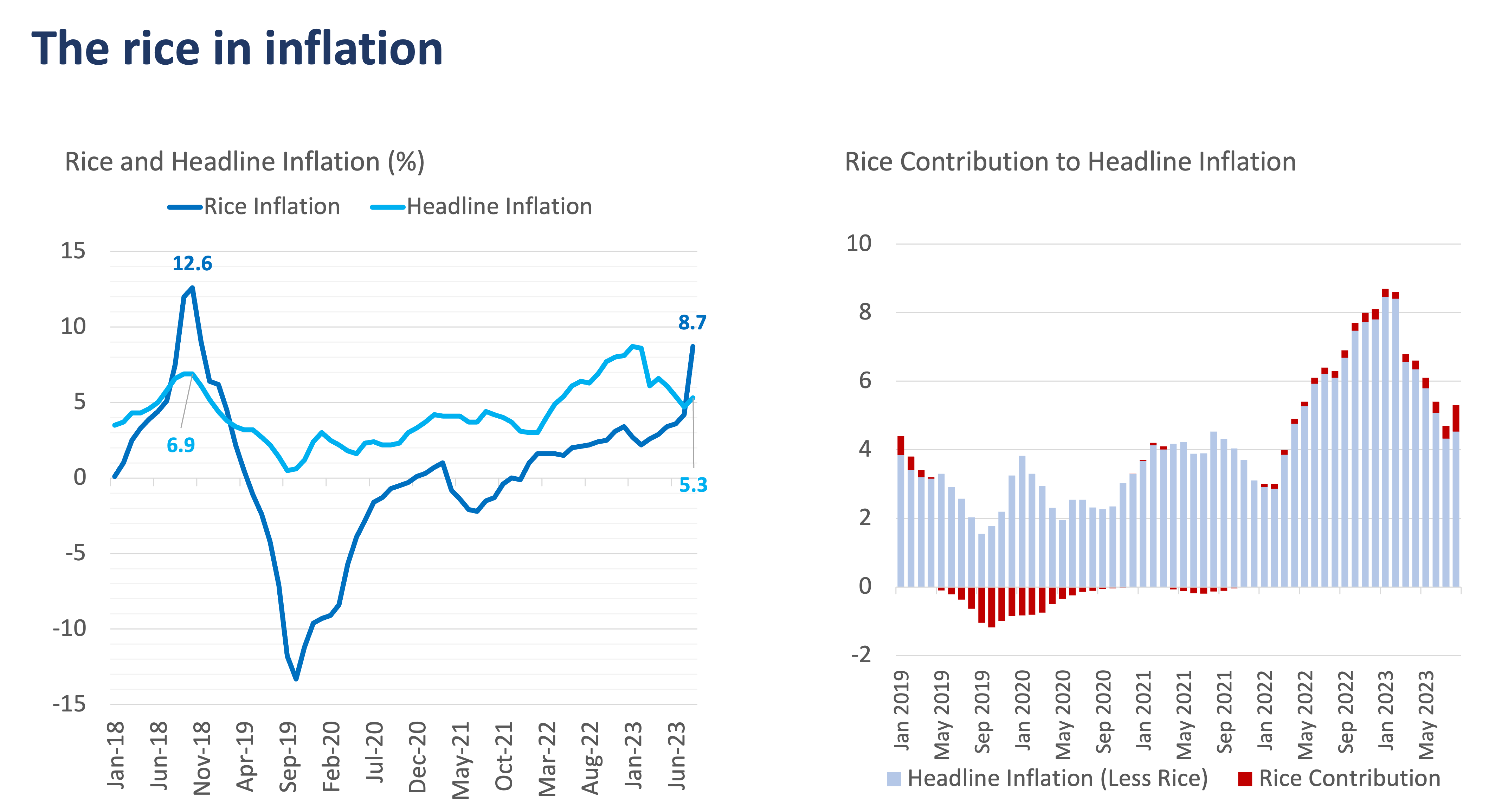 Source: DA Price Monitoring
Retail prices of rice from the regular-milled to the special kind have gone up sharply to PHP 43 – PHP 60 in August from PHP 38 – PHP 52 in NCR markets, an average of 16% year-on-year growth.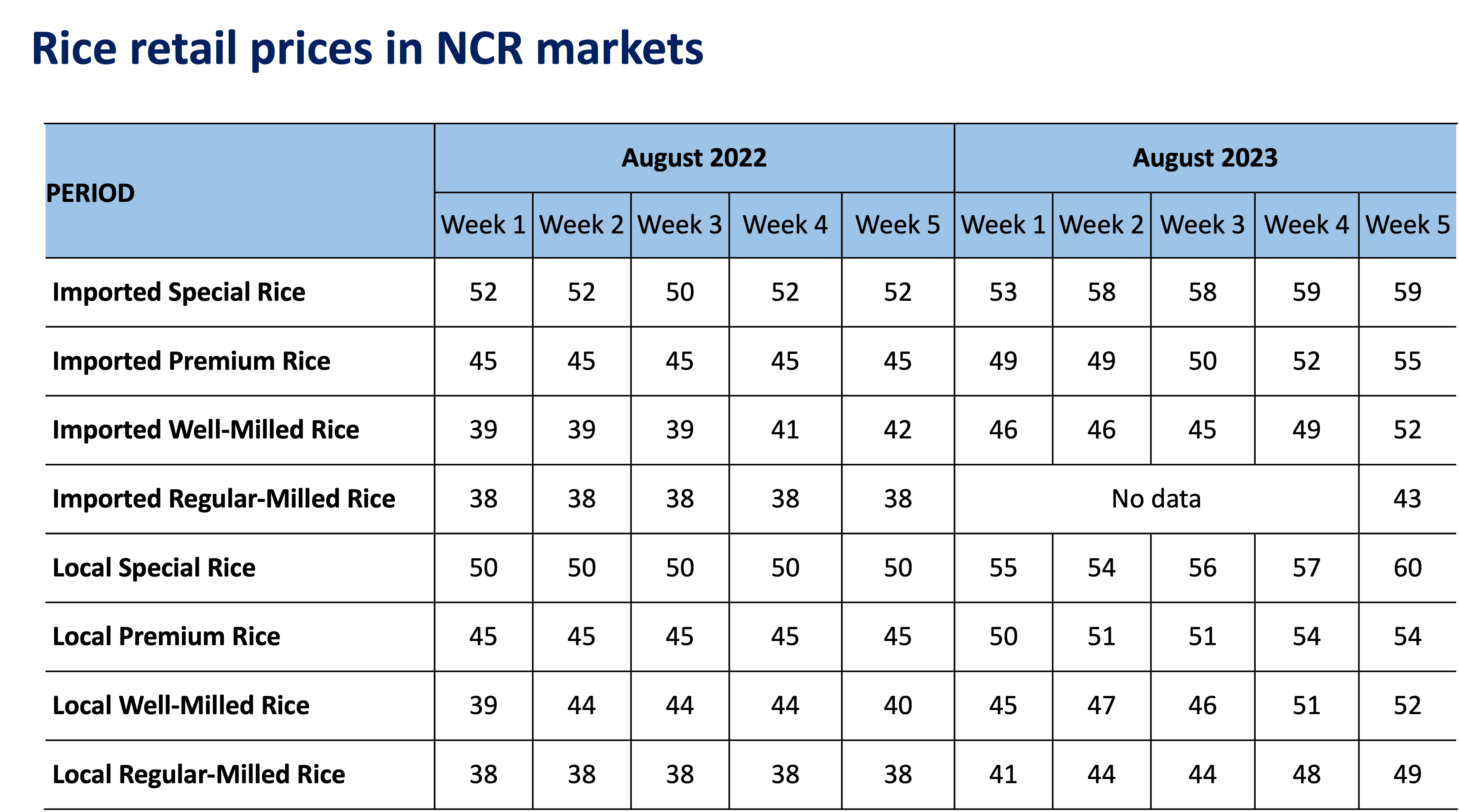 Source: PSA, DA Price Monitoring
September price cap and rice inflation
In an effort to mitigate further escalation of inflation driven by higher rice prices, the national government has implemented an Executive Order establishing a nationwide price limit for rice. According to the directive, ordinary milled rice can be retailed for a maximum of PHP 41 per kilogram, while the price cap for well-milled rice stands at PHP 45 per kilogram.
How would this impact rice inflation in September?
Looking at average prices of rice in September last year versus this year when price caps were implemented, we can still see average prices to grow by 6.1%. It is important to note that the price caps only covered regular-milled and well-milled rice, while special and premium rice sold in the market continued to follow prevailing market-determined retail prices (see below). Moreover, 100% compliance from retailers may not be guaranteed as this may result to losses despite the subsidies.

After a number of iterations, we may see rice inflation settling at 6.6%-7.0% (at 95% confidence interval) in September (see below), an improvement versus 8.7% in August, but it remains to be at an elevated level. This falls between the rice inflation prints in July and August 2018 at 5.1% – 7.5% where headline inflation settled at 5.8% – 6.6%.
While this may not be the case for the September 2023 headline inflation because of many moving parts in the CPI basket, we can expect headline inflation to still settle at an elevated level despite the price control. This takes into account other factors such as the new round of increases in fuel prices this month.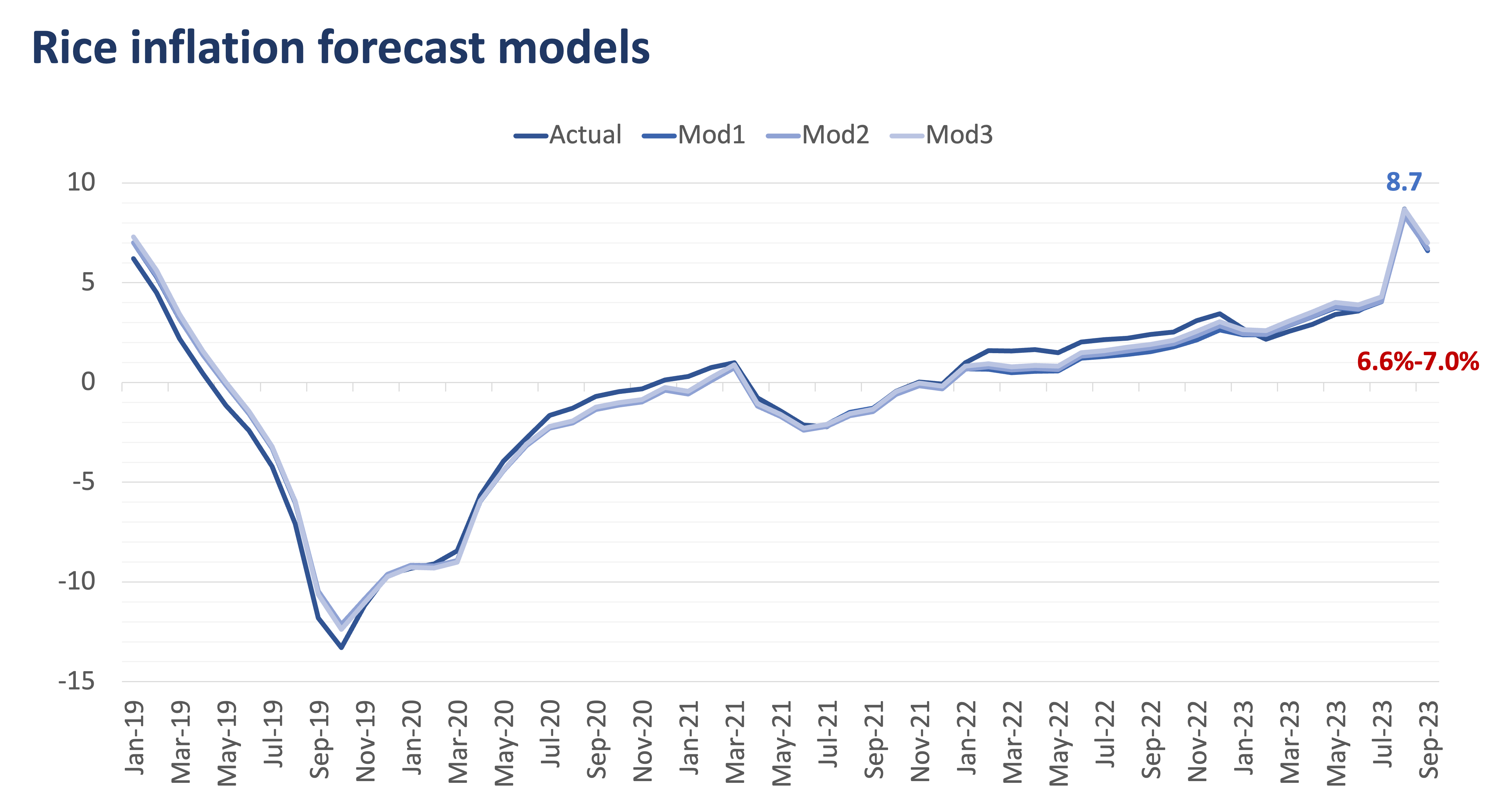 More sustainable fix sought
While price movements may have been controlled for a short while, higher global rice prices are seen to persist in the succeeding months. Thus, economic managers are looking to temporarily cut tariffs on imported rice from 35% to 10% to help reduce retail prices and ensure enough rice stocks given the impending El Niño. How could this impact inflation in the succeeding months? We'll talk about that next.
INA JUDITH CALABIO is a Research & Business Analytics Officer at Metrobank in charge of the bank's research on industries. She loves OPM and you'll occasionally find her at the front row at the gigs of her favorite bands.
Read More Articles About: