Is revenge travel over? 
With high inflation and high interest rates, many worry that travel would take a back seat. However, the numbers tell otherwise, and global travel remains strong.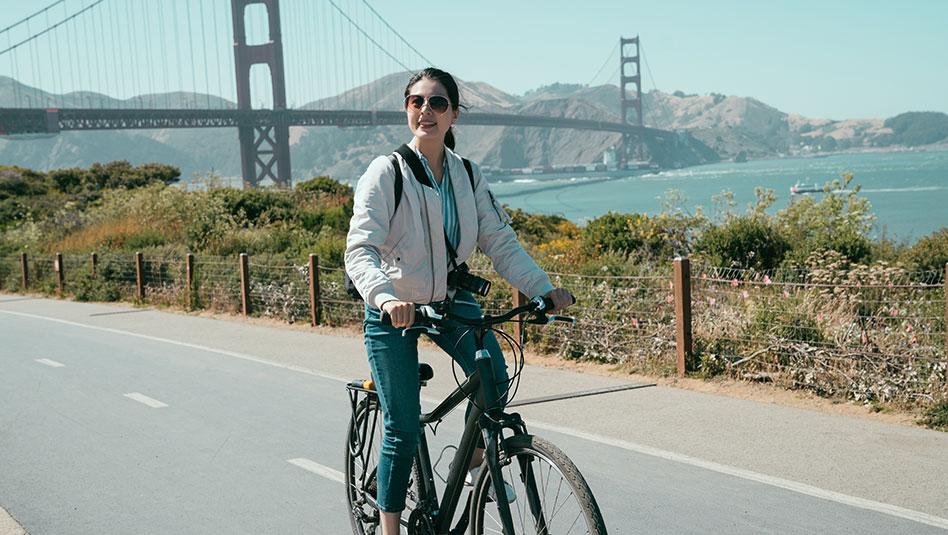 Most economies bank on the tourism industry to propel local economic activity. After being locked down for nearly two years, travel has been up and running globally.
However, high inflation and high interest rate spur worries that these may constrict spending on travel and discourage tourists from splurging. As of end-2022, global tourism has recovered but is still at approximately 20% below 2019 levels.
Thus, one may ask, is revenge travel over? Let's look at the numbers.
Rising air passenger traffic
According to the International Air Transport Association (IATA), global air passenger traffic declined by 66% in 2020 versus 2019 as countries closed borders due to COVID-19. However, 2023 data bring good news as IATA announced a strong demand growth in air travel for March 2023 as it did in January and February.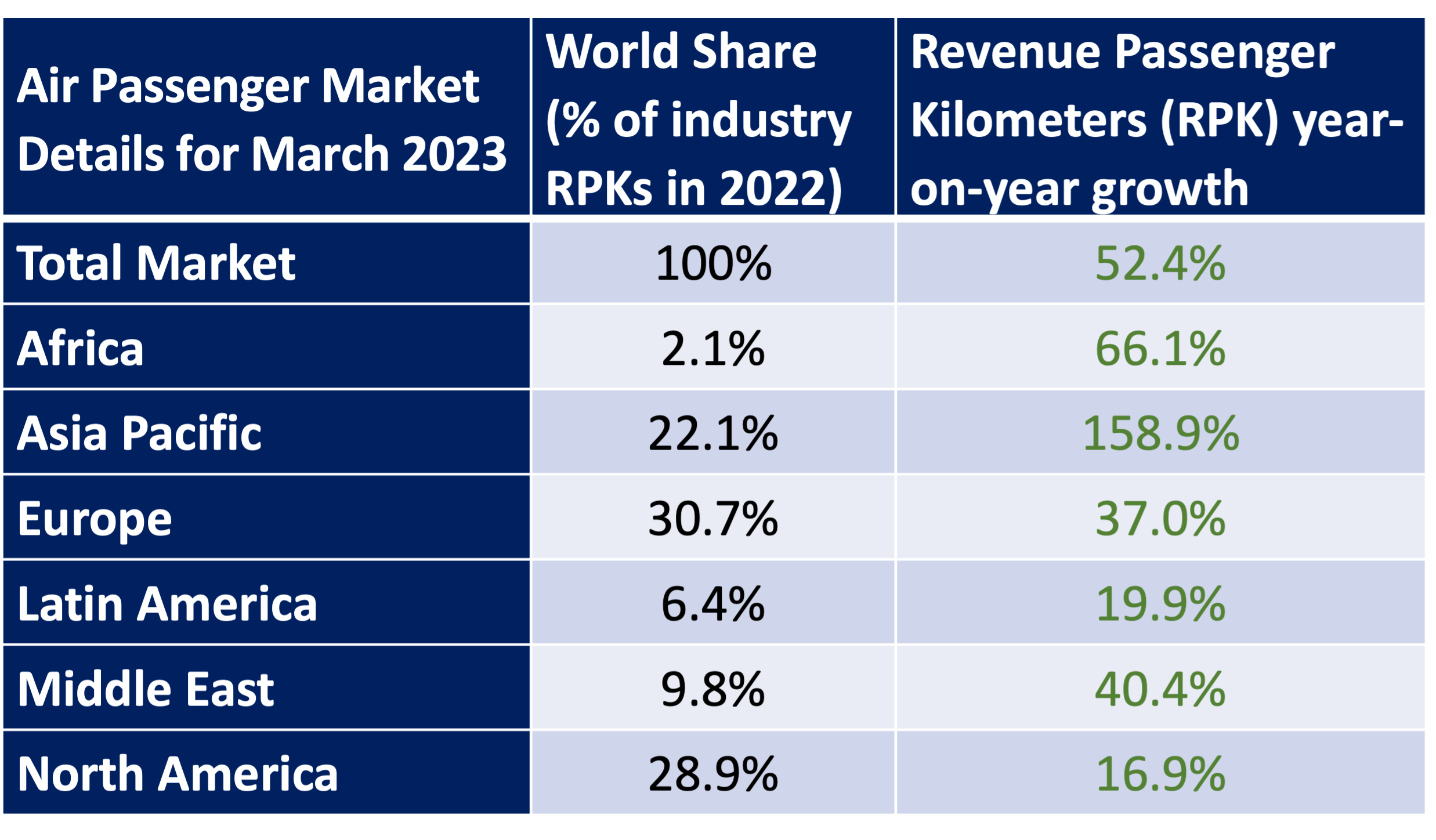 More and more people are travelling every year. (Source: IATA)
Total air travel traffic in March 2023 (measured in revenue passenger kilometers or RPKs) rose by 52.4% versus March 2022 and is already 88.0% of March 2019 levels. RPK is simply the number of revenue passengers multiplied by the number of kilometers flown. Thus, looking at the RPK growth, there is firm evidence of strong demand for air travel market-wide, with Asia Pacific travelers topping the growth chart.
PH tourism in numbers
The tourism industry is an important catalyst for growth in the Philippines. In our past article, we highlighted this sector's contribution to the country's Gross Domestic Product which captured a 12.9% share of GDP in 2019. It drastically went down to 5.1% and 5.2% in 2020 and 2021, respectively.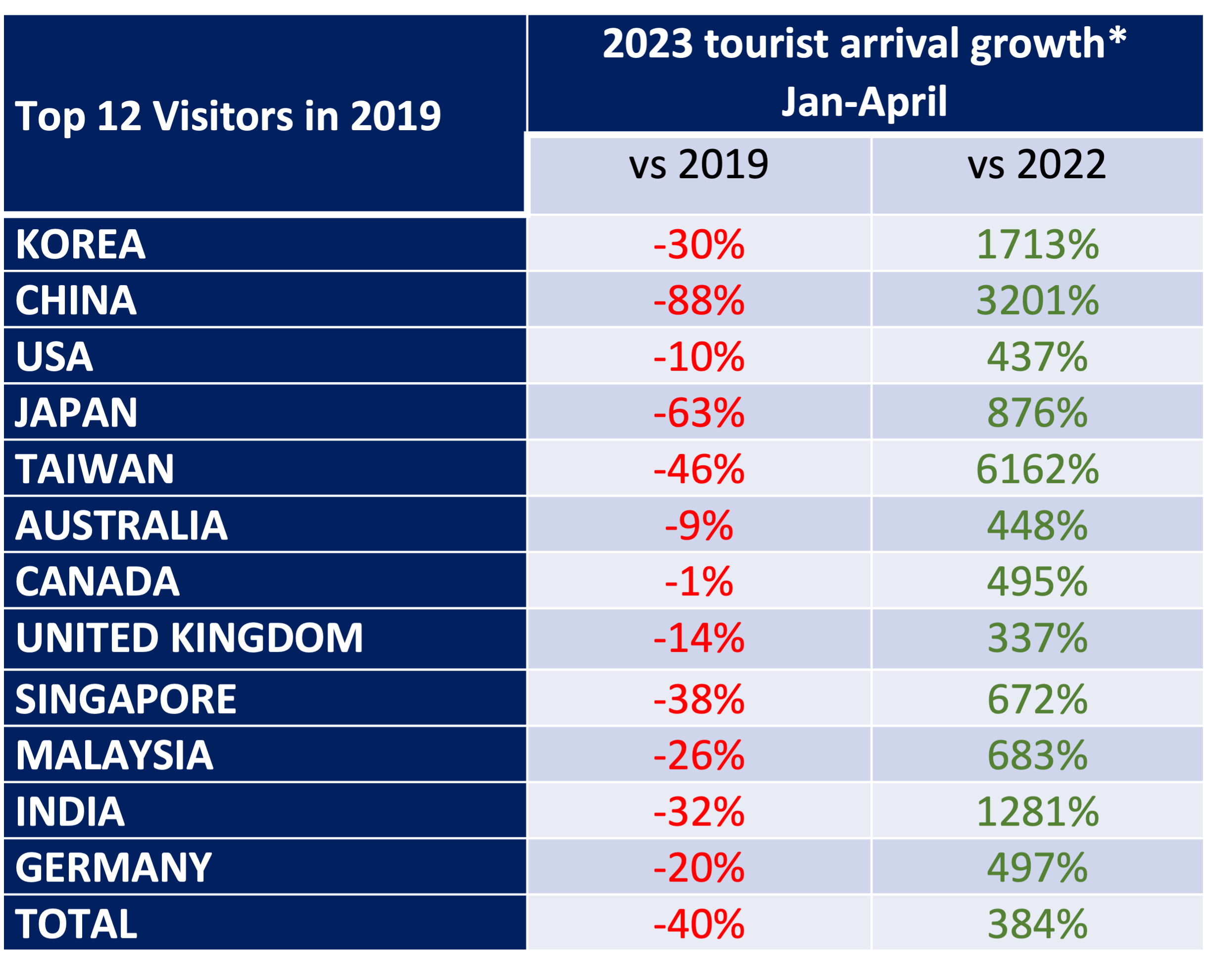 We see a resurgent tourism industry in the Philippines. (Source: Department of Tourism; *excluding OFW arrivals)
Currently, the Philippines is still short in terms of its 2019 performance relative to tourist arrivals. However, it has certainly gained much more momentum than last year. The Philippines documented 1.7 million international tourists from January to April this year, which almost nearly reached the international tourist arrivals totaling 2 million in 2022 (excluding OFW arrivals) based on the Department of Tourism (DOT) data.
Tourist arrivals from China have also multiplied since its reopening, and so does the rest of the Philippines' top visitors in 2019.
No signs of fatigue just yet
Despite moderate spending worries, the two largest payment card network processors have reported spikes in 1st quarter revenues attributed to a boost in travel spending. Mastercard Inc. and Visa Inc. saw that spending growth on their cards accelerated in the first three months of the year as cross-border travel continued to rebound.
Just recently, the World Health Organization (WHO) announced that COVID is no longer a public health emergency of international concern. This could spur further cross-border travel in the months to come and boost the Philippine economy.
So, is revenge travel over? The numbers are clear and the answer is – not yet.
INA JUDITH CALABIO is a Research & Business Analytics Officer at Metrobank in charge of the bank's research on industries. She loves OPM and you'll occasionally find her at the front row at the gigs of her favorite bands.
Read More Articles About: