Which are the best-performing industries in 2022?
The Philippines posted better-than-expected growth in 2022. Which sectors grew and what prospects await them?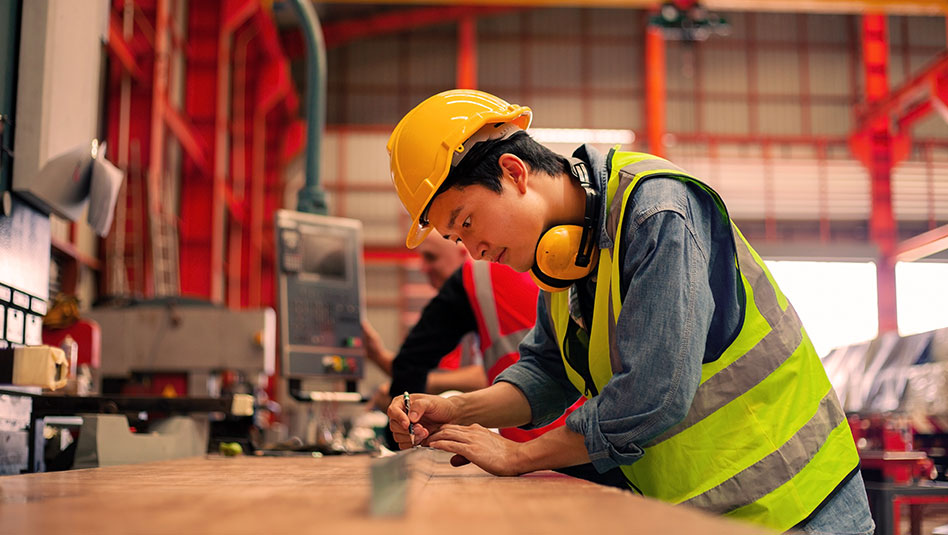 The numbers are in, and the Philippines posted 7.6% real gross domestic product (GDP) growth in 2022 which went beyond market expectations and government targets.
Of course, this is a welcome surprise, bringing in some hint of optimism despite gloomy projections of what's to come in 2023.
Zooming in, which industries grew and contributed to this better-than-expected growth?
Top industries
In terms of share, wholesale and retail trade and repair of motor vehicles and motorcycles continued to hold the largest share (18.1%) of the pie, followed by manufacturing (17.2%), financial and insurance activities (10.1%), and agriculture, forestry, and fisheries sectors (9.6%) comprising more than half of the country's total domestic output at current prices.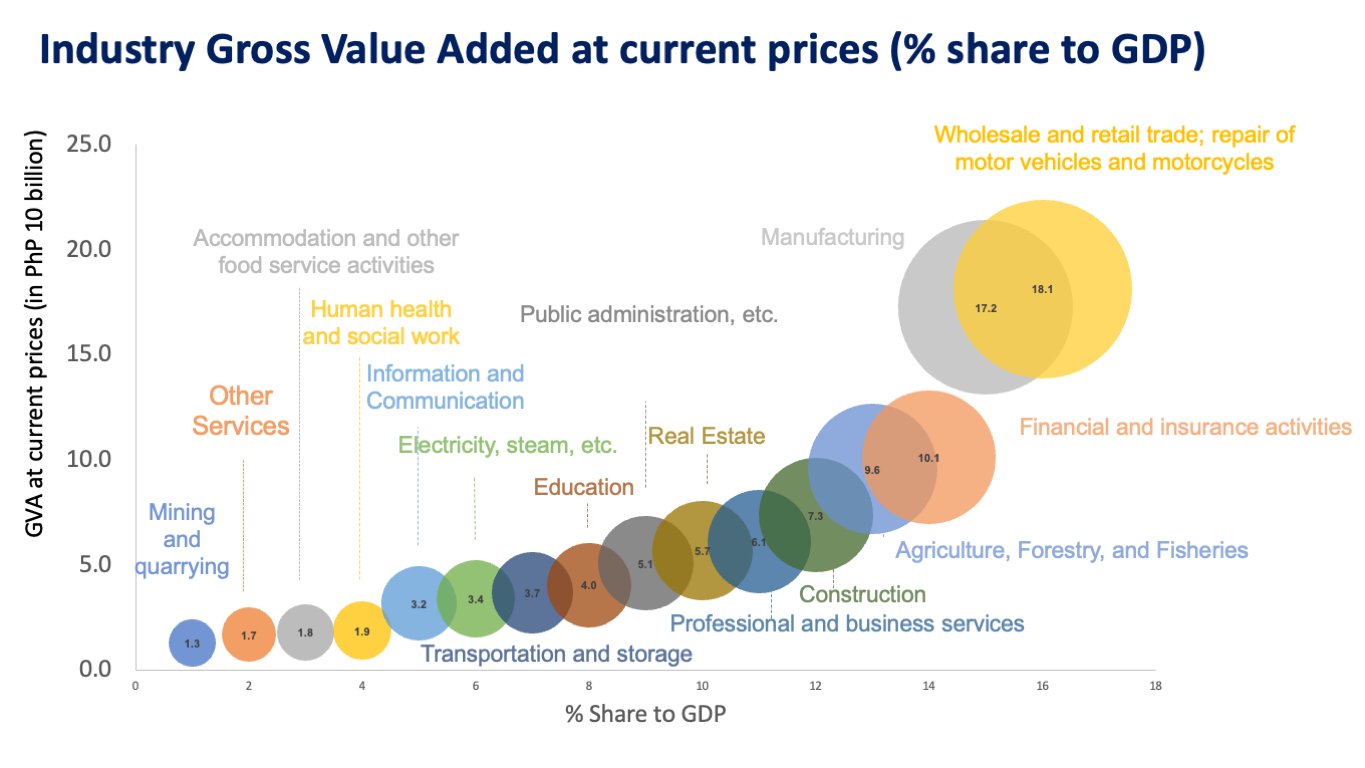 Wholesale trade and retail businesses, along with repair of motor vehicles and motorcycles, contributed much of the gross value added (GVA) and share to GDP.
Wholesale and retail trade (including repair of motor vehicles and motorcycles) expanded by 13.8% in 2022 as the economy's reopening triggered revenge spending that translated to growth in retail trade (comprising 80% of the whole sector), which grew by 14.6% vs last year.
Moreover, the country's reopening also brought back and boosted factory operations benefiting the manufacturing sector, which grew by 10.9% in 2022 driven by growth in the manufacture of food products (13.6%), chemical products (19%), and computer, electronics, and optical products (2.7%). Exports of electronic products, which is the country's top export commodity, also posted gains in 2022 and grew by 27%.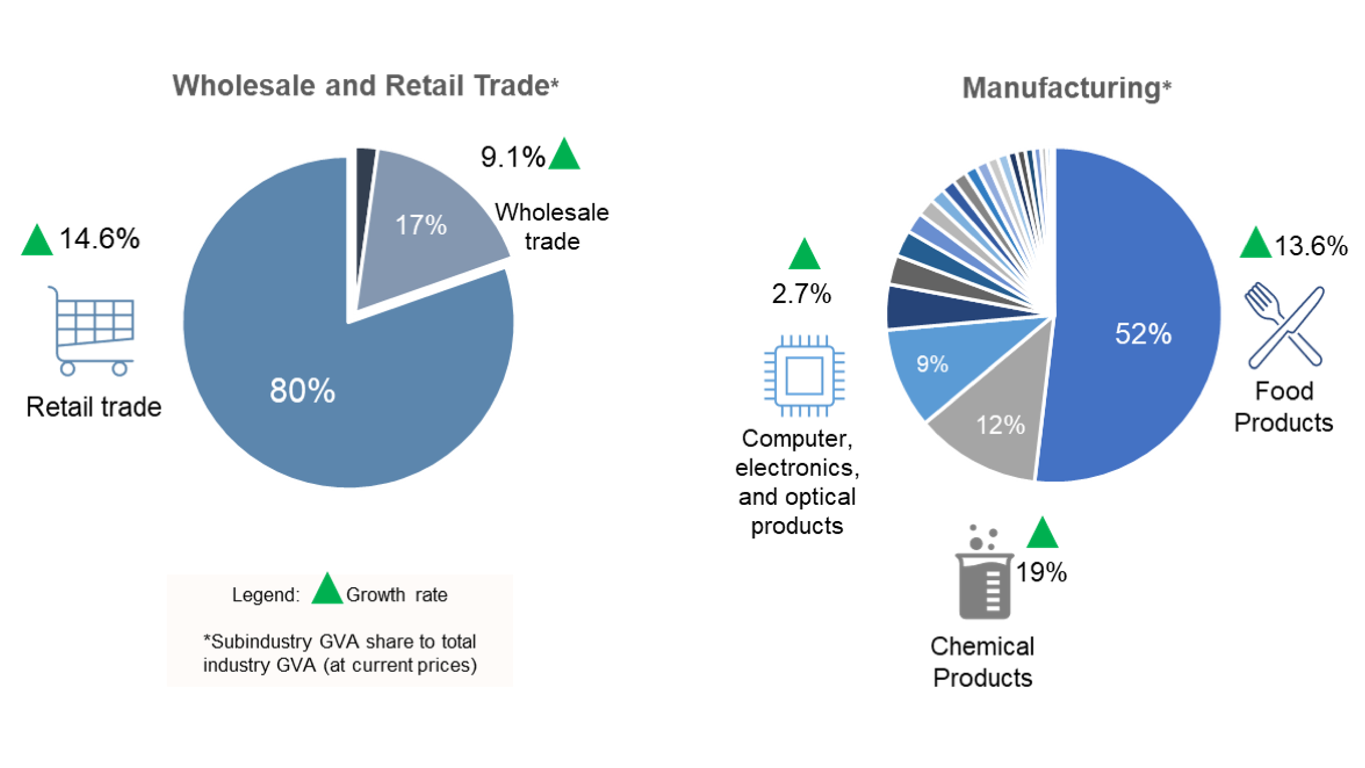 The growth rates of wholesale and retail trade as well as manufacturing reflect the effects of a wider economic reopening in the country.
Meanwhile, despite high input prices, weather disturbances, and diseases that confronted the agriculture, fisheries, and forestry (AFF) sector, the industry still managed to expand by 7.6% at current prices (and with 0.5% real growth).
Palay, which as the largest share to AFF, grew by 3.1%, while the rest of the top contributors to the sector posted higher growth. However, GVA of Bananas (which is among the country's top agricultural export commodities) contracted by nearly a quarter.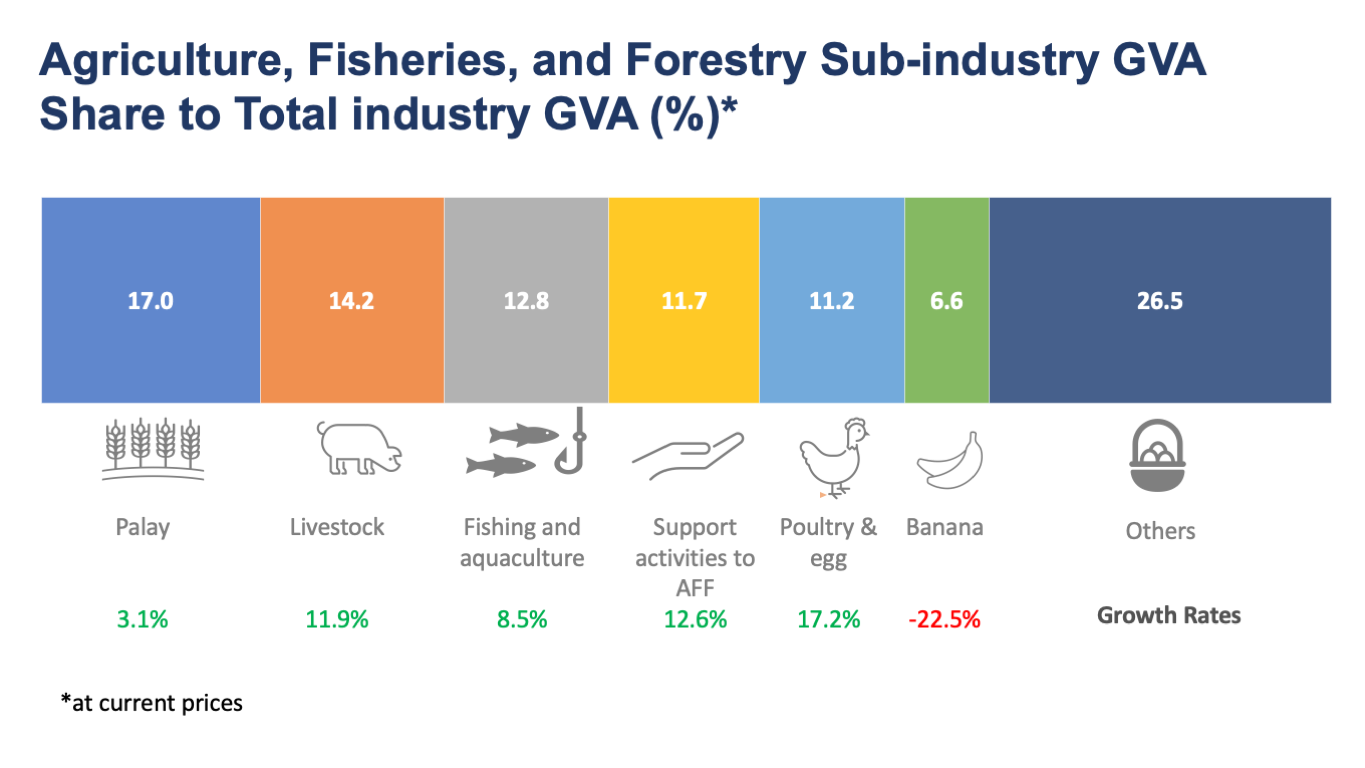 The agriculture, fisheries, and forestry (AFF) sector remains resilient despite high input costs.
Industry prospects
Demand is expected to soften in 2023 as high prices and high interest rates reduce consumers' purchasing power. Consumer and business sentiment for the next 12 months turned less optimistic based on BSP's Consumer and Business Expectations surveys in the fourth quarter of 2022, which may indicate more wary spending in the succeeding months. This may pose challenges to the wholesale and retail, real estate, and accommodation and other food service industries that rely heavily on consumption.
Meanwhile, China's comeback may offer gains to the country's exports as it continues to be the Philippines' major export partner, which may translate to a still robust performance for the manufacturing sector.
The agriculture sector may continue to confront challenges from high input costs and weather disturbances, which then calls for interventions to support local production. The construction industry may benefit from the government's continued infrastructure projects, while the upcoming commercial operations of LNG terminals may boost output for the electricity, steam, water, and waste management sector.
But despite the headwinds on the horizon, opportunities still abound. While projections on the country's and global economic growth may seem unexceptional, who knows? Hopefully, we're in for another surprise.
INA CALABIO is a Research & Business Analytics Officer at Metrobank in charge of the bank's research on industries. She loves OPM and you'll occasionally find her at the front row at the gigs of her favorite bands.
Read More Articles About: