Japan to respond to FX moves with 'strong sense of urgency' -finmin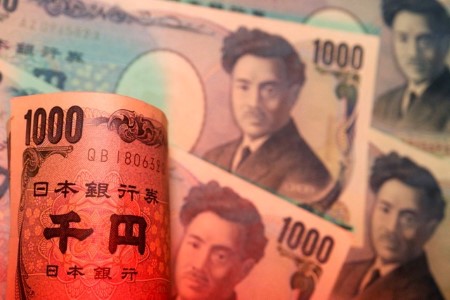 TOKYO, Oct 27 – Japan will continue to respond to the currency market "with a strong sense of urgency," Finance Minister Shunichi Suzuki told reporters on Friday, as the yen weakened past 150 against the US dollar.
"It's important for currencies to move stably reflecting fundamentals," Suzuki said. "Excessive currency volatility is undesirable."
Suzuki, while repeating his usual mantra on market moves, declined to comment further when asked whether there had been any recent currency intervention.
The Japanese currency broke past 150 yen to the dollar this week to reach its weakest level since October last year when authorities intervened in the market to stem the weakness.
The 150 yen line is perceived by investors as a danger zone that could trigger currency intervention by Japanese authorities.
(Reporting by Tetsushi Kajimoto and Kantaro Komiya; Editing by Chang-Ran Kim and Jamie Freed)
This article originally appeared on reuters.com
Read More Articles About: