China asks some banks to reduce or delay dollar buying to ease pressure on yuan -sources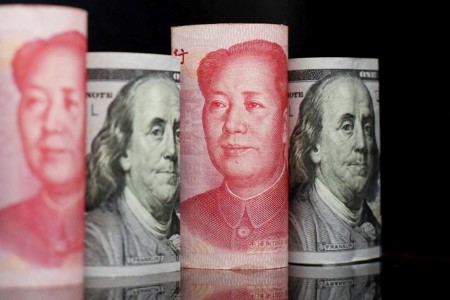 SHANGHAI/BEIJING, Aug 1 (Reuters) – China's currency regulators have in recent weeks asked some commercial banks to reduce or delay their dollar purchases, two people with direct knowledge of the matter said.
The informal instruction, or the so-called window guidance, was meant to slow the pace of yuan depreciation, the sources said. One source said the regulators were emphatic that banks should hold off dollar purchases under their proprietary trading accounts.
Chinese yuan has lost 3.6% against the US dollar so far this year, hitting 7.16 per dollar on Tuesday to be one of Asia's worst-performing currencies.
The People's Bank of China (PBOC) did not immediately respond to Reuters' request for comments, while the State Administration of Foreign Exchange (SAFE) told Reuters that exchange rate expectations were stable and it will push for a 'risk-neutral' mentality' at companies and financial institutions.
(Reporting by Shanghai and Beijing Newsrooms; Editing by Simon Cameron-Moore)
This article originally appeared on reuters.com
Read More Articles About: