Sterling dips from high above 1.12 as month-end USD selling ebbs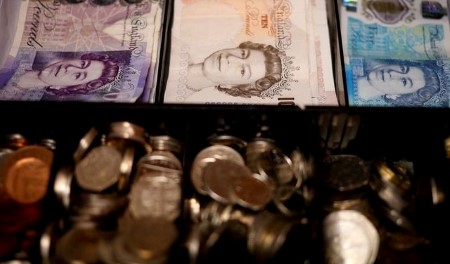 Sept 30 (Reuters) – GBP/USD weakened on Friday, falling 130 pips from early session highs by 1.1235 as quarter-end and post-BoE intervention dollar selling ebbed, and it is likely to slide further as traders question the merits of the UK's fiscal stimulus amid more hawkish monetary policy.
Technically, Wednesday's close above 1.1033, the 50% Fib of 1.1738-1.0327 signals GBP/USD bears are retreating and bulls focus is turning to a series of daily moving averages from the 21-DMA at 1.1311 to the 55-DMA at 1.1728.
However, reduced quarter-end dollar selling and Friday's hot euro zone and US inflation data should keep the Fed, and ECB, on a higher-for-longer hike path, usurping recent sterling gains.
Despite Friday's significant fall from one-week highs by 1.1235, the break of 1.1033 should be respected and bulls are in control while GBP/USD is above 1.0781, the 50% Fib of 1.0327-1.1235.
The key roadblock for sterling remains conflicting fiscal and monetary policies. While the BoE's gilt intervention calmed markets in the near-term, sterling traders may be less optimistic as they await finance minister Kwasi Kwarteng's medium-term fiscal plan on Nov. 23.
(Paul Spirgel is a Reuters market analyst. The views expressed are his own)
This article originally appeared on reuters.com
Read More Articles About: