Dollar gains on low claims but may need ISM beat for new 2023 highs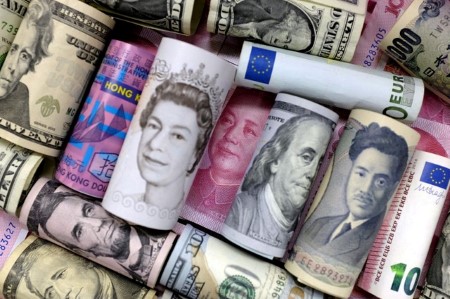 March 2 (Reuters) – The dollar index rose 0.5% on Thursday after US jobless claims were slightly below forecast and the euro failed to benefit from a fresh record high in euro zone core CPI, but to clear resistance by 2023's highs the US currency may need Friday's ISM report to further lift lofty Fed hike expectations.
While further USD/JPY gains, the second largest component of the index, look more likely due to the limited BoJ tightening expectations, the ECB has more than enough cause to continue hiking rates in 50-bp increments.
Core euro zone inflation hit 5.6% year-on-year in February from January's 5.3%, bolstering market expectations of ECB rates peaking near 4%, as futures currently project.
With EUR 5-year-5-year inflation linkers soaring to new post-GFC highs at 2.56% on Thursday from 2.24% January lows, the market looks less sure the ECB will tame inflation with the current pace of tightening.
US linkers are at 2.47%, but well below 2022's high just above 2.7%. That suggests EUR/USD may rise from ECB rate hike pricing outpacing Fed hikes, unless US data, such as Friday's ISM non-manufacturing and next Friday's payrolls, beat forecast.
(Randolph Donney is a Reuters market analyst. The views expressed are his own.)
This article originally appeared on reuters.com
Read More Articles About: