Contrarian Chinese yuan bets may start to make sense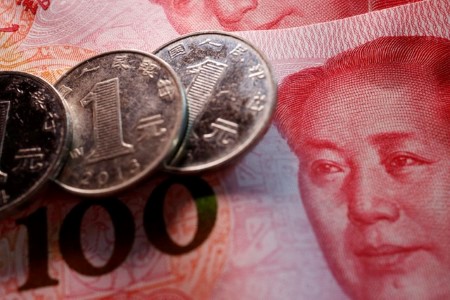 Sept 27 (Reuters) – China's not trying too hard to correct the yuan's depreciation versus the U.S. dollar, perhaps knowing it's a losing battle due to external and domestic factors. Nonetheless, bullish bets on the yuan might soon make sense.
China on Monday announced a return of a 20% reserve requirement ratio on FX forwards, making it more expensive to short the yuan. The effect was barely noticeable as USD/CNY ripped back up after a brief dip. The pair is now close to notching a new 27-month high above 7.1690.
The People's Bank of China has been consistently guiding the daily yuan midpoint stronger than most estimates, but it hasn't managed to shift bearish sentiment, which might explain the reinstating of the FX RRR. Tuesday's USD/CNY fix was again below forecasts but not as low as some adjusted estimates; the PBOC also injected the most short-term liquidity since February .
But that doesn't alter the outlook for the renminbi; maybe nothing will, except a change in Beijing's zero-COVID policy.
The World Bank on Tuesday slashed its 2022 forecast for China's economic growth to 2.8% from its April estimate of 5.0%, and sees the behemoth burdening the region .
As economic data signals further slowing and youth unemployment threatens to sow social unrest , reopening China's borders to revive consumption and the services sector would make sense. If this happens before the scheduled F1 race in Shanghai in April, yuan bears might be forced to reconsider.
(Ewen Chew is a Reuters market analyst. The views expressed are his own. Editing by Sonali Desai)
This article originally appeared on reuters.com
Read More Articles About: