Everyday outfits for the office: A guide to power casual dressing
Casual dressing is the perfect go-to style anytime and anywhere, even at work. Here's how we can get the right match for your power casual dressing looks.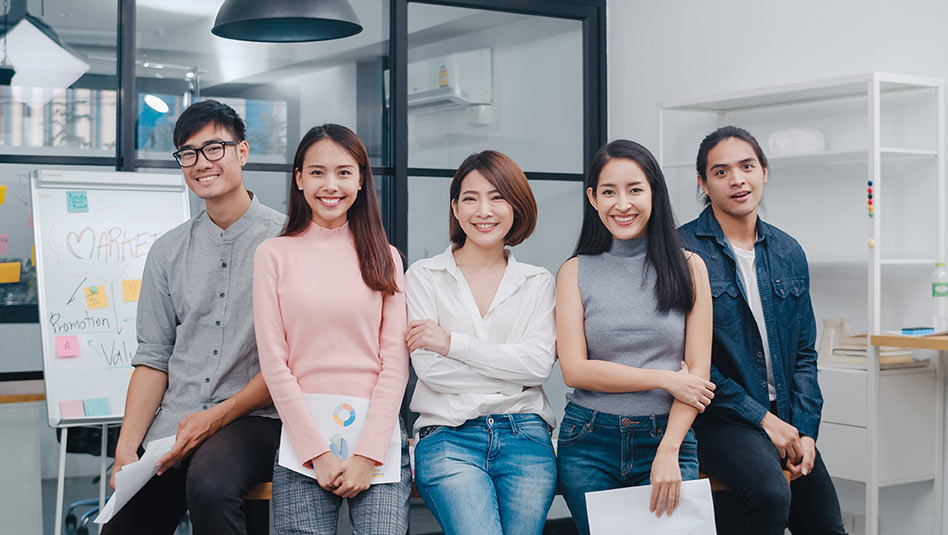 A casual look has been associated with something that is simple. But with fashion evolving as time passes by, casual can be something low-key yet stylish and chic.
With more workplaces embracing looser dress codes, the casual style is becoming more familiar. This option lets a person feel more comfortable at the office without feeling under- or over-dressed.
Casual fashion comes with a diversity of choices, and you need to know how to choose the right one that fits your preferred lifestyle while still looking appropriately dressed for an office setting. Here are a few tips to help you in your power casual dress hunt:
For women
A casual style can look chic and stylish if one knows how to do it correctly. For women, adopt a casual-chic look by styling with neutral colors like black, white, beige, and grey and choosing soft and comfortable fabrics that are also breathable like cotton, linen, silk, or denim.
Shirts and blouses–Invest in the basics. For example, casual shirts and blouses are clothes that can be easily mixed and matched with bottoms, layers, and accessories. Shirts can be customized to fit one's style as they come with a variety of options. Some differ in sizes (long or short sleeves), and others differ in colors, prints, and designs (simple, patterned, or checkered).
Bottom wear–Women can wear jeans to elevate a simple yet sophisticated look. A relaxed fit-trouser is ideal as it allows more flexibility and movement. Wide-leg trousers can also be used if one wants to emphasize their curvier features while aiming for a chic and professional look. If one wants to perk it up a bit, a midi skirt is also perfect for a casual look as the skirt comes in different shapes and styles, perfect for any body shape, its below-the-knee length gives emphasis to the footwear and adds posh to the overall style.
Dresses–Another outfit piece to wear for a casual look is a dress. Dresses are versatile, comfortable, more feminine, and a timeless classic. Women can enjoy shirt dresses if they want to enhance their silhouette; a knitted dress that goes well during work hours or at a night out; or a long wrap dress that can be paired with sneakers or boots.
Layering–To add life to one's casual style, layering is the key to adding "depth and interest," to one's outfit. You can mix and match items and accessories based on various textures, materials, colors, and patterns that you think fit your outfit. Consider jackets, coats, or cardigans over a blouse or a dress, or tailored pieces like blazers that add structure to your ensemble.
Shoes–For casual dressing, matching your clothes with the right pair of shoes should be well-thought of as this gives your feet a stylish look as well. For comfortable yet fashionable footwear, women can wear loafers, ballet flats, or low-heeled boots.
Accessories–Every accessory can be customized to fit one's personality and fashion sense. Add statement accessories that match your outfit such as a chic handbag, a pair of classy sunglasses, or a timeless watch that polishes your ensemble.
For men
Similar to women, casual dressing for men should be a balance of comfort, style, and individuality.
Jeans–Jeans have been the foundation of the casual style for a long time. So, choosing the right pair of jeans should be done for a modern-day power look. To look smart and casual, dark-washed denim is just right, and for a more laid-back kind of look, light-colored denims are also ideal.
For trousers, chinos are also a great fashion piece that is elegant and comfortable, a perfect piece for a smart-casual style. Chinos come in neutral colors including khaki, navy, and beige, which is ideal for occasions with "ambiguous" dress codes.
Polo shirts–Polo shirts can be matched with decent suit pants or premium jeans. One can also stay cozy with a knitted polo shirt that can appear just as classy and elegant, or the grandad collar shirt for those leaning toward a "smarter" casual look.
Jackets–To finish the casual look, coats or jackets are the way to go. Jackets, which are long-term investments in one's wardrobe, can be worn over everything and come in various materials such as leather, fleece, denim, and corduroy.
Shoes–Wear white sneakers that go with a classic look, or a leather pair for a more polished look. Aside from sneakers, other options include loafers, desert boots, and boat shoes.
Accessories and accents–Stick with what supports your preferred style and express your individuality and uniqueness. One can consider wearing a designer watch or a belt that fits that pair of jeans.
Hack to try
You might wonder how to mix and match different pieces into a good casual look, especially when you're busy. Try the "2×2 outfit formula" where you simply combine two items of formal wear and two items of casual wear. This way, you emphasize both a formal office look and a ready-to-go style.
Remember that dressing casually is about personal style, a suitable appearance, and comfort. With limitless choices of clothes and accessories at your disposal, you can find a specific casual style that truly fits your personality.
Read More Articles About: