Headline inflation slowed for a fifth straight month in June, the lowest in 14 months, as food and transport prices eased, the state statistics agency said on Wednesday.
However, the potential impact of El Niño and wage hikes may fuel price increases in the second half of the year, analysts said.
Preliminary data from the Philippine Statistics Authority (PSA) showed the consumer price index (CPI) eased to 5.4% in June from 6.1% both in May 2023 and June 2022.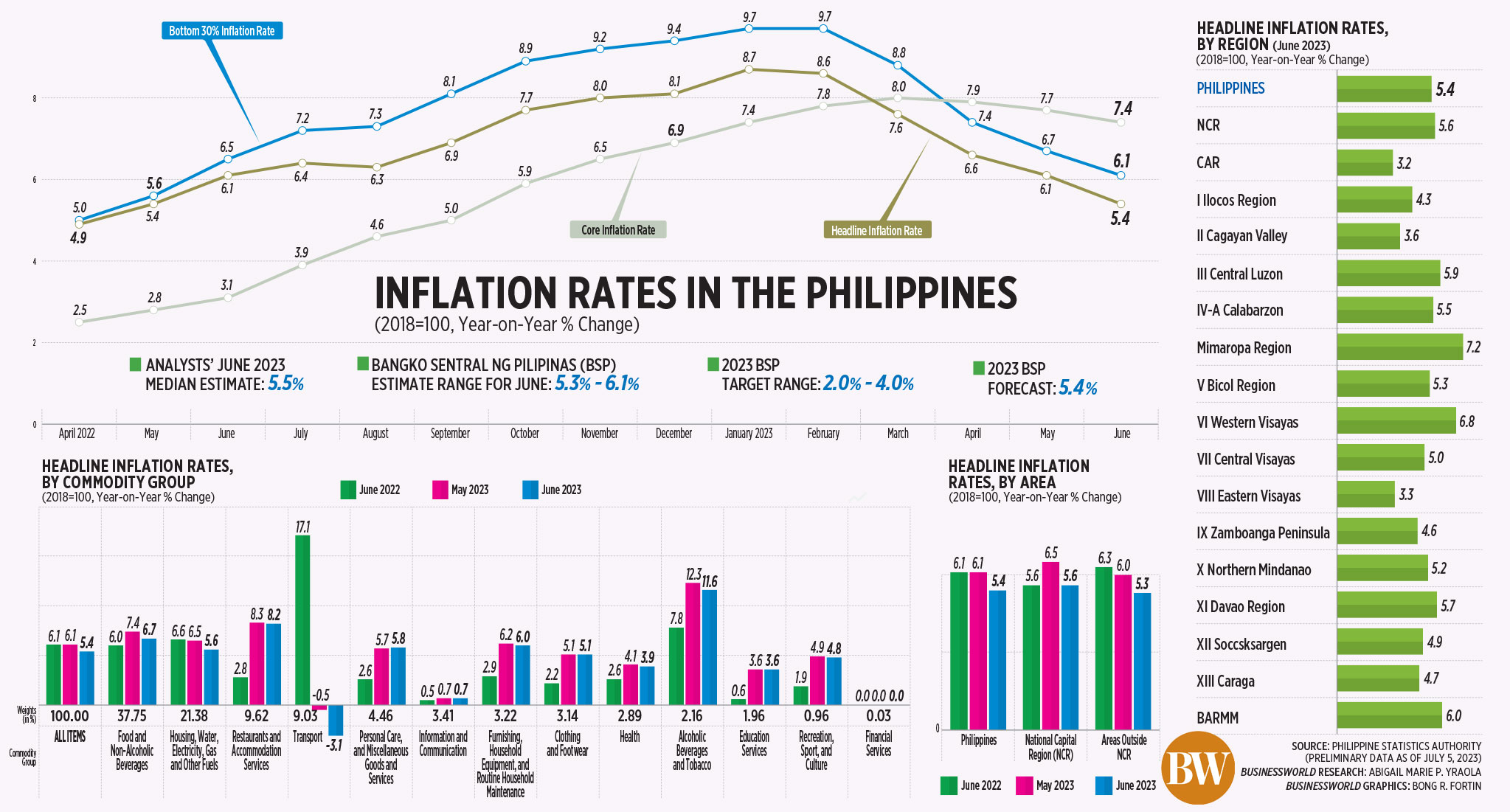 This was the slowest in 14 months or since the 4.9% clip in April last year. It was also the first time inflation fell below 6% since the 5.4% print in May 2022.
The June print was below the 5.5% median estimate in a BusinessWorld poll conducted last week, and at the low end of the 5.3-6.1% forecast range of the Bangko Sentral ng Pilipinas (BSP).
Seasonally adjusted inflation slowed to 0.1% in June from 0.3% in May.   
Year-to-date inflation settled at 7.2%, still higher than the revised 5.4% forecast by the central bank. It also marked the 15th straight month of inflation exceeding the BSP's 2-4% target band.
The slower annual increase in the food and transport index contributed to the deceleration in inflation, National Statistician Claire Dennis S. Mapa said at a press briefing on Wednesday.
The index for food and non-alcoholic beverages eased to 6.7% from 7.4% in the previous month. Food inflation alone decelerated to 6.7% in June from the 7.5% in May, due to the slower rise in prices of meat and other parts of slaughtered land animals (0.3% in June from 3.2% in May), fruits and nuts (11.4% from 14.3%), and sugar, confectionery and desserts (28.9% from 31.6%). 
Price increases for corn; flour, bread and other bakery products, pasta products, and other cereals; milk, other dairy products and eggs; oils and fats; as well as ready-made food, also slowed during the month.
However, higher annual increases were seen in rice; fish and other seafood; and vegetables, tubers, plantains, cooking bananas and pulses.
PSA's Mr. Mapa noted an increase in rice prices typically signals rising inflation since it accounts for 9% of the total CPI basket for all income households and about 20% for the bottom 30%.
"But now, the general trend is that inflation is actually going down, except for (rice)," he said in mixed English and Filipino.
He said rice inflation quickened to 3.6% in June, from 3.4% in May. Rice inflation has been accelerating since February this year, when it was only 2.2%.
Meanwhile, transport inflation decelerated to 3.1% in June, from -0.5% in May, mainly due to base effects, as fuel prices spiked amid the Russia-Ukraine war last year.
Mr. Mapa said diesel prices averaged PHP 57.41 per liter in June, significantly lower than the PHP 83.37 per liter average in the same month last year.
The PSA also reported prices of housing, water, electricity, gas and other fuels, slowed to 5.6% in June, from 6.5% in May.
Core inflation, which discounted volatile prices of food and fuel, also showed signs of further easing to 7.4% in June from the 7.7% in May. Core inflation averaged 7.7% so far this year.
"Philippine core inflation remains the highest in the region and appears more sticky, in our view," Nomura Global Research Chief ASEAN (Association of Southeast Asian Nations) Economist Euben Paracuelles said in a note.
Restaurants and accommodation services (8.2% in June from 8.3% in May), and personal care and other services (5.8% from 5.7%) were the main drivers of core inflation.
Meanwhile, the inflation rate for the bottom 30% of income households cooled to 6.1% in June from 6.7% in May and 6.5% in the same month a year ago. From January to June, inflation averaged 8% for the bottom 30%.
In the National Capital Region (NCR), inflation slowed to 5.6% from 6.5% in the previous month, while inflation in areas outside NCR decelerated to 5.3% in June from 6% in May.
Upside risks
In the absence of supply shocks, the BSP said inflation will remain elevated before gradually easing to the 2-4% target range in the fourth quarter.
"The balance of risks to the inflation outlook continues to lean towards the upside owing to the potential impact of additional transport fare increases and minimum wage adjustments, persistent supply constraints of key food items, El Niño weather conditions, and possible knock-on effects of higher toll rates on prices of key agricultural items," it said.
The state weather agency on Tuesday declared the onset of El Niño, which is expected to bring dry spells, droughts and stronger typhoons. El Niño is also likely to persist until the first quarter next year.
The BSP said a weaker-than-expected global economic recovery is a primary downside risk to the inflation outlook.
Mr. Paracuelles said El Niño is a key risk to inflation, but "if it does not coincide with the main crop particularly for rice, it may only delay or reduce the impact."
PSA's Mr. Mapa said the wage hikes could become inflationary, but it still depends on the approved amount.
"We would be tracking the impact, but the wage hikes will start by mid-July. We will see if the effect is instantaneous or if there is a lag in the coming inflation reports," he said.
The NCR Regional Tripartite Wages and Productivity Board approved a PHP 40 wage hike for all minimum wage earners in Metro Manila, bringing the minimum wage from PHP 570 to PHP 610 a day effective July 16.
HSBC economist for ASEAN Aris Dacanay said the hike in NCR minimum wages may add 0.4 to 0.6 percentage points to overall inflation if companies pass on the additional costs to consumers.
"If the wage hike in the capital kick-starts wage hikes in other regions of the archipelago, inflationary pressures may build up even further, pressuring the central bank to resume its tightening cycle," he said.
The regional wage boards of Central Luzon, Calabarzon, Western Visayas and Central Visayas will likely decide on pending wage petitions by September.
Policy outlook
"The BSP stands ready to adjust the monetary policy stance as necessary to prevent the further broadening of price pressures."
The central bank maintained its key policy rate at 6.25% at its last two meetings in June and May, signaling an extended pause as inflation continues to ease.
Mr. Dacanay said that the BSP will likely keep interest rates steady at its next meeting on Aug. 17.
"The continued pause will give the central bank more time to assess the impact of its previous rate hikes on the economy, considering the fact that the BSP did the most aggressive tightening cycle in ASEAN," he added.
Meanwhile, Mr. Paracuelles said that the central bank has likely ended its tightening cycle, but noted that it is "unlikely to be in a rush to start cutting" due to sticky core inflation.
"In addition, the newly appointed [BSP] Governor Eli M. Remolona, who has pledged policy continuity, likely shares the same view as his predecessor that it will be 'dangerous' to cut ahead of the Fed, in our view," he said.
For Pantheon Macroeconomics Chief Emerging Asia Economist Miguel Chanco, full-year inflation will hit 5.4% in 2023 due to further slowdown in food and transport prices.
"All told, we continue to believe that a return in the headline rate to the BSP's 2-4% target range is possible as soon as September, and that the Monetary Board will cut rates by a total of 50 bps in the fourth quarter to take pressure off an already-wobbling economy," he said. — Keisha B. Ta-asan, Reporter