Impact of PH monetary policy tightening to be felt until next year — BSP chief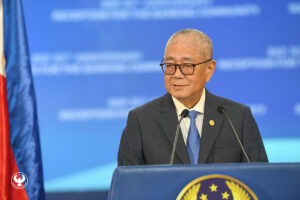 The economic impact of monetary policy tightening by the Philippine central bank will have a long lag and be felt into next year, Bangko Sentral ng Pilipinas (BSP) Governor Eli M. Remolona said on Friday.
"The effects of tightening will continue for about three quarters up to the first half of next year. We'll still see the previous hikes weighing on economic activity in the Philippines. The lags are long," Mr. Remolona said during an interview with Bloomberg TV.
The BSP kept its key interest rate steady for a fourth straight policy meeting on Thursday, while signaling its readiness to resume tightening monetary policy at its next meeting in November if inflation pressures persist.
The Philippine economy grew at its slowest pace in nearly 12 years in the second quarter as high inflation and a series of interest rates hikes hurt consumer demand.
Mr. Remolona, at the same time, ruled out a rate cut anytime soon.
"Output numbers have to be pretty bad and inflation numbers to be pretty low for us to consider rate cuts next year," he said. — Reuters
This article originally appeared on bworldonline.com
Read More Articles About: