A trip to Hakodate, Hokkaido's First Port City 
Experience the sights and sounds of Hakodate, a popular tourist destination in Japan. Enjoy what it feels like to live a colorful yet peaceful life in the land of the rising sun.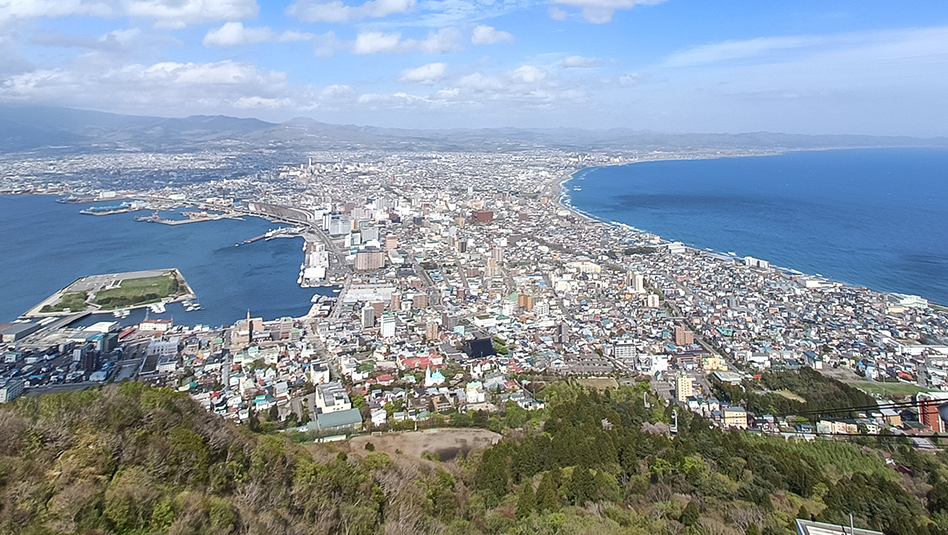 There is a good reason to visit outside of the peak season in Japan. According to the JTB Tourism Research & Consulting Co., a whopping 6.73 million international tourists visited Japan from January to April 2023.
While still a far cry from the 10.95 million who visited from January to April 2019, tourism numbers are expected to rise further and reach pre-pandemic levels as global COVID restrictions ease.
The peak travel seasons in Japan have historically been March to April during spring and October to November during autumn. Spring, in particular, is known for blooming cherry blossom trees also known as sakura. It is common to see tourists crowding public parks across the Honshu mainland, especially in Tokyo, Osaka, and Kyoto, just to view and take pictures with the cherry blossoms. But not everyone knows that cherry blossoms can also be found blooming a month later in the far northeast.
Hokkaido is Japan's northernmost region and is normally known for its record snowfall, snow festivals, and ski resorts during late autumn to winter. But because of its slightly different climate, the island region's cherry blossoms bloom a little later in April to May.
Even in the middle of spring, temperatures still lean cold and fluctuate between 10 to 15 degrees Celsius during the day. My wife Pam and I had the opportunity to visit Hokkaido for the first time during those months. While it may be standard practice to fly directly to the New Chitose Airport near the region's capital city, Sapporo, we instead began our trip in the port city of Hakodate.
A side trip worth the effort
Hakodate is Hokkaido's third largest city after Sapporo and Asahikawa. The city has its own airport, and we were able to fly there via a domestic flight from Tokyo Haneda Airport. Hakodate is also a four-hour train from Sapporo via the Japan Rail (JR) Hokuto limited express but a bullet train or shinkansen route is planned to open by 2030.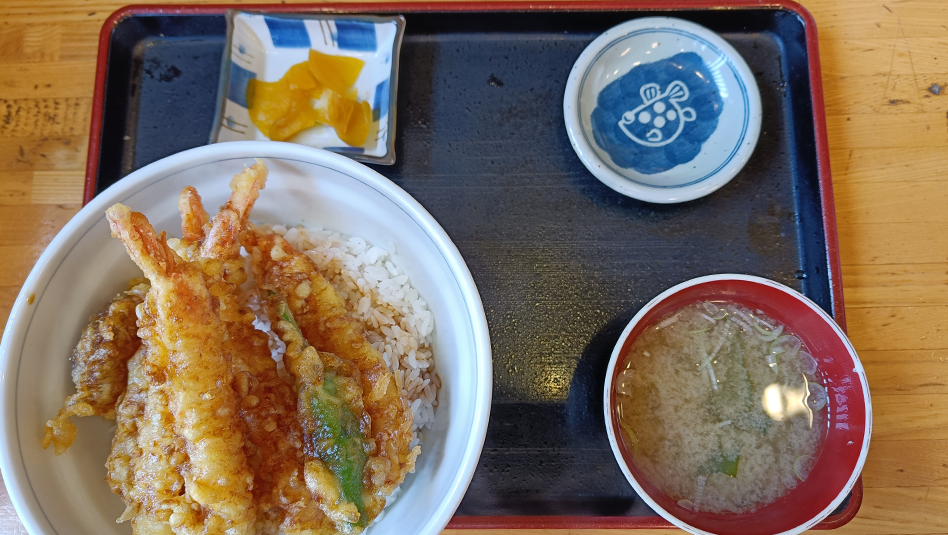 A delicious bowl of tempura on top of rice. Photo by EA Aguirre
With its southern coast facing the Tsugaru Strait, the city is popular for its numerous seafood offerings. Start your day at the Donburi Yokocho seafood restaurant avenue near the JR Hakodate Station where several shops serve chirashidon or various sashimi on top of a bowl of white rice.
Tempura bowls are also available, for diners not looking for raw seafood. Drop by next door to the Hakodate Morning Market Square to have fresh Yubari melon for dessert as well as shop for any vacuum-sealed seafood for souvenirs.
The old settlement of Hakodate was developed into a major trading port in 1859 after the US Navy led by Commodore Matthew Perry forced Japan to open five ports to foreign trade. This resulted in several structures built in both Japanese and Western architectural styles.
Climb up the beautiful cobblestone street of the Hachiman-Zaka Slope to visit the historic preservation district. Just across the large Otani Hongan-ji Buddhist temple are the Motomachi Roman Catholic Church and Russian Orthodox Church which are still open for worship.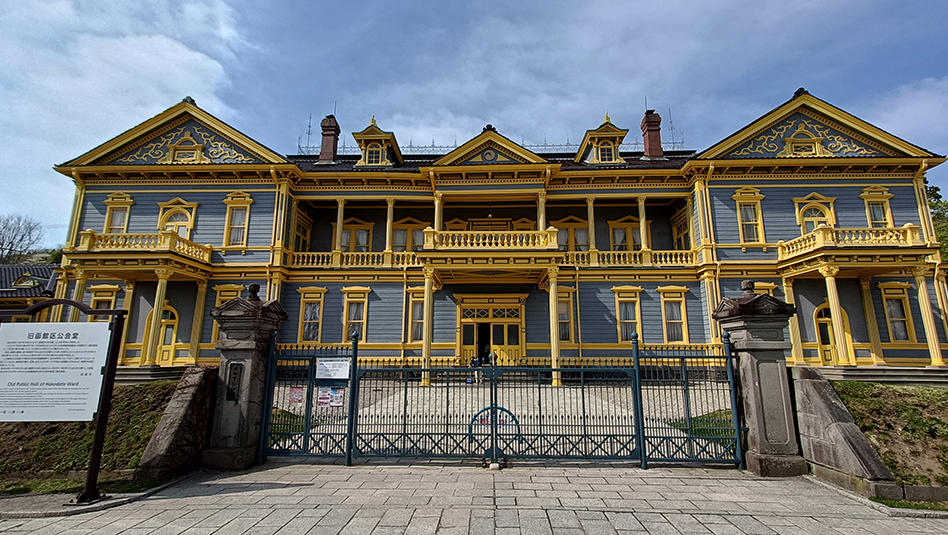 The main hall of the Old Public Hall of Hakodate Ward is still used today for concerts and other events. Photo by EA Aguirre
Overlooking the nearby Motomachi Park is the Old Public Hall of Hakodate Ward, a Western-style civic building from 1910. Right in-between the major tourist sites is Kikuizumi, a traditional Japanese house turned café known for its delicious demi-glace omurice and coffee.
Sakura, sashimi, and then some
To the southeast, there is a ropeway station that takes tourists to the top of Mt. Hakodate, where the entire city can be seen. The part of the preservation district closest to the northern port section features the former British Consulate of Hokkaido and the Hakodate City Museum of Northern Peoples or Ainu.
Shoppers looking for more souvenirs can also visit Kanemori, a block of red brick warehouses that have been converted into a shopping mall. In addition to Hokkaido products, the mall also sells apples and other apple products from Hirosaki City, located near the northern tip of the Honshu mainland. Just outside the mall are two branches of Hakodate's homegrown fast-food chain, Lucky Pierrot, known for its signature Chinese Chicken Burger.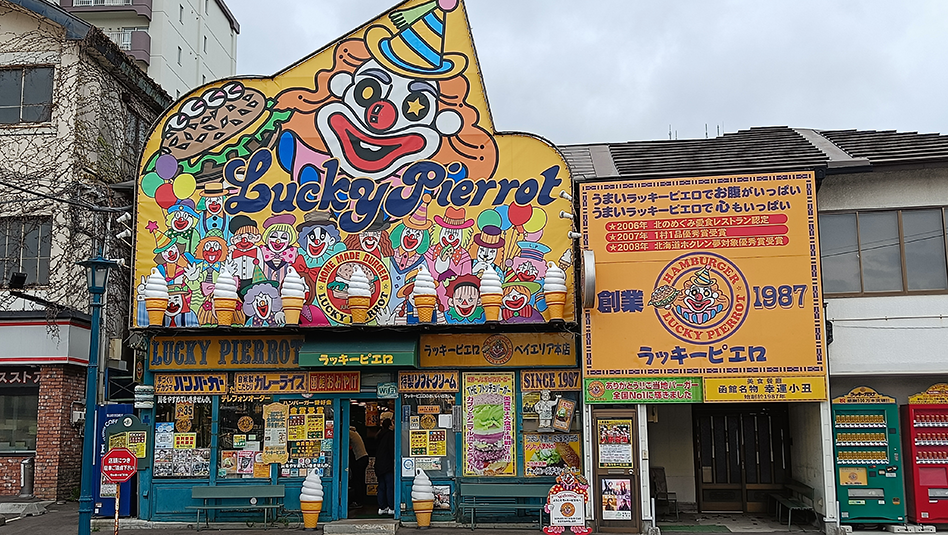 Lucky Pierrot is known not just for its burger, but also for local souvenirs. Photo by EA Aguirre
The preservation district had prominent cherry blossom trees along its roads but die-hard sakura fans are better off visiting Goryokaku Park instead. Locate far northeast of the preservation district by bus, Goryokaku is a massive five-pointed star-shaped fortress built in 1866.
It is well-known for being the final battleground between the remaining samurai of the Tokugawa Shogunate and soldiers of the Imperial Japanese Army. Goryokaku had then been converted into a park and the fortress' structures were dismantled, except for the old magistrate's office at the park's center.
Even when we were there in early May, cherry blossom trees were everywhere as far as our eyes could see. Just outside the park are the Goryokaku Tower, which allows tourists to view the star-shaped park from above, and the Ajisai restaurant, known for its clear shio (salt) ramen and Zangi Hokkaido-style fried chicken.
Along the city's southeast coast and just 10 minutes away from the Hakodate Airport is the Yunokawa Onsen, a district brimming with hot spring hotels and traditional inns. In the middle of town is a public open-air hot spring footbath where people are free to come and rest their feet.
To the northeast, there is the local Yukura Shinto shrine. Along the southern coast is the Hakodate Tropical Botanical Garden where visitors may watch adorable Japanese macaque monkeys soak in their very own hot spring. Underrated small restaurants in the area include Tsukiyono and its mouthwatering steak plate and Hokkai Ramen and its generous serving of chashu pork. This is the perfect place to end one's Hakodate stay before flying out.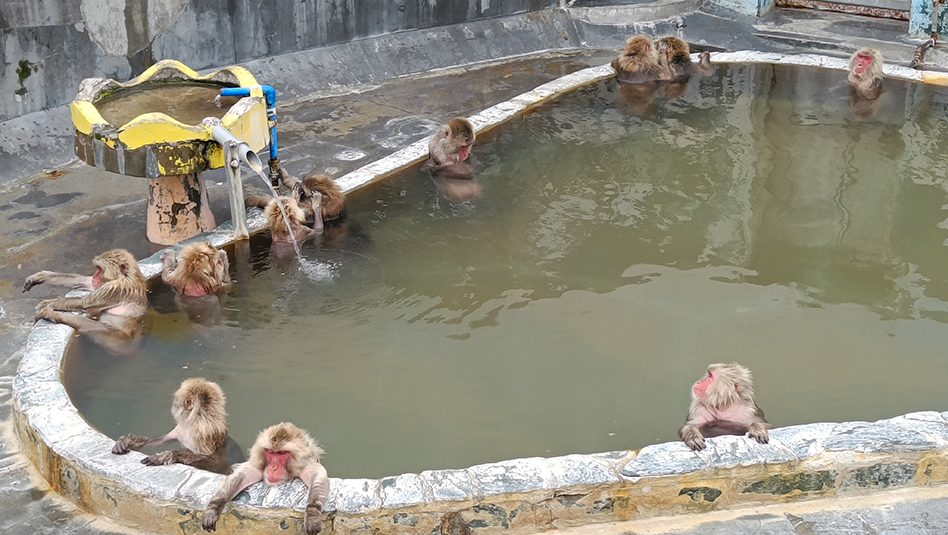 Japanese macaques enjoy themselves in a hot spring. Photo by EA Aguirre
With tourist visits to Japan picking up, it is a great time to consider exploring parts of the country outside of the usual tourist hotspots in Tokyo, Osaka, and Kyoto. Hakodate City on the northern island of Hokkaido may be the best place to still experience cool weather and blooming cherry blossoms in May, a little after Japan's usual peak season. It is also a city that maintains a striking balance of Eastern and Western history, traditional and modern culture, and popular restaurant chains and underrated mom-and-pop shops.
EARL ANDREW "EA" AGUIRRE is a Market Strategist at Metrobank's Financial Markets Sector. He is recently married to PAM LUBER-AGUIRRE who works as a marketing and communications assistant manager for a global consulting firm. Both EA and Pam love everything Japanese and travel to Japan once a year. They also advocate for environmental conservation and animal welfare, which explains their family of three cats, one dog, and one turtle.
Read More Articles About: