Everyday outfits for the office: A guide to power casual dressing
Casual dressing is the perfect go-to outfit anytime and anywhere, even at work. Here's how we can get the right match for your power casual dressing looks.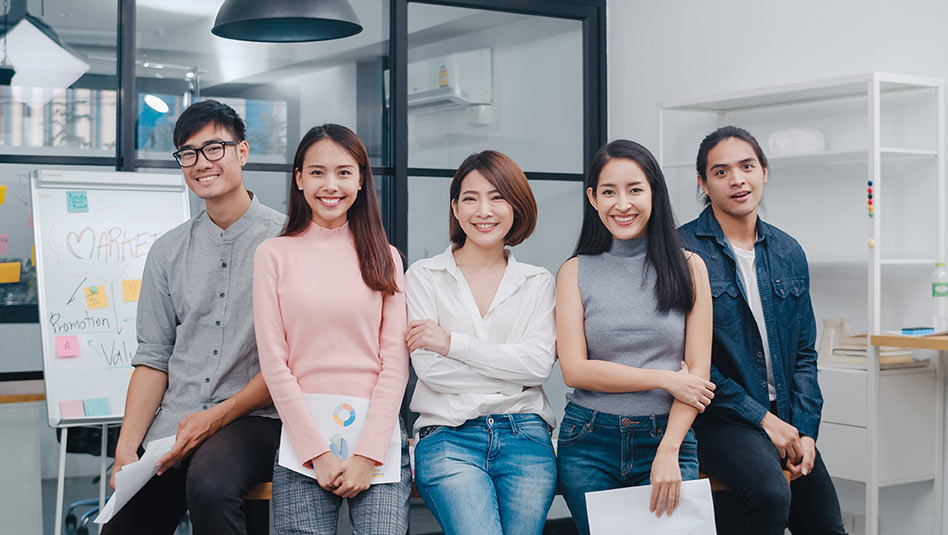 A casual look has been associated with something that is simple. But with fashion evolving as time passes by, casual can be something low-key yet stylish and chic.
With more workplaces embracing looser dress codes, casual style is becoming more familiar. This option lets a person to feel more comfortable at the office without feeling under- or over-dressed.
Casual fashion comes with a diversity of choices, and you need to know how the choose the right one that fits your preferred lifestyle while still looking customary to an office setting. Here are a few tips to help you in your power casual dress hunt:
For women
A casual style can look chic and stylish if one knows how to do it correctly. For women, adopt a casual-chic look by styling with neutral colors like black, white, beige, and grey and choosing soft and comfortable fabrics that are also breathable like cotton, linen, silk, or denim.
Shirts and blouses–Invest in the basics. For example, casual shirts and blouses are clothes that can be easily mixed and matched with bottoms, layers, and accessories. Shirts can be customized to fit one's style as they come with a variety of options. Some differ in sizes (long or short sleeves), and others differ in colors, prints, and designs (simple, patterned, or checkered).
Bottom wear–Women can wear jeans to elevate a simple yet sophisticated look. A relaxed fit-trouser is ideal as it allows more flexibility and movement. Wide-leg trousers can also be used if one wants to emphasize their curvier features while aiming for a chic and professional look. If one wants to perk it up a bit, a midi skirt is also perfect for a casual look as the skirt comes in different shapes and styles, perfect for any body shape, its below-the-knee length gives emphasis to the footwear and adds posh to the overall style.
Dresses–Another outfit piece to wear for a casual look are dresses. Dresses are versatile, comfortable, more feminine, and a timeless classic. Women can enjoy shirt dresses if they want to enhance their silhouette; a knitted dress that goes well during work hours or at a night out; or a long wrap dress that can be paired with sneakers or boots.
Layering–To add life to one's casual style, layering is the key to adding "depth and interest," to one's outfit. You can mix and match items and accessories based on various textures, materials, colors, and patterns that you think fit your outfit. Consider jackets, coats, or cardigans over a blouse or a dress, or tailored pieces like blazers that add structure to your ensemble.
Shoes–For casual dressing, matching your clothes with the right pair of shoes should be well-thought of as this gives your feet a stylish look as well. For comfortable yet fashionable footwear, women can wear loafers, ballet flats, or low-heeled boots.
Accessories–Every accessory can be customized to fit one's personality and fashion sense. Add statement accessories that match your outfit such as a chic handbag, a pair of classy sunglasses, or a timeless watch that polishes your ensemble.
For men
Similar to women, casual dressing for men should be a balance of comfort, style, and individuality.
Jeans–Jeans have been the foundation of the casual style for a long time. So, choosing the right pair of jeans should be done for a modern-day power look. To look smart and casual, dark-washed denim is just right; and for a more laid-back kind of look, light-colored denims are also ideal.
For trousers, chinos are also a great fashion piece that is elegant and comfortable, a perfect piece for a smart-casual style. Chinos come in neutral colors including khaki, navy, and beige, which is ideal for occasions with "ambiguous" dress codes.
Polo shirts–Polo shirts can be matched with decent suit pants or a premium pair of jeans. One can also stay cozy with a knitted polo shirt that can appear just as classy and elegant, or the grandad collar shirts for those leaning to a "smarter" casual look.
Jackets–To finish the casual look, coats or jackets are the way to go. Jackets, which are long-term investments in one's wardrobe, can be worn over everything and comes in various materials such as leather, fleece, denim, and corduroy.
Shoes–Wear white sneakers that go with a classic look, or a leather pair for a more polished look. Aside from sneakers, other options include loafers, desert boots, and boat shoes.
Accessories and accents–Stick with that support you preferred style and express your individuality and uniqueness. One can consider wearing a designer watch or a belt that fits that pair of jeans.
Hack to try
You might wonder how to mix and match different pieces into a good casual look, especially when you're busy. Try the "2×2 outfit formula" where you simply combine two items of formal wear and two items of casual wear. This way, you emphasize both a formal office look and a ready-to-go style.
Remember that dressing casually is about personal style, a suitable appearance, and comfort. With limitless choices of clothes and accessories at your disposal, you can find a specific casual style that truly fits your personality.
Read More Articles About:
Antique furniture, an alluring alternative investment 
Unless treated as family keepsakes, antique furniture could perhaps serve as another investment, as long as they are properly and professionally maintained and appraised.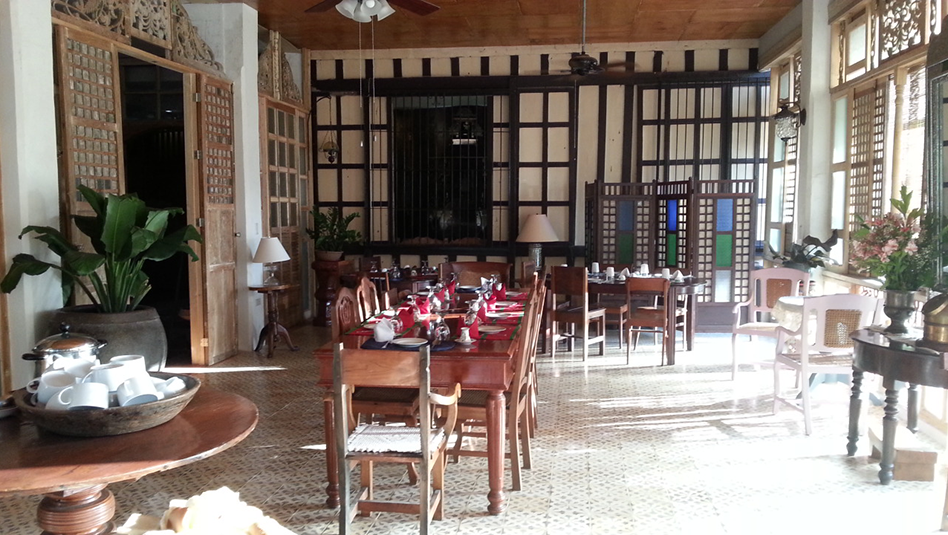 Having withstood the test of time, antique furniture is an object of fascination. Defined as pieces that date back dozens or hundreds of years, antiques are at the backdrop of stories from a bygone era and could also possess sentimental value, especially when part of one's family history. Plus, of course, they add to a home's exquisiteness with their one-of-a-kind beauty that aged like fine wine.
Such pieces of furniture serve as mementos of one's lineage, possibly making them priceless for the inheritors. But aside from seeing such objects as keepsakes, perhaps they would someday pass on these antique furniture as alternative investments. Who knows, as you sit on your antique chairs or bed, you are unknowingly sitting on a pile of cash.
Whether treating antique furniture as an heirloom, an adornment, or an investment, it is best to be acquainted with caring for this old stuff to maintain its significance and value. And when the time comes that one is considering realizing the monetary worth of these antiques as an investment, knowing about selling them is also valuable.
Antiques are sought by collectors and those who merely want unique, sturdy, and historic furniture for their homes. But apart from these qualities that make such pieces attractive, the rise of considering sustainability in consumption is also adding to the appeal of antique furniture.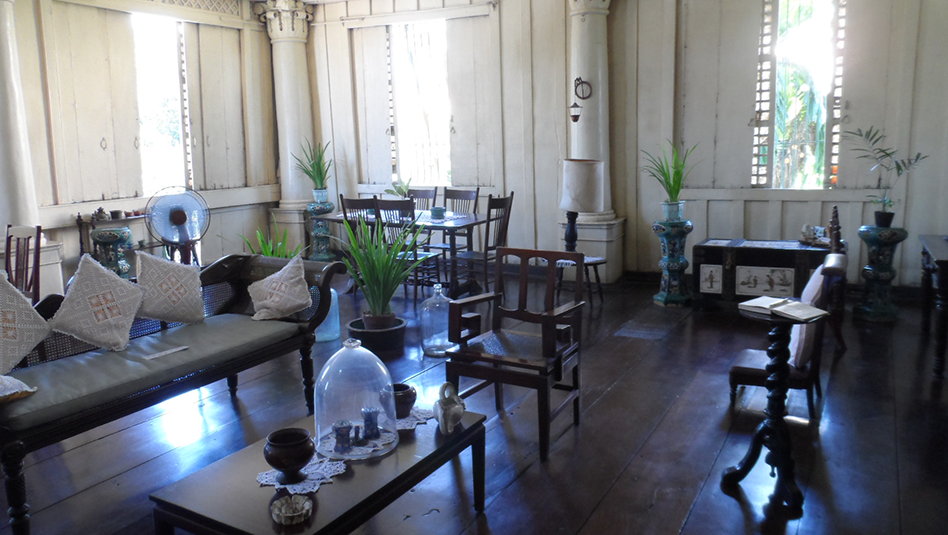 Still, of course, the worth of antiques would vary from one to another. Aside from its conditions — which are necessary to keep it in a good state — the rarity, age, and craftsmanship matter in the value of antique furniture as well.
Keeping antiques' value
To maintain its beauty and strength, which are valuable to its worth, antique furniture has to be handled with care.
If you own old wooden pieces, know that direct sunlight, ambient temperature, and humidity could affect the furniture. Years of accumulated dust can also have some effect on the quality of wood so it is advised to wipe them off from time to time. But be mindful not to use cleaning agents that may harm the paint and protective varnish coating of the antique
When it comes to moving antique furniture that would prevent damage, having several helping hands would be needed, especially for large and heavy objects. Be careful not to carry them on their extended parts to avoid breaking them.
Some antique furniture, however, would need more than cleaning to keep its appeal. When in need of fixing, do not try doing it on one's own or by an amateur. Antique pieces needing restoration must be carried out by a professional antique restorer.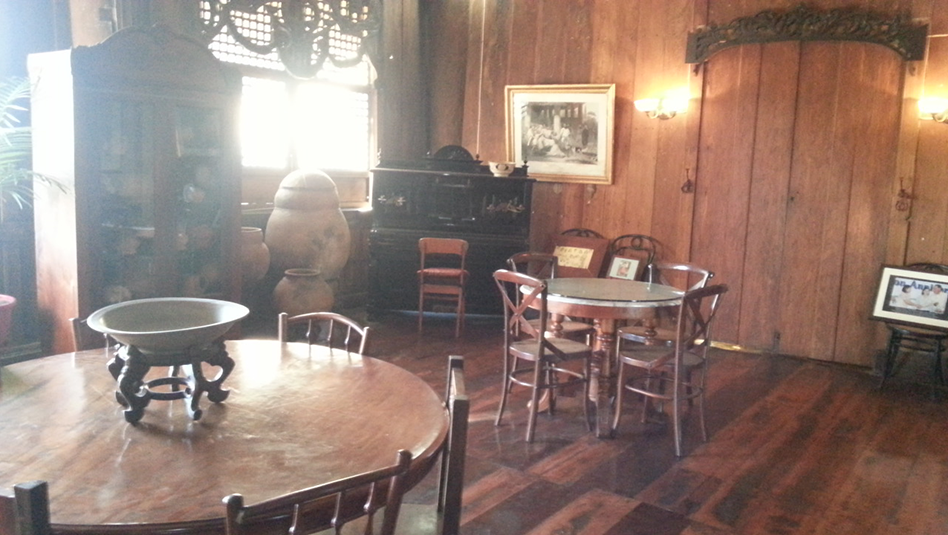 Keep in mind also that restoration could impact the value of the antique furniture, especially if too much revamp has been done. So, as much as possible, it is best to be mindful of keeping its original look when restoring antiques.
Passing on antiques
When you finally decide to transfer your antique furniture to someone else, either as an inheritance or for selling, there are several ways to consider to figure out its worth and where to sell them.
You can list the details of your antique furniture, such as its age, the type of materials used (especially important for wooden furniture), previous ownerships, and restorations or fixes that have been done to it.
Sometimes, the historical significance of the furniture—from the years where it was created, to the historical figures–gives it even more value. There are communities of antique collectors in the Philippines specializing in period items, such as during the Spanish colonial period, the US occupation, all the way to World War 2.
When all these details are collected, you can show these to your potential buyers. But some antique collectors also offer their furniture to auction houses, and there are several renowned ones in the Philippines.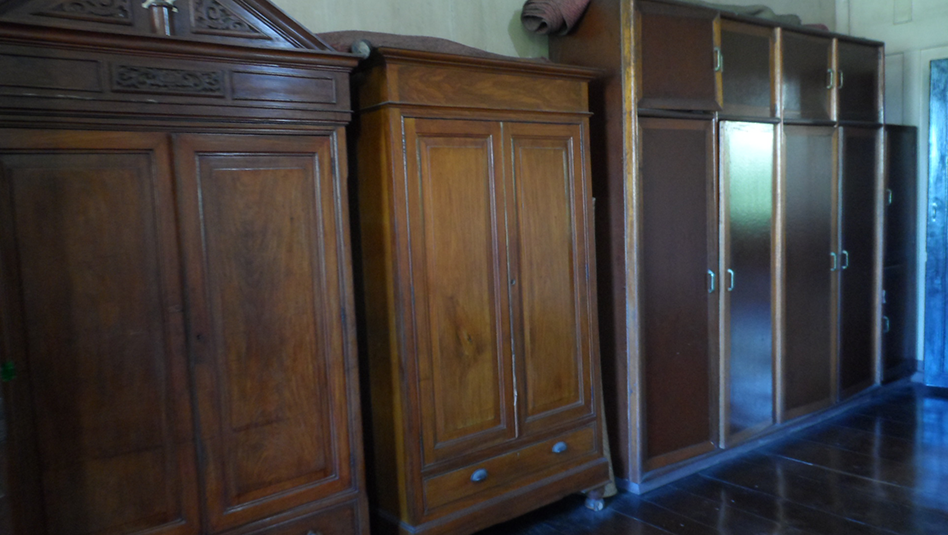 Auction houses, where you can consign your antique furniture, would also help in pricing the pieces. Working with auction houses can be advantageous for antique furniture owners as they could find legitimate buyers. A specialist from the auction house will discuss the piece or see the furniture to appraise it. The auction houses will also help in setting an ideal value for your item. And when it comes to presenting your antiques for sale, auction houses let you showcase your pieces as part of an auction or a private one.
But before sharing your antiques with them, familiarize yourself with the auction houses in the country; and note as well that auction houses, particularly upscale ones, might prefer pieces possessing special quality.
Among the known auction houses in the Philippines are León Gallery and Salcedo Auctions. Both founded in 2010, these auction houses can serve as a platform to offer your antique furniture as well as paintings, jewelry, and other collectibles.
Apart from auction houses, there are also antique stores looking for old pieces of furniture that could consider selling yours. If you are looking to offer your items for sale at these shops, make sure that you also have the important details and image of the antique furniture and ask for the store's consignment policies.
Whether you would want to offer your antique furniture to auction houses or antique stores, get to know further about these sites and shops as you entrust your pieces. Although the estimated worth given to your ancestors' antique furniture as an investment might not equal its pricelessness for you as the heir, at least make certain that these historical pieces are handled and transferred with care so they can retain their allure, purpose, and value for way more than a century.
Read More Articles About:
Building and preserving wealth through art collecting
Collecting fine art is not as easy as buying and keeping other items. It requires fervent passion, discerning taste, and keen knowledge of art. It can be part of your wealth creation journey.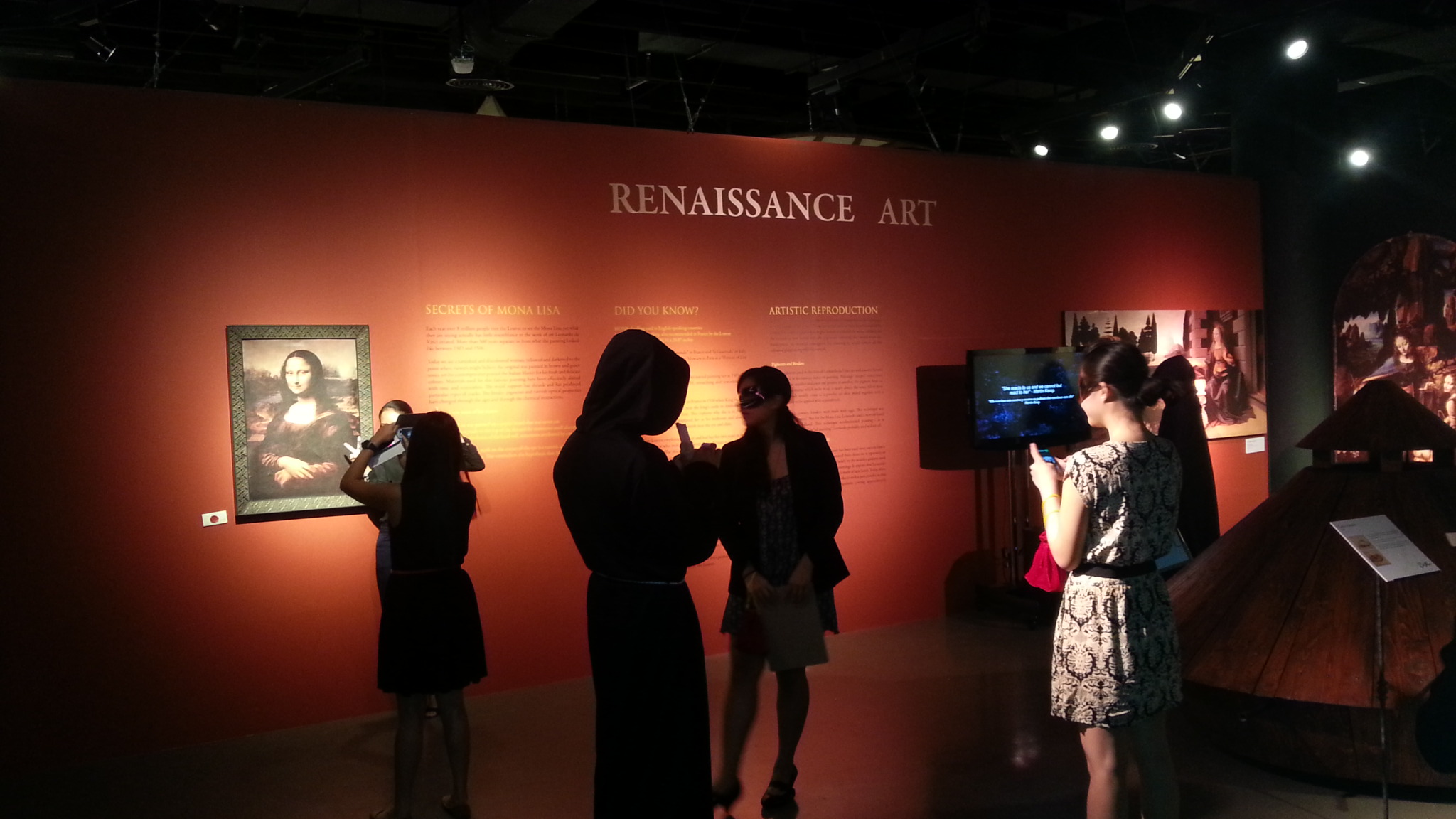 Among many things one can collect, fine art is one of those that definitely requires constant dedication, large amounts of investments, and wide spaces for storage.
Whether it comes in the form of paintings, sketches, sculptures, or landscapes, art encapsulates one's expression or creativity. Aside from its aesthetic beauty, art has the power to communicate and inspire individuals, regardless of when a piece was created and displayed. Such characteristics make pieces of art worth collecting and preserving.
Today, art investments continue to widen its range. Artworks by old masters, from art funds, and creations from up-and-coming artists are among those worth investing in.
Note that art collecting is not for the newbie nor is it for the faint of heart. It is a high-maintenance activity and requires good amount of knowledge of art history and of the artists and their techniques. For the purpose of investing, collecting doesn't end in making a deal with a seller, purchasing the piece, and having it transferred to your own space. After the collecting comes the handling, storing, and insuring of pieces, all of which make investing in artworks expensive.
Considering the weight and responsibility of collecting art, how should one begin? Here are some suggestions: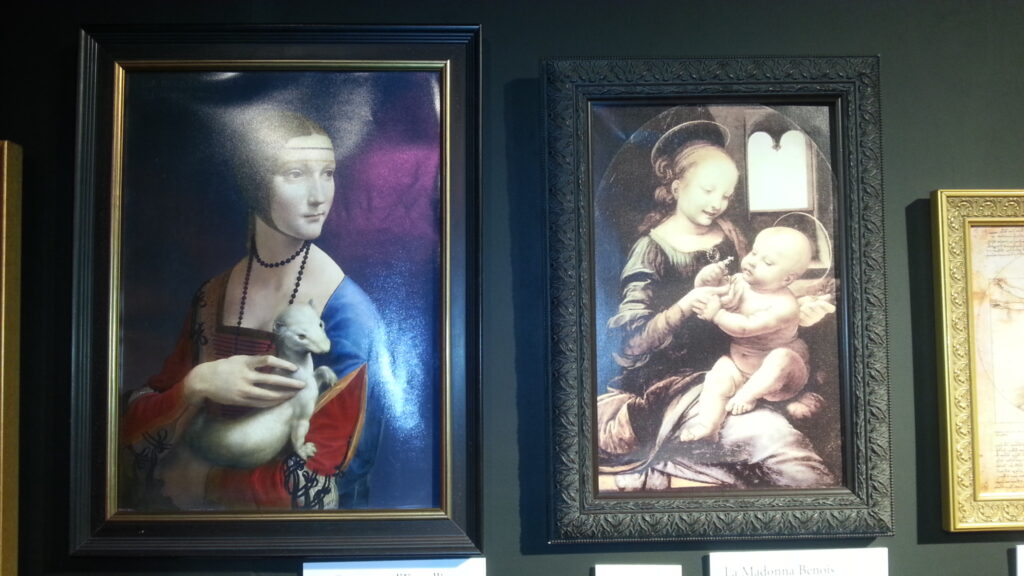 Examples of masterpieces from Italian Renaissance artist Leonardo da Vinci. Photo by Alex Villafania
Setting up clear goals is the first step. Before fully investing in art, investors should think about what they want to get out of these investments, or whether are they more interested in collecting art than making a profit.
Getting a professional art consultant is probably a prudent step. Art consultants are deeply embedded in the art community and can advise clients on how they can proceed with their art collecting and investing goals. They can help in identifying the type of aesthetics, quality, and investment value of specific pieces and the artists who created them. Art consultants also ensure that clients are protected from purchasing fake or worthless pieces.
You can also seek the assistance of other experts, such as artists, art dealers, and even owners of collections, to have a clearer understanding of what it is you are aiming for.
Once the goal is decided with the art consultant, conducting research to determine the kind of art you want to invest in is the next step. The world of art is broad; it can range from vintage paintings, classical art, Renaissance masterpieces, modern sculptures and installations, and even digital art. All these have different values to different people so it is best to align your goals with what you want to buy.
After researching, it is critical to determine the budget or the spending limit. Budget is also crucial when making art investments, since it must be clear how much you are willing to pay. Factor in as well how much you will spend for the handling and long-term maintenance of all the pieces.
Know your space requirements and time horizons. Art pieces must have a home to be cared for, regardless of them coming from legends of the classical era or from budding modern artists. Not all art pieces can survive the test of time. Some pieces may need more space and even air conditioning to remain pristine. How long you will hold such pieces will be a huge factor in how much you will spend to care for them.
Security must also be included in your art investing plans. Like any investment, preventing theft through secure access must be ensured. Artworks can also be damaged or destroyed, either accidentally or intentionally, which means additional cost on your end.
It is important to make sure your decision is an informed one. Make sure you have fully assessed whether the artwork is investment grade and if the specific piece of artwork brings you joy and satisfaction. Money can't buy those two, but at the very least they should be the immediate fruit of any well-thought investment.
Read More Articles About:
A trip to Hakodate, Hokkaido's First Port City 
Experience the sights and sounds of Hakodate, a popular tourist destination in Japan. Enjoy what it feels like to live a colorful yet peaceful life in the land of the rising sun.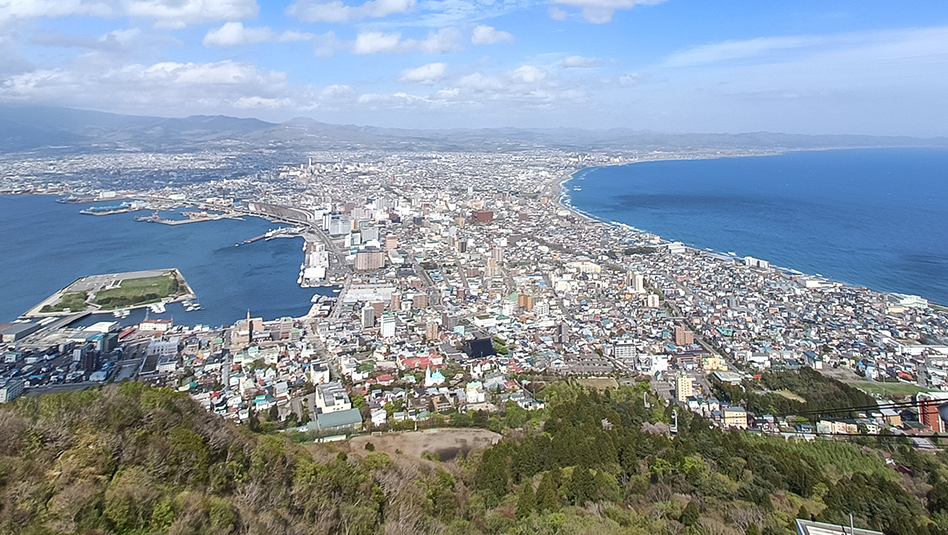 There is a good reason to visit outside of the peak season in Japan. According to the JTB Tourism Research & Consulting Co., a whopping 6.73 million international tourists visited Japan from January to April 2023.
While still a far cry from the 10.95 million who visited from January to April 2019, tourism numbers are expected to rise further and reach pre-pandemic levels as global COVID restrictions ease.
The peak travel seasons in Japan have historically been March to April during spring and October to November during autumn. Spring, in particular, is known for blooming cherry blossom trees also known as sakura. It is common to see tourists crowding public parks across the Honshu mainland, especially in Tokyo, Osaka, and Kyoto, just to view and take pictures with the cherry blossoms. But not everyone knows that cherry blossoms can also be found blooming a month later in the far northeast.
Hokkaido is Japan's northernmost region and is normally known for its record snowfall, snow festivals, and ski resorts during late autumn to winter. But because of its slightly different climate, the island region's cherry blossoms bloom a little later in April to May.
Even in the middle of spring, temperatures still lean cold and fluctuate between 10 to 15 degrees Celsius during the day. My wife Pam and I had the opportunity to visit Hokkaido for the first time during those months. While it may be standard practice to fly directly to the New Chitose Airport near the region's capital city, Sapporo, we instead began our trip in the port city of Hakodate.
A side trip worth the effort
Hakodate is Hokkaido's third largest city after Sapporo and Asahikawa. The city has its own airport, and we were able to fly there via a domestic flight from Tokyo Haneda Airport. Hakodate is also a four-hour train from Sapporo via the Japan Rail (JR) Hokuto limited express but a bullet train or shinkansen route is planned to open by 2030.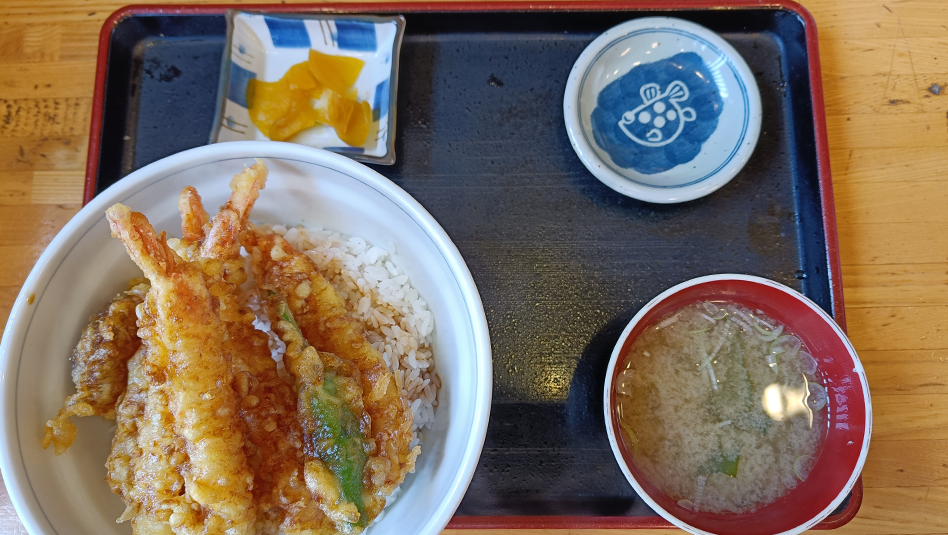 A delicious bowl of tempura on top of rice. Photo by EA Aguirre
With its southern coast facing the Tsugaru Strait, the city is popular for its numerous seafood offerings. Start your day at the Donburi Yokocho seafood restaurant avenue near the JR Hakodate Station where several shops serve chirashidon or various sashimi on top of a bowl of white rice.
Tempura bowls are also available, for diners not looking for raw seafood. Drop by next door to the Hakodate Morning Market Square to have fresh Yubari melon for dessert as well as shop for any vacuum-sealed seafood for souvenirs.
The old settlement of Hakodate was developed into a major trading port in 1859 after the US Navy led by Commodore Matthew Perry forced Japan to open five ports to foreign trade. This resulted in several structures built in both Japanese and Western architectural styles.
Climb up the beautiful cobblestone street of the Hachiman-Zaka Slope to visit the historic preservation district. Just across the large Otani Hongan-ji Buddhist temple are the Motomachi Roman Catholic Church and Russian Orthodox Church which are still open for worship.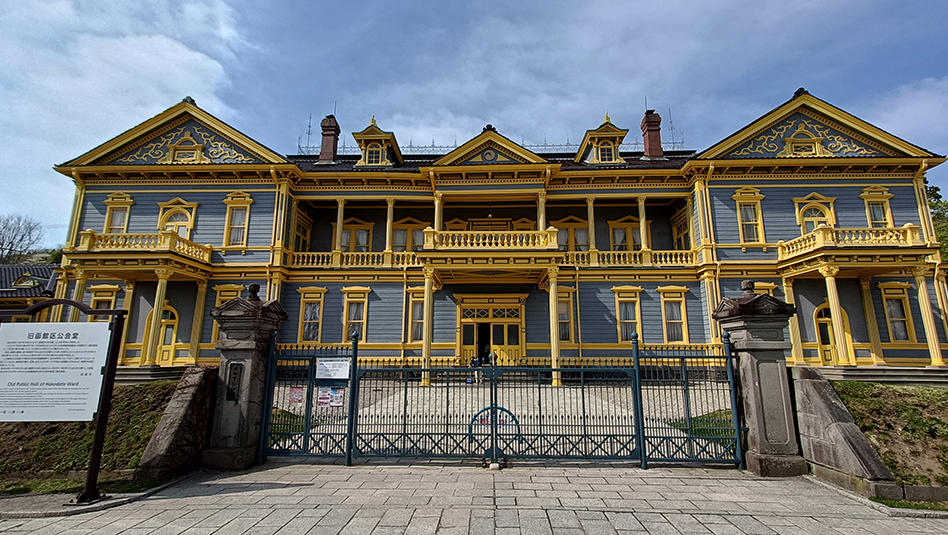 The main hall of the Old Public Hall of Hakodate Ward is still used today for concerts and other events. Photo by EA Aguirre
Overlooking the nearby Motomachi Park is the Old Public Hall of Hakodate Ward, a Western-style civic building from 1910. Right in-between the major tourist sites is Kikuizumi, a traditional Japanese house turned café known for its delicious demi-glace omurice and coffee.
Sakura, sashimi, and then some
To the southeast, there is a ropeway station that takes tourists to the top of Mt. Hakodate, where the entire city can be seen. The part of the preservation district closest to the northern port section features the former British Consulate of Hokkaido and the Hakodate City Museum of Northern Peoples or Ainu.
Shoppers looking for more souvenirs can also visit Kanemori, a block of red brick warehouses that have been converted into a shopping mall. In addition to Hokkaido products, the mall also sells apples and other apple products from Hirosaki City, located near the northern tip of the Honshu mainland. Just outside the mall are two branches of Hakodate's homegrown fast-food chain, Lucky Pierrot, known for its signature Chinese Chicken Burger.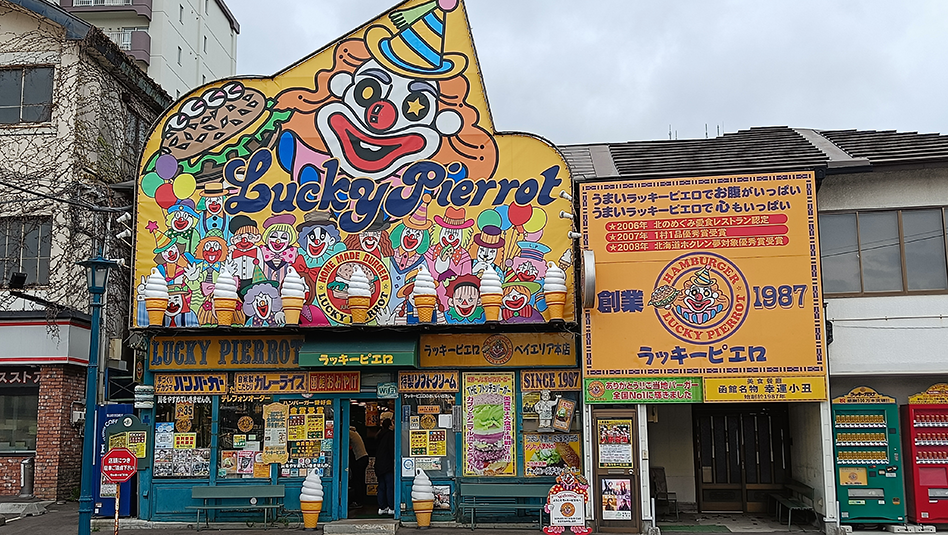 Lucky Pierrot is known not just for its burger, but also for local souvenirs. Photo by EA Aguirre
The preservation district had prominent cherry blossom trees along its roads but die-hard sakura fans are better off visiting Goryokaku Park instead. Locate far northeast of the preservation district by bus, Goryokaku is a massive five-pointed star-shaped fortress built in 1866.
It is well-known for being the final battleground between the remaining samurai of the Tokugawa Shogunate and soldiers of the Imperial Japanese Army. Goryokaku had then been converted into a park and the fortress' structures were dismantled, except for the old magistrate's office at the park's center.
Even when we were there in early May, cherry blossom trees were everywhere as far as our eyes could see. Just outside the park are the Goryokaku Tower, which allows tourists to view the star-shaped park from above, and the Ajisai restaurant, known for its clear shio (salt) ramen and Zangi Hokkaido-style fried chicken.
Along the city's southeast coast and just 10 minutes away from the Hakodate Airport is the Yunokawa Onsen, a district brimming with hot spring hotels and traditional inns. In the middle of town is a public open-air hot spring footbath where people are free to come and rest their feet.
To the northeast, there is the local Yukura Shinto shrine. Along the southern coast is the Hakodate Tropical Botanical Garden where visitors may watch adorable Japanese macaque monkeys soak in their very own hot spring. Underrated small restaurants in the area include Tsukiyono and its mouthwatering steak plate and Hokkai Ramen and its generous serving of chashu pork. This is the perfect place to end one's Hakodate stay before flying out.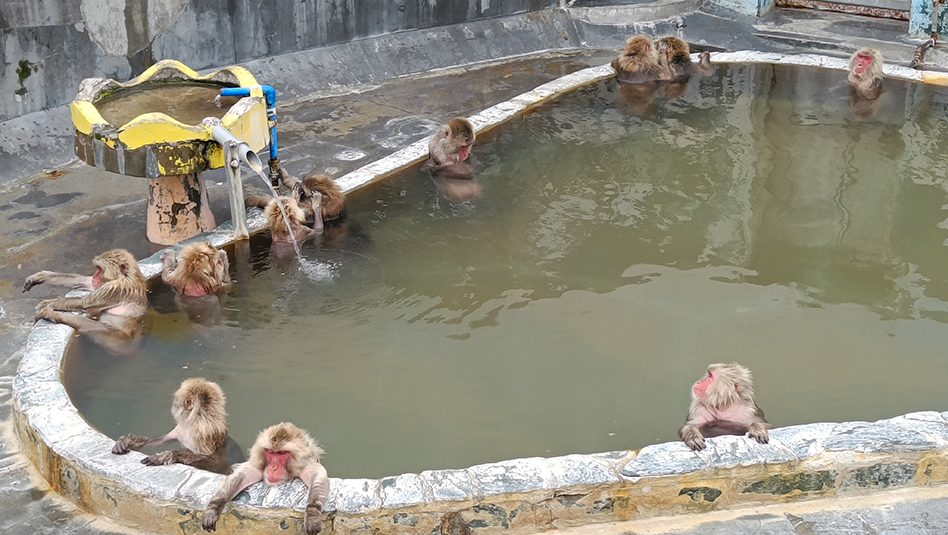 Japanese macaques enjoy themselves in a hot spring. Photo by EA Aguirre
With tourist visits to Japan picking up, it is a great time to consider exploring parts of the country outside of the usual tourist hotspots in Tokyo, Osaka, and Kyoto. Hakodate City on the northern island of Hokkaido may be the best place to still experience cool weather and blooming cherry blossoms in May, a little after Japan's usual peak season. It is also a city that maintains a striking balance of Eastern and Western history, traditional and modern culture, and popular restaurant chains and underrated mom-and-pop shops.
EARL ANDREW "EA" AGUIRRE is a Market Strategist at Metrobank's Financial Markets Sector. He is recently married to PAM LUBER-AGUIRRE who works as a marketing and communications assistant manager for a global consulting firm. Both EA and Pam love everything Japanese and travel to Japan once a year. They also advocate for environmental conservation and animal welfare, which explains their family of three cats, one dog, and one turtle.
Read More Articles About:
Unlocking the full power of your credit card
Understanding rewards systems behind credit cards can help you select the appropriate card that you can maximize for your lifestyle needs.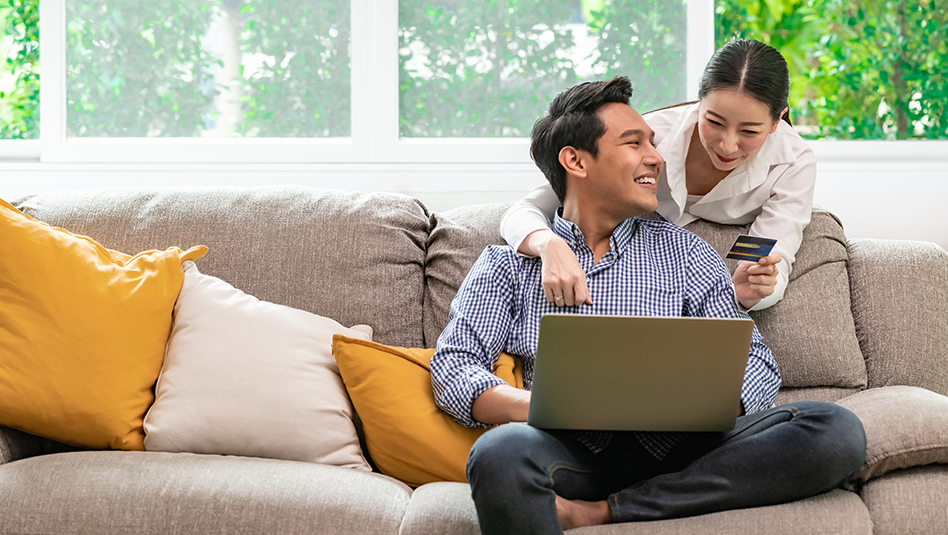 Most people are afraid of using credit cards because of this myth that they might overuse it and incur huge debts. This explains why credit card penetration in the Philippines is still very low.
But for many users, credit cards are a potent instrument of financial management. If used with spending awareness and with caution, users can maximize their credit cards to increase financial mobility, provide access to new avenues of investment and financing, and can even boost their standard of living.
There are incentives to using credit cards, such as 0% interest financing, free airline flights, or free shipping on online orders–the benefits of spending using your credit card.
Banks and credit card companies often give such rewards to clients as a carrot-on-stick to use their cards regularly. And if you play your cards right, you can get a line of credit that works perfectly with your spending habits and personal preferences available.
Types of credit card rewards
There are four main types of rewards systems offered by banks.
1. One of the most popular is cashback rewards that give you a percentage of your spending back as cash or statement credits (the money that is kept in your credit card account and is deducted from your next billing statement). The cashback rate may vary depending on the spending category (e.g., groceries, gas, dining, etc.).
As the most common type of reward you can get, cashback rewards are tailored to offer simplicity and flexibility for every user. You can use cashback as a statement credit or deposit it into your bank account. However, cashback rewards typically have lower earning rates compared to points or miles systems.
2. There are also cards that offer point-based rewards. Under this system, you can earn points for each of your transactions. These points can be redeemed for various rewards, such as gift cards, merchandise, travel, or statement credits.
Points rewards systems often provide higher earning rates than cashback rewards and can be redeemed for a wide variety of things. Usually, the value of points can vary depending on the redemption option, and some rewards may require a substantial number of points.
3. For the more outgoing type of user, there are miles rewards systems, which are similar to points systems but are specifically geared toward travel rewards. You earn miles for every peso spent, which can be redeemed for flights, hotel stays, and other travel-related expenses.
This is perfect if you're a frequent traveler, as miles rewards systems can offer great value and help you save on travel expenses. As a downside, however, miles rewards can be difficult to redeem depending on your usage, and they may come with many restrictions, such as limited availability of available flights or blackout dates where promos are not valid.
4. Finally, perks rewards systems offer benefits and discounts on specific services or products, such as free checked bags on flights, hotel upgrades, or access to airport lounges. Perks rewards systems are the category of rewards where you can get valuable benefits and discounts tied to specific services or products to your bank or credit card provider.
Picking the right credit card
Given these four reward structures, you may already get an idea of what kind of credit card is best for you. But before you decide, keep in mind that there are also other factors that may come into play. Your credit score, for instance, plays a significant role in determining your eligibility for specific credit cards. Higher credit scores typically grant access to cards with better rewards and lower interest rates.
Furthermore, in deciding the type of credit card to use, you need to determine your goal for your using one. Analyze your spending habits to determine which rewards system will provide the most value. For example, if you spend a lot on groceries and gas, look for a card that offers higher rewards in those categories. Do you travel a lot? Get a card that has a miles reward system you like.
Consider what you want to achieve with your rewards. If you prefer cashback, look for a card with a high cashback rate on your most frequent spending categories. Finding a loyalty program that is suitable for your shopping habits is your best bet.
When comparing credit card offers, keep the following tips in mind:
Read the fine print: Carefully review the terms and conditions of each card, including fees, interest rates, and reward redemption restrictions.
Compare rewards earning rates: Look for cards that offer higher rewards rates in the categories you spend the most on.
Consider sign-up bonuses: Some cards offer lucrative sign-up bonuses for new cardholders who meet a minimum spending requirement within a specific timeframe. These bonuses can provide a significant boost to your rewards balance.
Research redemption options: Investigate the redemption options for each card's rewards system and compare the value of the rewards based on your preferences.
Evaluate additional benefits: Some cards offer additional benefits, such as travel insurance, purchase protection, or extended warranty coverage. Consider these perks when comparing offers.
Maximizing your rewards
Once you have signed up for a credit card and have started using it, follow these tips to make sure you get the most out of your rewards:
Pay your bills with your credit card: If possible, pay your bills (utilities, insurance, etc.) with your credit card to earn rewards on these expenses. However, ensure that the service provider doesn't charge a fee for using a credit card.
Understand the value of your points: The value of your points or miles can vary depending on the redemption option. Research the different redemption options and their values to ensure you're getting the most out of your rewards.
Monitor your rewards balances: Regularly check your credit card rewards balances to ensure you're aware of your earnings and can plan for redemptions.
Set up alerts: Some credit card issuers allow you to set up alerts for when your rewards balance reaches a specific threshold. Use these alerts to stay informed about your rewards.
Be aware of expiration dates: Some credit card rewards may expire if not redeemed within a certain timeframe. Keep track of any expiration dates to avoid losing your hard-earned rewards.
From cashback and travel rewards to exclusive perks and discounts, credit cards offer more than just a convenient payment method.
By understanding spending habits, choosing the right rewards system, and maximizing earnings and redemptions, savvy credit card users not only can boost their financial flexibility, but unlock a world of benefits.
Read More Articles About:
Rules when leasing out your luxury home
Luxury is the value that you put on an item, particularly in the real estate space. But for investors, luxury properties can be a source of income, too.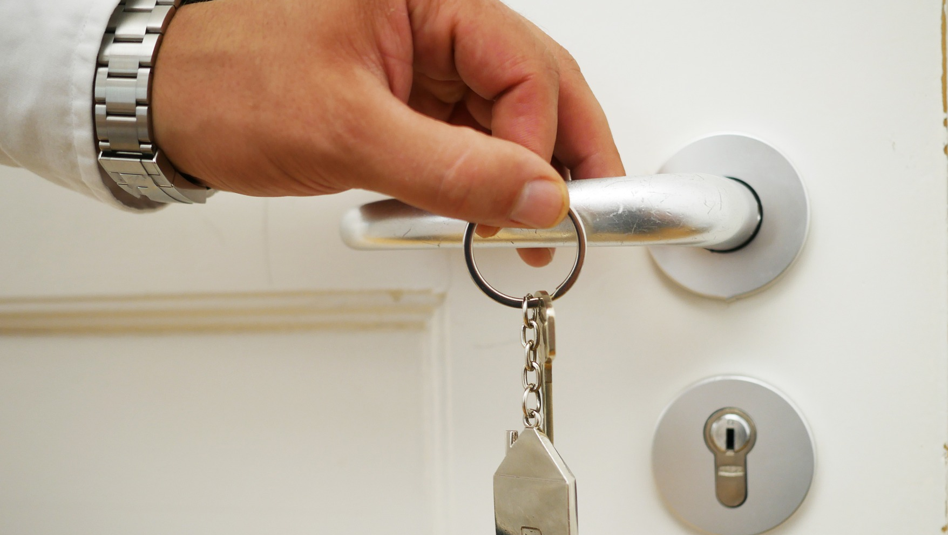 Investing in real estate has been seen as a worthy one to take. Most especially if the locality, design, and amenities offer one-of-a-kind and exceptional experiences. Luxury real estate properties tend to hold their value well for very long and are sought-after by high-net-worth individuals looking for a place closer to their work or business and that also mirrors the quality of life they want.
As you let others find a luxurious home or sojourn in your property, make certain that you could get the best out of these real estate investments. Here are a few things you need to know when planning to rent out your home.
What is your price
Know the market price of other homes and know if you can charge a specific price per day or per month. You can ask neighbors who also rent out their homes how much they charge. You can even ask a property manager to help you determine the lease price of your home relative to its market value.
Add the cost of maintenance to your monthly lease as you might need professional services if you or the tenant find any problems with the home. You must keep the home tip-top if you want to attract premium tenants.
Know your tenants
Opening the doors of the luxury properties you invested in, of course, you should look forward to the returns. And among the means to ensure that you can gain (and not too much cost you) from the property is knowing who you will let inside in the first place.
Having a reasonable and exhaustive knowledge about your prospective tenants through screening can be imperative before letting them sign the contract. Apart from being able to assure yourself that they can pay the rent and utilities when needed, know also if they can take care of your property. Considerable damage could cost you, which could then interrupt the cash flow from your investment.
Establish a legally binding agreement
As you get to know your tenants, let them know also about the rights, responsibilities, and rules. Establishing a rental agreement may state who would cover the costs of utilities; the term of the tenancy; grounds for eviction; the landlord's access to the property; and policies concerning pets, among others.
With a clear rental agreement between you and the tenants, you can reduce spending on your property by avoiding legal disputes, which can also be expensive to settle.
Know the laws and the taxes
It's also worth mentioning that you have to know the pertinent laws related to leasing. There is the Rent Control Law, which establishes the regulation of rent, specifically for low-income dwellers, though certain provisions also cover all types of rentals.
Its extension, the Housing and Urban Development Coordinating Council (HUDCC) Resolution No. 1, covered leasing for all types of homes, including luxury dwellings. Your lease agreement must include the necessary coverage for your home and highlight your tenant's rights.
And because rentals are considered businesses in the Philippines, they are also subject to taxes. Therefore, you must file tax returns specific to your rental, and must issue a receipt to your tenant.
Considering short- and long-term rentals
The income from your luxury properties would hinge on the length of rentals. But which is more profitable, short-term, or long-term rentals? Both have their own advantages and downsides when it comes to income and expenses.
If your property serves as a luxury vacation home available for short-term lease, the money coming in can be potentially higher, such as during peak season when people are longing for a getaway and are glad to pay more for the extravagant setting and conveniences presented by your property.
The downside of short-term rentals is the higher spending needed to manage the property in between rentals, as well as the lower income when demand lessens during the off-season. Whereas, if your luxury condominium unit or house is good for home-seekers looking for a place to live, then you can anticipate stable rental income from your property.
So, whether you should rent out for the short or long term, that would depend on what is best for a particular type of property as well as your financial objectives and capacities to manage them.
Invest in features and upgrades
As you put out your luxury property for lease, you should make the rent worth it for tenants.
What makes a real estate luxury, as mentioned, does not only revolve around the price. You should also invest in making the space made up of special and premier comforts in which one could indulge. In addition, make sure these features are what tenants look for and then highlight these, along with the distinctiveness of your luxury properties, to make them attractive and more valuable.
And from time to time, you might have to make necessary upgrades to not compromise the value of the property. When needed, you should invest in improving the design, decor, or appliances to address maintenance issues, stay up-to-date, and present the place as fresh and, of course, luxurious for new tenants.
Technologies for management
If you have been investing in luxury real estate for a long time, consider also if you need an upgrade in terms of handling the rental process and your properties.
Technologies can help you in looking for your luxury properties. Displaying your properties through various digital platforms as well as overseeing the earnings and expenditures from your rentals through an accounting software are among the ways to utilize technologies to better manage the process.
Aside from the rental process, you could also invest in smart home technologies such as automated air conditioning and water heating systems that activate before you get home, or remote alarm systems that sends alerts to your phone when there are security threats in your properties.
By streamlining the rental process and securing your properties through technology, you can focus more on improving your properties to add more to their value.
Insurance for investments
And to further secure your finances from risks, you should also insure your property investments. You already know that property damage can be expensive. Having the right insurance can help cover the costs and prevent affecting too much of the gains from your property investments.
Having a home is a worthwhile endeavor, both as a source of prestige and one that gives you additional income. The need now is for you to make sure that, while someone else is living in it, you get your money's worth while keeping the property in pristine condition.
Read More Articles About:
The workaholic CEO's guide to staying healthy 
Mark Zuckerberg just won a gold medal in a jiujitsu competition. For a billionaire obsessed with the future of Meta, he has found time to pursue other passions and take care of his body. You can, too, with the tips below.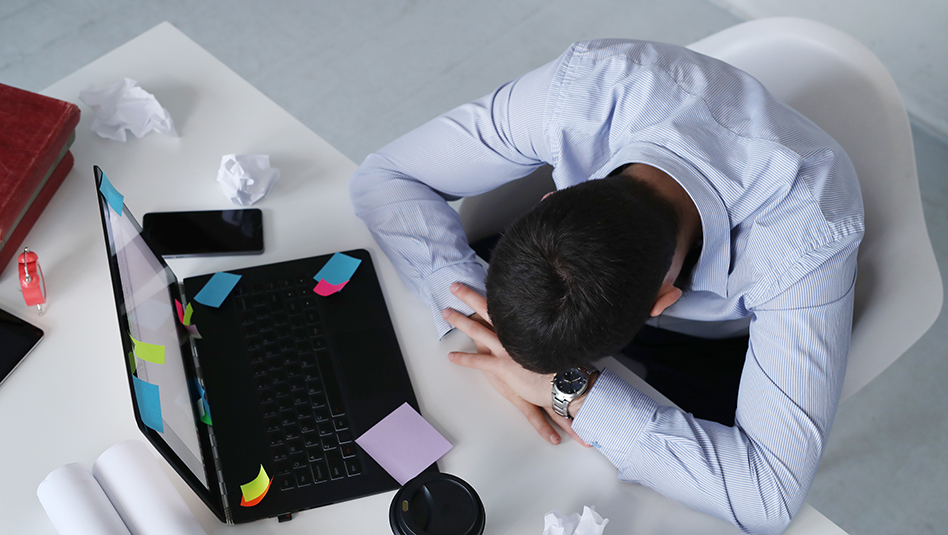 As a good business leader, we know that you think that the time and efforts you give to your company's day-to-day operations is a precious investment. It is not hard to see that as the one helming the ship and making all these decisions, you are an integral part of the operation.
Therefore, investing in your own health and well-being not only is a wise choice for you as a person, but it is also the most logical one for the continued success of your business.
Suffice it to say, your health is the most important thing you have. If you take care of it, nothing else matters. Here are three easy ways to make sure you are healthy and able to keep up with all the demands placed upon you by your career and life.
Be more mindful about what you eat.
As a high-powered CEO, chances are that your schedule is packed, and your eating habits might be suffering as a result. To maintain your health and energy levels, important to make sure that what you put into your body is as good for it as possible.
That means avoiding processed foods and sugars whenever you can. Processed foods have been stripped of nutrients during the manufacturing process but still contain lots of salt, fat, and sugar, all of which are delicious for sure, but can negatively impact your health over time if consumed regularly.
This also means cutting back on alcohol consumption. Time to take account of your daily sip of your favorite brandy at the end of the day. Although there is no hard evidence linking casual to moderate drinking with heart disease risk–with some studies even suggesting the opposite–consuming more than moderate amounts of alcohol can contribute to high blood pressure and obesity—both risk factors for cardiovascular disease.
Eat a healthy breakfast — Starting your day with a balanced meal is not only important for your overall health, but it is especially crucial if you are a busy executive who rarely has time to sit down and eat. A good breakfast will give you energy throughout the morning and help curb cravings later in the day, which could lead to unhealthy snacking.
Eat protein and healthy fats at every meal — Protein can help build muscle mass and reduce fatigue, while fats give lots of energy. It is a combination that is perfect for executives who spend hours each day on their feet making deals or reviewing reports from subordinates. Such diets would typically include some type of meat at each meal. For instance, chicken breasts, eggs or fish fillets are both excellent sources of protein and healthy fats.
Consume more greens — It is also possible to have vegetarian and even vegan diets with plenty of the macronutrients you need. Tofu makes for great, healthy vegetarian dishes when paired with vegetables like spinach or kale, which also contain plenty of vitamins, and grains, nuts, beans, and other legumes, make for excellent sources of nutrition.
Drink plenty of water throughout the day – Sometimes you might forget to take a glass of water. At least eight glasses, or about a liter of water per day, is recommended. Water keeps you hydrated, allows for your body to properly transport nutrition to your brain, maintain body temperature, and much more. You especially need water when dealing with high stress, high intensity situations like during long, important meetings or working out. Keep in mind that while about three to five cups of plain coffee a day is perfectly normal and can be part of a healthy diet, it is no substitute for a tall glass of water.
Make your workout a priority.
You probably know you should be moving more. The benefits of exercise have long been repeated over and over, in books, magazines, TV, and the internet. But busy as you are, it simply is not that easy to make time for it.
There is no other way to go about it. You need to schedule your workouts into your calendar as though they were meetings or appointments and treat them as such. The only way to make time for your workout is to make it a priority, equal in value to any other business meeting you have. It can be argued that it is even more important, as exercise can ensure that you will be able to keep healthy and capable of leading your company for years to come.
Once you have decided when and where those workouts will happen each week, stick with that schedule no matter what happens. If necessary, block out some additional time during the day so that nothing gets in between you and working out. After a while, the results will speak for themselves.
Get enough sleep.
Like exercise, getting more sleep is as important to your performance, mental and physical health as your diet.
Sleep helps with creativity and productivity. Without enough sleep, you are liable to make poor decisions, your memory can suffer, and you can have trouble absorbing critical information and solving problems.
Make sleep a non-negotiable part of your schedule, no matter how busy you are. Sticking to a regular sleep schedule is paramount to staying healthy, and it helps you deal with the stress of daily life and deal with other people much better. It helps if you can also invest in better sleep by buying a better mattress, or by making sure you sleep in a comfortable room with good ventilation.
If you are a workaholic CEO, it can be hard to find time to take care of yourself. But if you make it a priority, there are lots of ways for you to stay healthy without sacrificing your career. You just need to realize that choosing a healthy lifestyle is as important as any other meaningful business investment—and then stick with it!
Read More Articles About:
Eco-friendly resorts to consider for your summer getaway
Where to spend your next travel? Perhaps in these exclusive resorts placed in the country's pristine beaches or tucked away in forest mountains.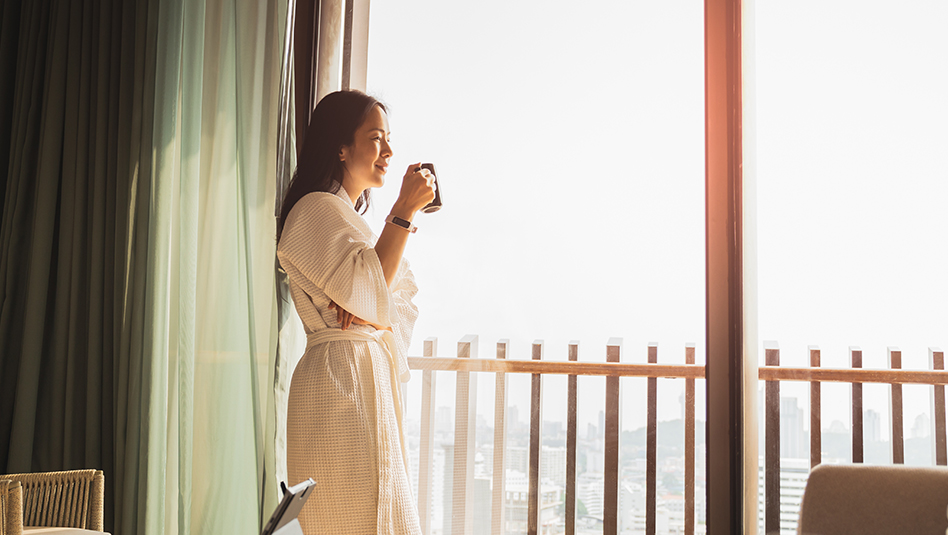 As the peak for summer getaways approaches, there is still much time left for a quick or even a days-long breather from the hustles of the work week.
Better yet, spend such time off concrete buildings and off your gadgets and reunite with nature. The Philippines is rich with these locations where you can enjoy the summer breeze, the cool ocean waves, or the aesthetic of mountain areas.
Take note of these unique and stunning exclusive eco-friendly resorts that can be found within the country's pristine beaches and mountain landscapes to make your summer getaway more fun and enjoyable. Enjoy nature at its most pristine.
West 35 Eco-Mountain Resort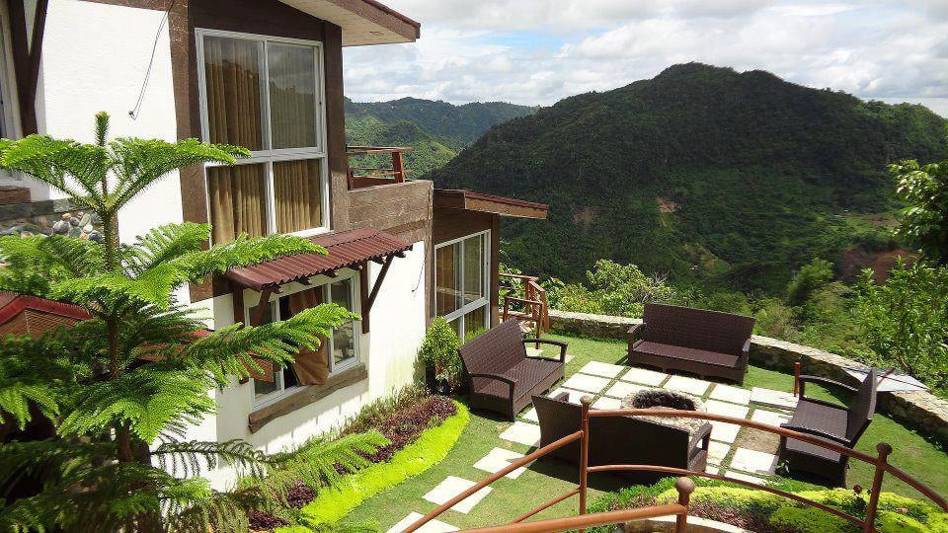 Looking to unwind from the busy city life? West 35 Eco Mountain Resort might be for you. Perched atop of the mountains in Balamban, Cebu, the resort is only a few meters away from Cebu's other popular local attractions.
West 35 is notable for its stunning 360-degree view of the Balamban Mountains, as well as a home to many unique ​​creatures, including a variety of birds, insects, and foliage that are endemic to the city.
Among the most striking features of the resort are the simple yet cozy aesthetics of its rooms. The rooms mostly have wooden furniture and neutral colored interior designs. The separate spaces for bathrooms, balconies, jacuzzies, plus an outdoor rest area overlooking the mountain views and perfect for campfire activities, further heighten the luxury vibes in these rooms.
West 35 also captivates guests with its food and restaurants. It grows and cultivates all of the organic vegetables used in their menu, from chicken, to seafood, to pasta. The food is offered by Haven Café, complemented by a stunning 360-degree viewing deck to enjoy the meal.
In addition, the resort also has many rooms for other leisure activities, including function rooms, and the kid's playground.
Visit West 35's official Facebook page or email at reservation.west35@gmail.com.
Secret Paradise Resort & Turtle Sanctuary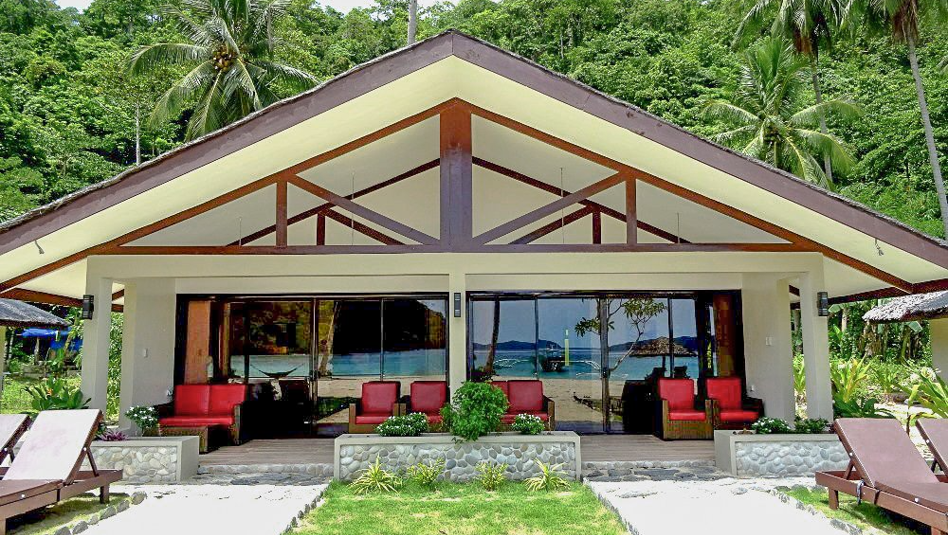 While Palawan is known to be a home to numerous beaches and lagoons, The Secret Paradise Resort & Turtle Sanctuary stands out as it includes a four-kilometer shoreline, four private beaches, and waterfalls located in San Vincente, Palawan. Moreover, the resort also takes pride in its 28-hectare Turtle Bay Marine Sanctuary, which it serves as a shelter for marine animals. It has been protected by the island for the past 12 years. It protects marine animals, specifically, endangered green and olive ridley turtles where they mate and hatch eggs.
Along gorgeous beaches, Palawan's premier eco-friendly resort is divided into two secluded coves with four private beaches having the perfect location for breath-taking sunsets.
The largest executive villas are located along the sunset beach. Both of those villas include a luxurious bedroom, a lounge, and a jacuzzi bathtub, with an additional large balcony for the premier villa. Meanwhile, their deluxe, superior, and suite rooms are built like modern but luxurious nipa huts.
While the rooms are designed with neutral colors and dominated by wooden furniture, Secret Paradise does not fail in giving off cozy vibes, with its enormous beds, loft rooms, and even balconies, as the rooms are overlooking the white sand beaches.
For inquiries or more information, visit www.secretparadiseresort.com or their Facebook page at Secret Paradise Resort; or email at inquire@secretparadiseresort.com.
Nature's Village Resort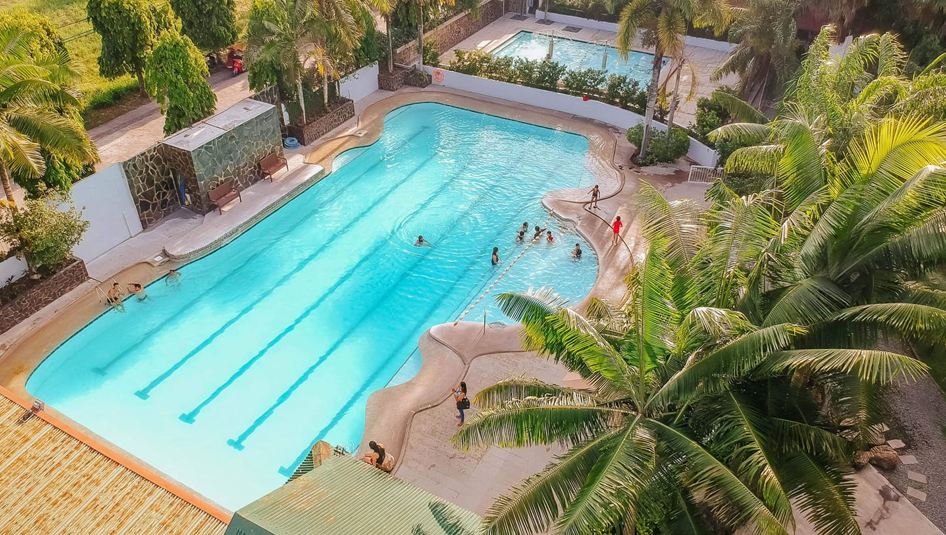 This resort can be a worthwhile choice for staycations with its spacious and peaceful atmosphere.
Delivering sustainable efforts into traveling, Nature's Village Resort offers a garden paradise, with a stunning view of Mount Marapara in Bacolod City. The resort is well-known for its distinctive lodgings, coupled with other amenities such as pool, outdoor park, and organic farm. Here, nature enthusiasts may enjoy the beauty of nature while experiencing the best resort experience at the same time.
The rooms were designed to harmonize with nature, as shown by the theme of earthly colors, wooden floors and furniture, and classic nature paintings in each room—all blending with the indoors and the outdoors.
Nature's Village Resort aims to encourage eco-friendly tourism and promote sustainability agenda. As such, its dining choices come with ingredients that are harvested from its very own Village Farm.
Visit www.naturesvillageresort.com or Nature's Village Resort on Facebook for more information.
Atmosphere Resort and Spa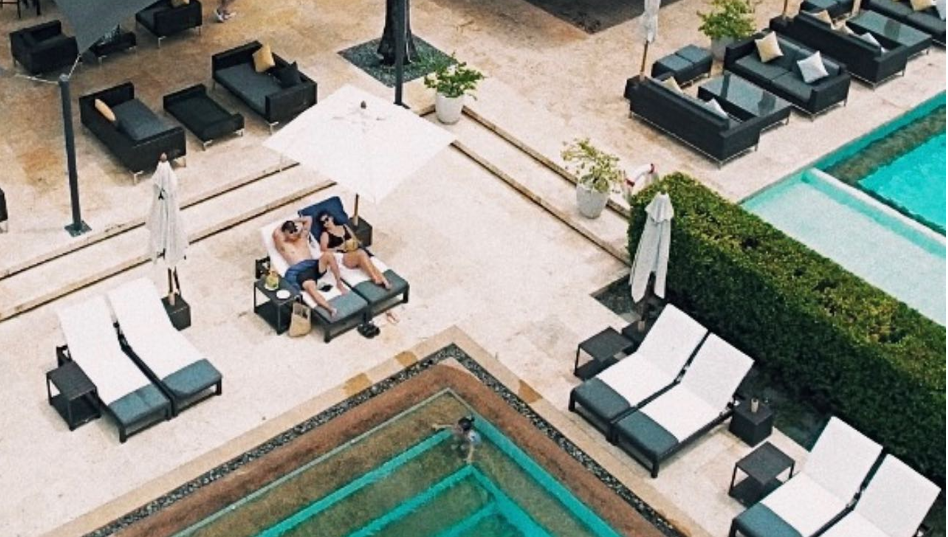 A high-end boutique resort and spa is located along the stunning beach and coastal waters of Negros Oriental. Called the Atmosphere Resort and Spa, it has 44 modern boutique rooms, with California king-size beds and cool Egyptian cotton pillows.
Multimedia amenities, energy-saving air condition, as well as solar-heated waters and eco-friendly toiletries add a modern vibe to this luxury resort.
Atmosphere Resort and Spa has excellent dining choices, both on its restaurants and bar. The resort offers a variety of food choices, from seafood, to gourmet dining, to Western dining. Atmosphere's restaurants emphasize healthy eating, and all of their menus and locations provide mouthwatering vegetarian and vegan options.
The resort also offers leisure activities such as scuba diving, fitness and yoga, among others.
Visit www.atmosphereresorts.com or their Facebook page on Atmosphere Resorts & Spa or @atmosphereresorts on Instagram for more information.
Nurture Wellness Village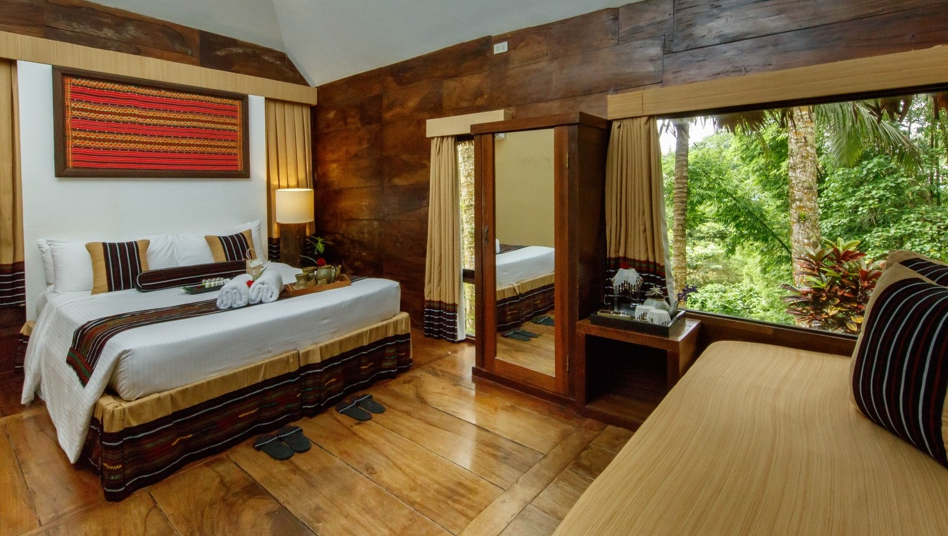 The preceding destinations are good options away from the metro. Nonetheless, here's another destination to consider for those looking for a quick and nearby getaway.
Located in Tagaytay City, a few hours' drive away from Metro Manila, pioneer wellness and eco-friendly hotel spa Nurture Wellness Village carries a rustic-chic houses theme. Its rooms come with tea and coffee machines, multimedia amenities, and four-poster mattresses. The rooms even have access to remarkable private gardens.
Another remarkable feature of the hotel spa is its farm-to-table cuisine that offers fresh produce from its organic farms. The hotel's dining choices come with various Filipino and foreign dishes. Aside from the exquisite dining experience, Nature Wellness Village also has a modest outdoor cafe and open-door restaurants for diners to appreciate scenic nature while enjoying their meal.
Guests can also relax by the holistic health and detox ​​services offered by the hotel, which include their massage services, facials, and body treatments. They can also enjoy the hotel's fitness facilities, as well as pool activities and lounging at the poolside bar.
For inquiries or more information, visit nurture.com.ph, Nurture Wellness Village on Facebook, or @nurturewellnessvillage on Instagram.
(resort photos courtesy of their respective owners)
Read More Articles About:
Must-have books for wealth-building before you turn 50
Books contain a wealth of wisdom, including about building one's wealth. These titles are worth keeping on your shelf.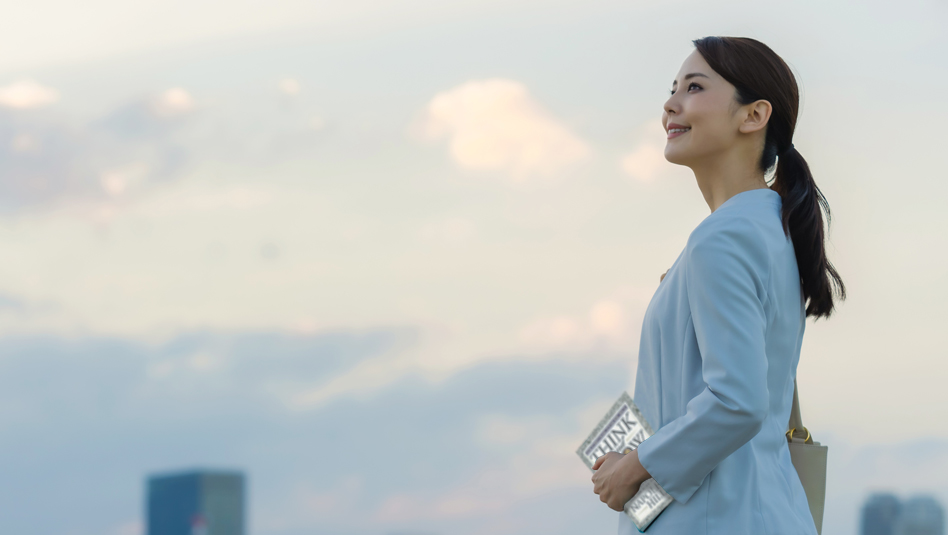 While financial advisors, colleagues, friends and family, and of course, your personal experience could give insights about building wealth to finance your retirement, you could also turn to books.
From the classics to the recently published, here are some sources of wealth knowledge that you should read and learn from before you turn 50.
The Richest Man in Babylon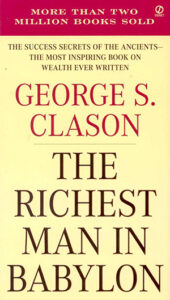 Several authors have come up with stories and ideas proven to be timeless, impacting generations succeeding them. On the subject of wealth, George S. Clason's "The Richest Man in Babylon" is one of such books.
Considered as one of the most inspirational books on wealth, "The Richest Man in Babylon" was first published in 1926. But the stories that made up the book are set in ancient times. Clason gave financial lessons in the form of Babylonian parables, which uncovered the secrets to keeping and building one's wealth.
It was in 1926 when Clason started to write finance-focused pamphlets told through parables with ancient Babylon as the milieu. Such parables were handed out by banks and insurance firms. The book is a compilation of his famous stories.
Through storytelling, The Richest Man in Babylon turns financial principles into memorable nuggets of wisdom.
Think and Grow Rich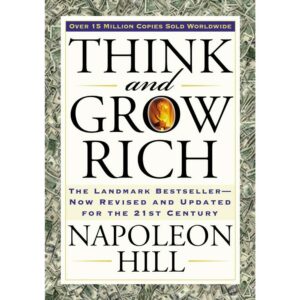 Across the different lists of books dealing with wealth, Napoleon Hill's Think and Grow Rich is almost always included.
This classic self-help book holds lessons not only for wealth but success as well. Think and Grow Rich is based on Hill's Law of Success philosophy. He elucidated his principles in the book by using the stories of the most successful people of his generation, including Thomas Edison, Henry Ford, and Andrew Carnegie.
The book was originally printed in 1937. Even after Hill died in 1970, Think and Grow Rich has continued to be sold and remains influential to many people.
Rich Habits: The Daily Success Habits of Wealthy Individuals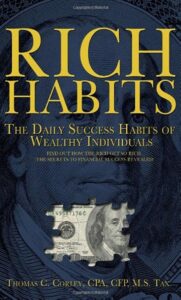 Just like Napoleon Hill, Thomas C. Corley also looked at wealthy individuals to examine what leads to financial success. He formulated 10 principles from years of research on his wealthiest clients, particularly their success habits in the day-to-day.
If you are curious about the habits of the wealthy and how you can incorporate them in your life, hopefully to become financially successful as well, the Rich Habits can be your guide.
9 Steps to Financial Freedom and The Ultimate Retirement Guide for 50+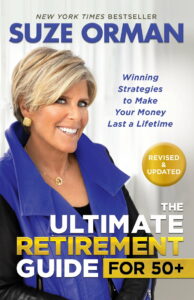 Having the financial freedom to live the life you desire upon retirement is perhaps one of your financial goals. Suze Orman might be able to help you through her book, 9 Steps to Financial Freedom.
Orman's book takes an emotional and spiritual perspective in approaching money matters. Her philosophy reminds you that "you are worth more than your money." The book can transform the way you "think, feel, and act" on money.
But aside from helping pave the way towards gaining your financial freedom, Orman can also support you in planning your retirement in another book, The Ultimate Retirement Guide for 50+.
Seeing that retirement has changed and become more complex nowadays, she imparted advice and tools you might need.
Quit Like a Millionaire: No Gimmicks, Luck, or Trust Fund Required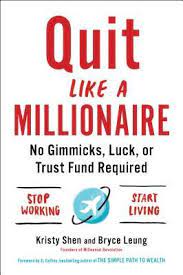 Maybe you are not planning to retire after 50. Maybe you want to do it earlier.
Take Kristy Shen and Bryce Leung as examples. They retired in their early 30s and now spend their time travelling around the world. At 31, Shen retired having a million dollars. So how can you also "quit like a millionaire"?
A guide to wealth-building and retiring early, Quit Like a Millionaire holds a formula towards financial independence. The book covers developing a million-dollar portfolio, bolstering investments, and reducing expenditures without lessening quality of life, among others.
If you are also one of those who want to spend retirement seeing the world, you might want to prepare for that adventure by delving into this book of Shen and Leung.
Passive Income, Aggressive Retirement: The Secret to Freedom, Flexibility, and Financial Independence (& how to get started!)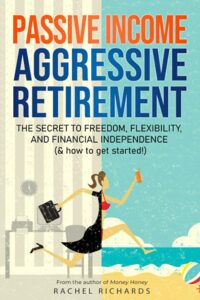 This is another book to teach you about retiring early, with a focus on passive income.
Author Rachel Richards left her job and retired at 27 years old. But she could depend on passive income streams of more than USD 10,000 each month. So, in her book Passive Income, Aggressive Retirement, she provided lessons on how you could also be financially free earlier than you have imagined.
The book included 28 passive income models. Among the ways they could help are attaining "Financial Independence, Retire Early" without being a penny pincher, as well as establishing a consistent, long-term residue income to enable you to live life according to what matters to you.
(Photos courtesy of their respective authors and publishers)
Read More Articles About:
7 high-end hotels to stay in for your vacation
These luxury hotels around the country are geared up to bring fine living afresh.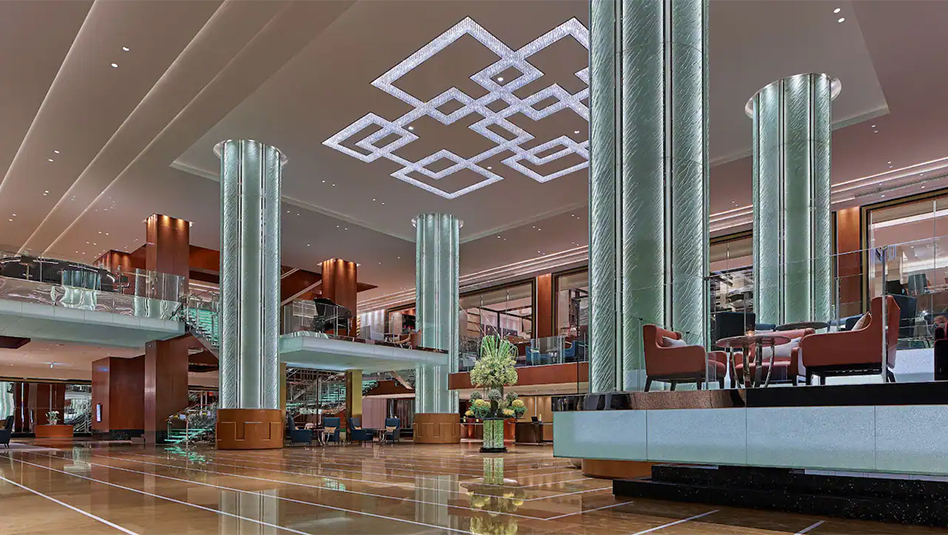 How long has it been since you last traveled, or at least had a staycation by yourself or with your family? Maybe it's time to take a break and de-stress from the hustle and bustle of your work week.
You do not even have to go too far to have that relaxing, even once-in-a-long-while escapade. Just book into one of these high-end hotels; then get your car ready anytime soon (unless you prefer to book a Grab car). If you are aiming for an out-of-town escapade, though, two new hotels in Northern Luzon and in the Visayas are included here.
Bookmark this list so you may keep it handy the next time you yearn for a quick unwind:
1. Hotel Okura Manila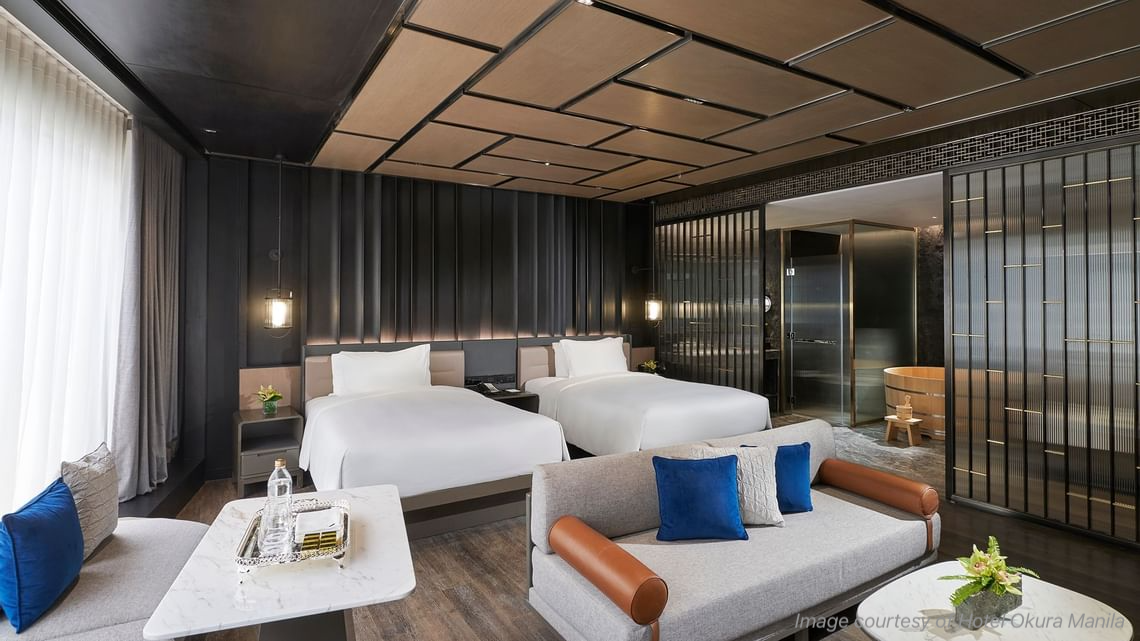 One of the most awaited hotels to open in the country, this newest addition to what is now Newport World Resorts in Pasay City has been fully operational by the first quarter of this year.
Notable for its Japanese-inspired aesthetic, Hotel Okura houses 190 rooms. The most striking one, the Hinoki-yu Room, features Hinoki (Japanese cypress) wooden bathtubs handcrafted by Japanese artisans from Nagiso Town, Nagano Prefecture. Further exuding luxury in this room are separate areas for bathtub and rainfall shower, a high-tech Japanese bidet, multimedia amenities, and a Nespresso machine.
The hotel's topmost floor has leisure and recreational facilities such as a fitness center and a 20-meter pool overlooking Manila's skyline. Food is offered by Yamazato, a Japanese fine-dining restaurant with private rooms, and Yawaragi, an all-day restaurant serving Western and Asian specialties as well as high tea and cocktails.
2. dusitD2 Waves Hotel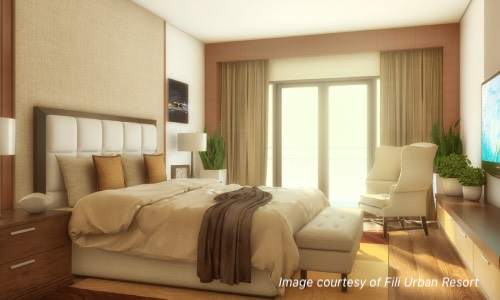 With La Union already an accessible go-to vacation spot, especially for Mega Manila residents, the rebranded dusitD2 Waves Hotel, sprawled along the clean coastline of a 7-hectare property in San Juan town, is a good choice for a luxurious stay.
Now carrying the grandeur of the Dusit International brand since 2020, dusitD2 Waves Hotel features eight floors with about 216 rooms, some of which are overlooking the West Philippine Sea. It also has an elegant Olympic-size swimming pool, a health and wellness spa, gym, two world-class restaurants and two bars. For a family-friendly venture, there is a mini cinema, a library, plus a function hall that can accommodate up to 1,000 people for special gatherings.
3. Admiral Hotel Manila - MGallery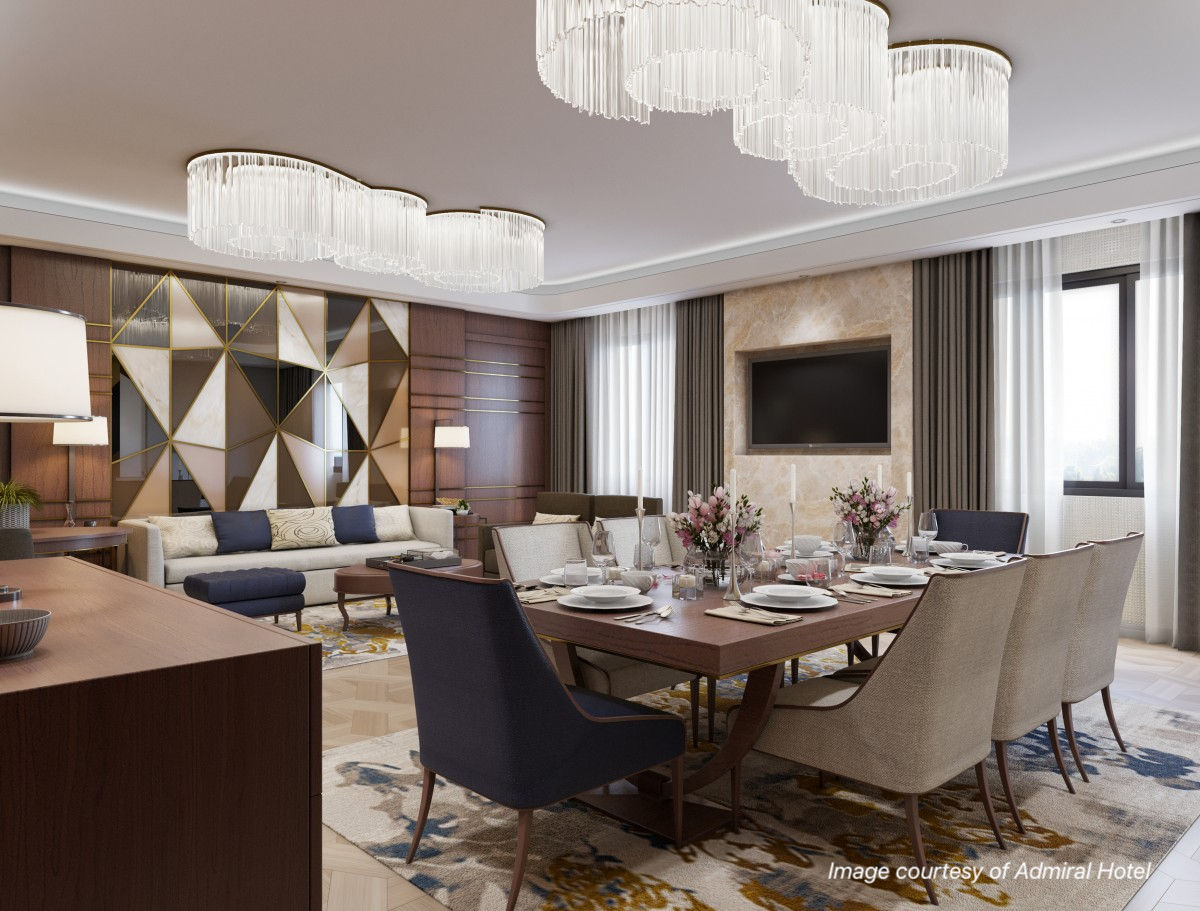 In the nation's capital, its hottest 5-star boutique hotel opened in May 2022.
Admiral Hotel Manila – MGallery is striking for its design that evoke Manila's Golden Age by reinterpreting classic and contemporary Filipino-Spanish design and architecture elements. This is coupled with "thoughtful touches, warm gracious service, and extraordinary gastronomical and mixology experiences," as Matthieu Busschaër, the hotel's general manager, shared in the hotel's website.
Admiral Hotel has 123 rooms and suites which start at a spacious 31 square meters (sqm), coupled with free WiFi, pool and gym access, and plentiful dining options. These options include the Admiral Club restaurant, featuring a Filipino and Hispanic fusion tapas bar and an interactive dining catwalk centerstage table; an old Shanghai-themed Ruby Wong's Godown; and a rooftop Coconut Grove bar, perfect for catching sunset views from the Manila Bay.
4. Swissôtel Clark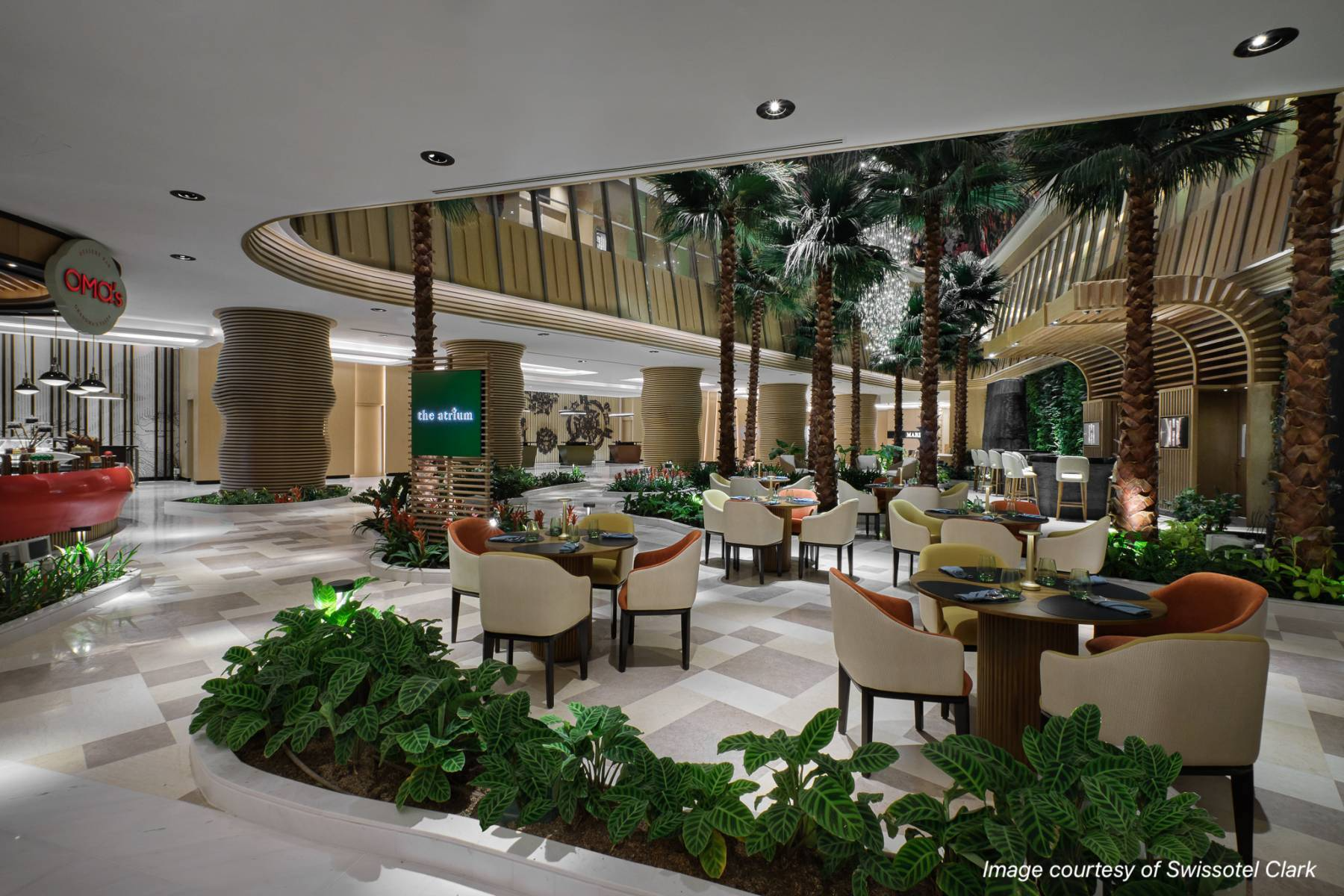 A Swiss-inspired luxury hotel that has been operational since March awaits travelers in the fully integrated Hann Casino Resort at Clark, Pampanga.
Swissôtel Clark has 372 contemporary rooms and suites (plus Swiss Executive Lounge for suite-stayers) with floor-to-ceiling windows, generously sized marble bathrooms, lounge chairs, and the latest guestroom automation technology. Guests can relax in a resort-style infinity pool and spa accented by sweeping mountain views at Pürovel Spa & Sport, the only alpine spa in the Philippines.
There are also various dining options to choose from, with 10 specialty restaurants serving everything from Asian street food delicacies to authentic Italian cuisine. To name a few, there is the in-house Nasi for Kapampangan fare, Markt for Swiss food, Spice for pan-Asian favorites, and Bar 20 for post-midnight drinks.
5. Grand Hyatt Manila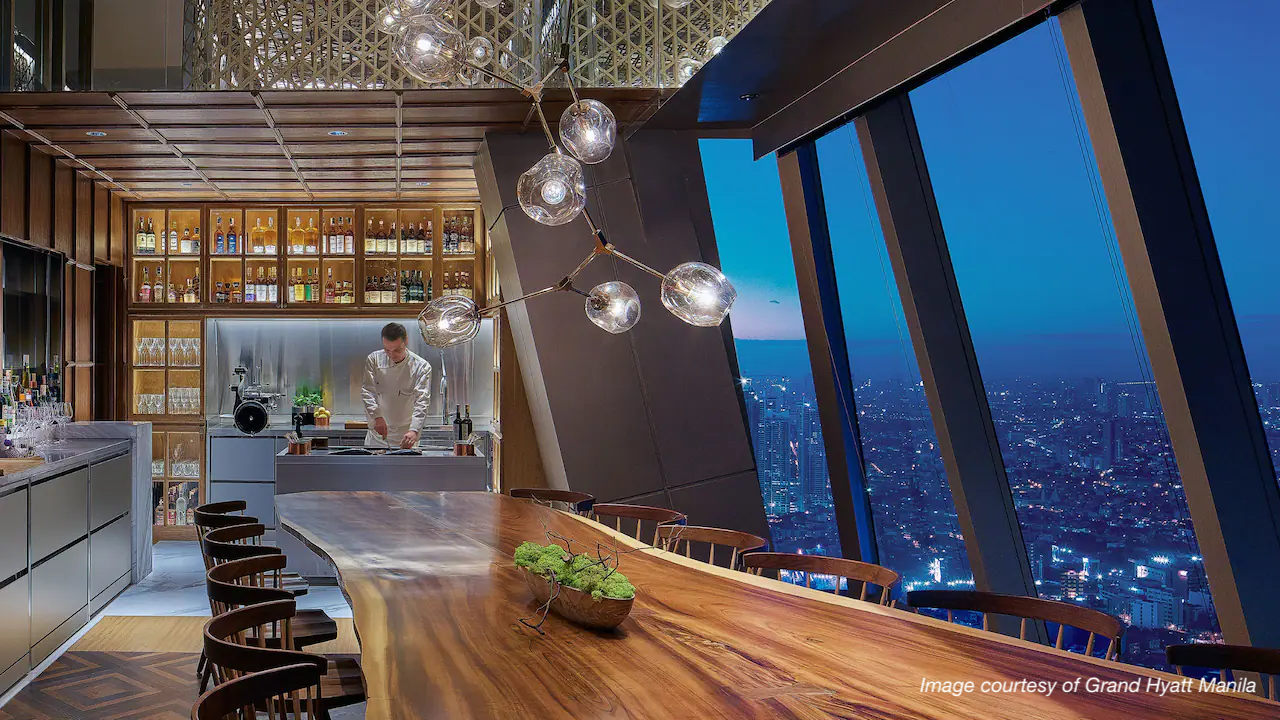 Delivering its Hyatt's superior service for over four years, Grand Hyatt Manila in Bonifacio Global City, Taguig is surely a great choice for an uncompromised hotel experience. With rooms adorned with honeyed wood paneling, maple hardwood floors, richly veined gray-white marble bathrooms, spacious walk-in closet, and huge floor-to-ceiling picturesque windows, staying in one of the hotel's 461 elegantly appointed guestrooms and suites is something individuals seeking a taste of the high life will go back to.
This experience does not stop with accommodation. Various dining choices await at The Grand Kitchen, The Lounge, The Cellar, Pool House, No. 8 China House, Florentine, and Peak. Aside from bringing grill restaurant, speakeasy, whisky bar, and music lounge in a single spot, The Peak also takes guests through an immersive culinary journey with Le Petit Chef, the tiny clumsy chef from France, via fun and engaging 3D animation on one's dining table.
6. The Westin Manila Sonata Place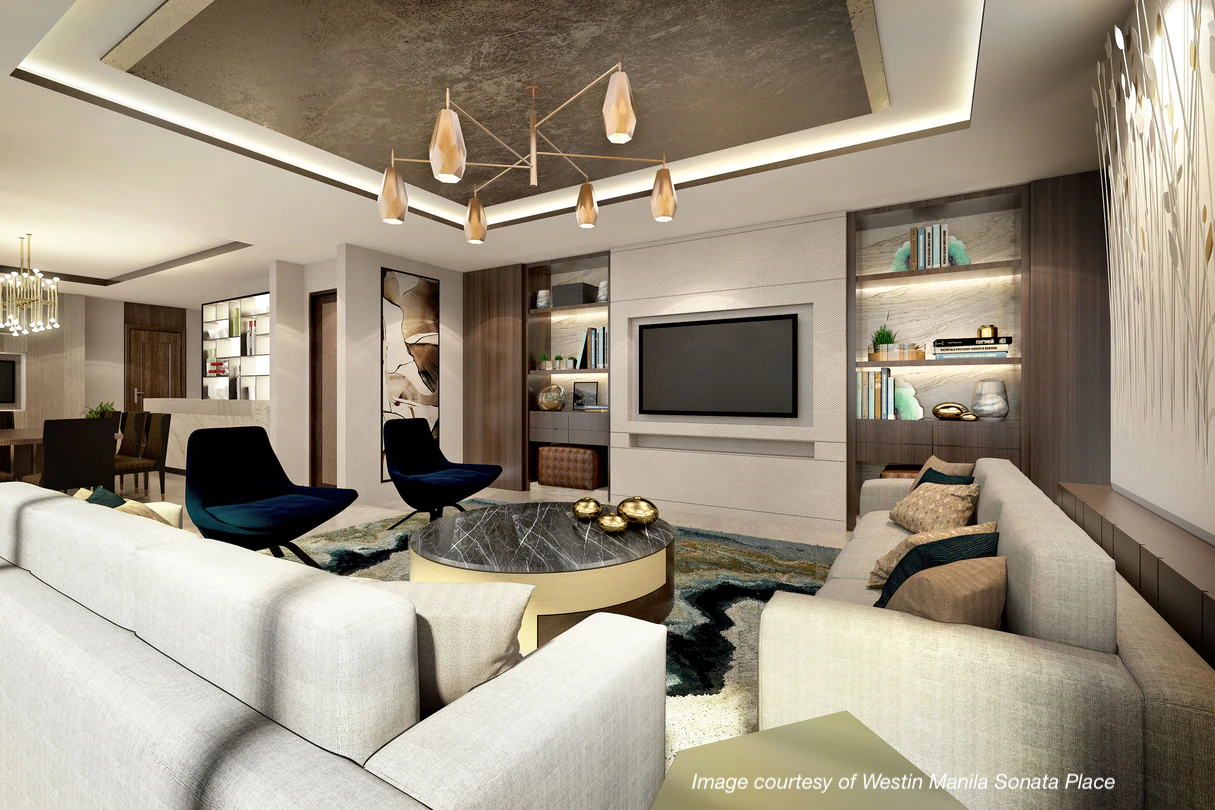 Located on the main street of the Ortigas Business District, this elegant hotel is slated to open later this year. Once it opens, you can choose from a wide range of room options out of its 300 luxurious rooms, from the Deluxe to the Presidential Suite. One thing is for sure: Every room features the signature Westin Heavenly Bed.
Guests will also get to indulge in three F&B venues, a swimming pool, a 24/7 fitness center, as well as an in-house Heavenly Spa by Westin.
7. Fili Urban Resort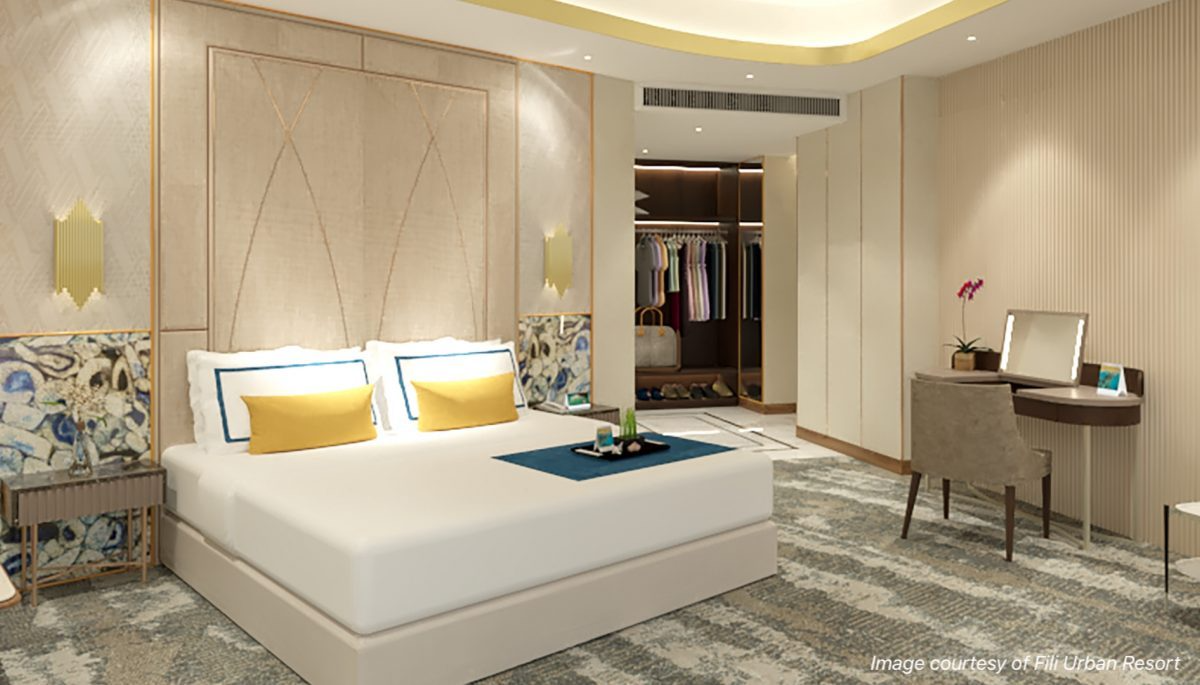 Within the so-called "biggest lifestyle and entertainment destination outside Metro Manila" is a hotel that promises to redefine 5-star hospitality.
Fili Urban Resort is the first of three hotels that have opened in NUSTAR Resort and Casino, Cebu's first integrated casino resort hotel. The hotel aims to give guests a distinct Filipino luxury experience, right from the reservation. For instance, guests can be picked up in limousines at the airport, then welcomed upon arrival at the hotel with the Fili signature drink.
The hotel, launched last May, features 379 rooms, a spa, pools, a hot tub, and gym. There are also butlers in every suite and villa of the hotel, as well as childcare and car rental service for a fee.
Making one is stay more exciting are shopping options in NUSTAR's four-level 35,000-sqm mall, which will house VIP cinemas, high-fashion stores, and global and regional dining outlets.
Coupling amenities of the highest quality with top-notch services, these hotels are ready to give you fresh experiences of high-end living — a rewarding treat worth your hard-earned money.
Read More Articles About: