Investment Tips
4 MIN READ
Money Talks: Making your money work for you
Investing is an opportunity for everyone to consider. Make the most of it with these general tips to guide your decisions.

The pandemic has brought with it a newfound interest among Filipinos to participate in the stock market. Data from the Philippine Stock Exchange (PSE) showed that the average daily number of trades in 2020 soared 33.7%, while retail participation surged by 47.8%. This follows an increase in online accounts by 19.7% to 936,000, while non-online accounts grew by 3.3% to 460,553.
In this B-Side episode, Ruben L. Zamora, Metrobank's First Vice President and Head of the Institutional Investors Coverage Division discusses with BusinessWorld why more Filipinos are more willing to "let their money work for them," as well as how the beginner investor can sift through their options to start their financial journey.
TAKEAWAYS
You can be doing more with your savings.
"Putting your money to work is really about making your savings earn more and do a bit more work to build and accumulate wealth through investing," Mr. Zamora said. "The days of earning interest from a simple savings account, those days are long gone. And that goes for everyone in the world, not just here in the Philippines."
Investing is [not] a rich man's game.
Whether with P10,000 or P100,000, there are good options to choose from for beginner investors.
"The good news here to those who are just starting out: You don't need a big pot of money anymore to start the investing journey," Mr. Zamora said. "Now more than ever, there are so many investment options for you to choose from. If you want a little bit more return and you've done your homework, and feel like you can tolerate and accept a bit more risk with your investments, start with an index tracker fund on the whole market that you know."

Your participation matters.
Investing is not zero-sum game. More local investors in the market can help its general health in the long run.
"This is something healthy, something that we would welcome for our local capital markets. And the reason is that with the base of retail investors broadening out, more local investors participating, it means that we are not as reliant as we used to be on foreign investors or foreign capital flows," Mr. Zamora said. "These flows can get pretty cold very quickly and we've seen that in this crisis, with foreigners exiting both the stock market and the fixed income market."
Do your homework. Especially if it's about cryptocurrency.
"As a beginner investor, you don't really want to invest in something you don't understand well enough. You need to do a lot more homework, especially as you move up the risk ladder. And risk ladder-wise, I would put cryptocurrency right at the top," Mr. Zamora said.
Read More Articles About:
Investment Tips
9 MIN READ
Understanding economic indicators for investment
With investment highs and lows, the best way to protect your finances is to make well-informed decisions. Get yourself started by knowing what to look out for.

Talking about the investment market and the economy can be daunting for any first-time investor. But it does not need to be. Understanding how the economy works in tandem with the market is a valuable skill that any interested investor can develop and cultivate.
First, we need to start by understanding what investing means. Investopedia.com defines investing as the act of allocating your resources, usually money, into assets or endeavors that you expect will generate income or profit for you in the future. But the basic idea is that rather than you working for your money, investing lets your money work for you.
How hard you want your money to work for you then becomes the next question. Just like everything else in life, the higher the expected reward, the greater the risk you'll likely have to take. When it comes to investments, a lot of things can go wrong, and the best way to protect yourself from things going wrong is to do your homework. You need to understand what you plan to own and the risks associated with owning them.
The value of investments reflects many things, foremost among them being the economy, or more specifically, the outlook of the economy. What's happening now has made this more important than ever.

The current COVID-19 pandemic and the negative impact it has had on our economy is a living, breathing, and sadly, still an ongoing example of things going very wrong. The pandemic forced an unprecedented nationwide lockdown for 75 days in the country, ceasing any form of normal social activity, like going to school or seeing friends and family, and in turn grinding the economy to a halt. This meant lost income for many businesses and companies, leading to permanent business closures and job losses. This abrupt slowdown in the economy resulted in a sharp fall in the value of assets held by investors, particularly the stock market, which fell as much as -40% in a matter of days.
While no one really could have anticipated a shock like this, we can and should use this experience to develop a better understanding and appreciation of the economy's impact on investments. We saw first-hand that when the outlook for the economy turned bad, the value of investment assets fell. It stands to reason therefore that when the economy stabilizes and begins showing signs of recovery, the value of assets should then rise.
Important economic indicators
Understanding the health and outlook of the economy is therefore a vital part of any investment decision-making process. Studying three of the most important "economic indicators", namely the country's Gross Domestic Product (GDP), inflation, and unemployment, would be a good start. Looking at these economic indicators will tell you the general state of the economy at that point in time while tracking changes in these indicators over different periods will help you identify "economic trends", and in turn, the overall direction and outlook of the economy.
GDP, or the total monetary value of all goods and services produced in a country within a specific period, is the most commonly-used measure of the size of the economy. Positive growth is therefore good, while negative growth, or GDP contraction, is not. Because of the health crisis, the Philippines' economy is set to experience economic contraction for the first time in 22 years.
INFLATION is the increase in the average prices of a fixed basket of basic goods and services in an economy. Rising prices of goods might be viewed as a bad thing, but some inflation in the economy is actually healthy because it indicates strong demand for goods and services in the economy, which of course is positive.
UNEMPLOYMENT is a measure of joblessness, expressed as the percentage of people in the labor force without a job. Clearly, the lower this number is, the better.
Once we have developed a firm grasp of how these key indicators affect the Philippine economy as a whole, then we can relate it to how it affects the stock market.
The stock market and financial markets
The stock market is made up of the country's largest companies in the country. When the economy is doing well, that is, when GDP is growing reasonably fast, inflation is stable, and unemployment is relatively low, then these companies should be doing well and should experience robust sales of their products and services, and in turn, strong earnings, all else being equal. This should then mean that the company is growing and hence is becoming more valuable.
When you buy a stock of a company from the stock market, you become an owner of a part or "share" in that company, so the more valuable the company gets, the higher the price of that share goes.
The savvy investor must therefore be able to read signs and anticipate changes in economic trends, that is, when things are about to turn bad, and vice versa, as these trends will likely impact the business of a company in which you own a share, and ultimately, the value of that share.
You can think of financial markets, like the stock and bond markets, as a superpowerful computer that processes the expectations of all the buyers and sellers out there, based on everything that is happening in the world, and then spits out a market value or price for a particular stock or bond instantly.
Because people have different views and opinions of what to expect in the future, these market prices are in perpetual motion, always moving as each new expectation is "priced-in". Sometimes, they move a lot, especially in times of great uncertainty, just like what happened when the pandemic was announced. These changes in prices over time is what is referred to as volatility.
Savvy and successful investors
During periods of high volatility, when prices are swinging around rapidly, the savvy investor is someone who stays level-headed and doesn't give in to emotions. This is easier said than done, because we are only human, and the forces of greed and fear, euphoria and panic, are indeed very strong.
How do you do this? By starting with a deep knowledge base before you invest your hard-earned money. You need to know the risks involved and understand the level of risk you're willing to accept and tolerate. Again, the greater the expected reward, the greater the risk you must be willing to take. Successful investors tend to be those who are always learning and planning and are usually a patient bunch.
When you are armed with this knowledge, then you can make better decisions about your investments, even when markets are volatile. This continuous learning process should involve regular discussions with a trusted investment adviser with a strong handle on very complicated markets. In Metrobank, we call them Investment Specialists. Another alternative to consider is to engage the expertise of a professional investor, such as a fund manager from Metrobank Trust, whose main job is to maximize investment returns while managing risks.
RUBEN ZAMORA heads Institutional Investors Coverage Division, the relationship management unit for Non bank Financial Institutiions in Metrobank's Financial Markets Sector. Prior to joining Metrobank, he was based in Singapore with UBS, Credit Suisse, and BofAML (now BofA Securities) for Asia ex Japan equities sales and account management. He holds an MBA from the University of Chicago.
This opinion article is part of Metrobank's Financial Education campaign series.
Read More Articles About:
Investment Tips
5 MIN READ
Finding the fit: How to tailor your financial portfolio
Creating a financial portfolio specific to your needs can help make sure your investments work for you. What should you be considering to get started?

In tailor-fitting their financial portfolios, high net-worth investors easily have access to a wide array of instruments and expert advice from their own portfolio managers, investment specialists, or even private bankers. But for smaller investors like most of us, such services are not available considering limitations on portfolio sizes and fees . This does not mean, however, that we should not enjoy a certain degree of tailor-fitting.
Creating a financial portfolio that suits your needs does not have to be time- or energy-consuming. Thanks to technology, retail investors can now accomplish online or in-app questionnaires to determine their profiles and they are immediately provided with the recommended asset mix suited to their needs and investment outlets.
Our local regulations ensure that financial institutions conduct suitability assessment to determine objectives, risk appetite, and financial sophistication prior to selling any investment product. Some institutions that cater to retail investors have designed model portfolios per investor type.
These are some of the questions that will lead you to the most appropriate portfolio: Who are you investing for? Who will make the decisions regarding the funds? What is your overall financial capacity? What are the financial objectives of your portfolio? How much is your loss tolerance? Do you need a professional to make decisions for you? What is your actual investment experience?
If you are just starting to build a financial portfolio, I recommend pooled funds such as Unit Investment Trust Funds or Mutual Funds that are managed by reputable institutions. These pooled funds allow small investors to access markets and investment themes. Because of the low minimum amounts required, you can create a combination of several funds according to the asset mix appropriate for your profile, thereby achieving your own tailor-fitting.

It is also beneficial to create several portfolios for your different objectives. For instance, one portfolio may carve out a certain amount for near-term liquidity needs, second portfolio may be constructed for long-term capital growth, and third portfolio can be for generating periodic income for household needs.
In building or choosing a suitable portfolio, you need to fully understand its component assets, the potential returns, and the risks involved. It needs to be consistent with your objectives, horizon, risk appetite, and sophistication level. You should also consider your personal preferences and beliefs in choosing investments.
Just like our measurements, our objectives, needs and circumstances also change. Hence, our investment portfolios need to be adjusted accordingly. You may have a new capacity and sophistication to expand exposure into new instruments or sectors. If certain securities or funds in the portfolio are under-performing for specific reasons, it may be beneficial for you to shift.
To keep your tailor-fit portfolio constantly working for you, conduct a periodic review. Assess whether it is performing within your expectations and understand what drove the gains or the losses. Always strive to educate yourself in markets as well. Establish benchmarks against which to evaluate the performance of your portfolio.
Whatever the situation, avoid simply chasing yields without understanding the mechanics, risks, and overall fit with your personal situation. Don't get into investments just because everyone else does. Understand first why they went into it. Their circumstances, objectives, and risk tolerance may be completely different from yours.
Don't get into an investment purely based on historical performance. Understand what factors led to such good performance, since they may no longer be true under current market conditions.
As a final advice, an investment portfolio is a personal choice. If your investment portfolio is keeping you up at night and is causing anxiety, then it may not be right for you. Work with something you can be comfortable with and the rest will take care of itself.
ANGELICA "JIKEE" REYES, CFA is Senior Vice-President and Head of the Metrobank Treasury Banking Group. She has oversight of balance sheet management and trading activities of the bank. Prior to her current role, she headed the bank's financial markets sales, brokering, structuring and risk advisory units.
This opinion article is part of Metrobank's Financial Education campaign series.
This article was first published on BusinessWorld.
Read More Articles About:
No Relief from Deficit Spending Yet
With the pandemic rolling into another year, deficit spending is not expected to ease any time soon.

Much ado about debt
Analysts have voiced concern about the Philippines' worsening debt-to-GDP ratio as it breached the 60%-mark. 60% – 70% is normally the debt sustainability range level accepted as benchmark for emerging market economies, as guided by the IMF-World Bank Debt Sustainability Framework. With ratings agencies closely monitoring the level, prolonged high ratio may be a recipe for a downgrade.
Prior to the pandemic, the debt-to-GDP ratio has been on a downtrend (Table 1). Actual debt dropped from a high of 71.6% of GDP in 2004 to a historic low of 39.6% in 2019. Through different administrations, economic managers' support for fiscal consolidation resulted to the Philippines eventually achieving investment grade rating. Unfortunately, Covid-19 threw a monkey wrench even to well-laid out plans.
Debt-to-GDP has consistently been on a downtrend during the pre-pandemic years
Table 1: Historical actual debt to GDP
(excludes guaranteed debt)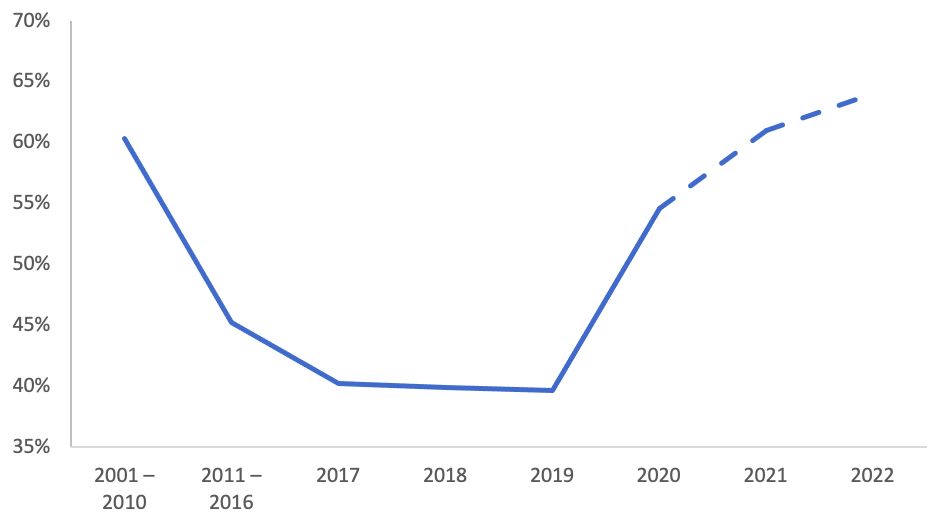 The debt stock jumped due to the elevated level of fiscal deficit incurred since last year. This situation runs counter to fiscal discipline and prudent debt management strategies that the country's economic managers have carefully crafted over the years. A report from the Bureau of Treasury (BTr) as of July 2021 showed total government debt amounted to P11.610 trillion or 41.25% higher than by the end of 2019.  Based on our own estimation using Metrobank's GDP forecast, by the end of 2021 the country's actual debt to GDP ratio will rise to (Table 2). By 2022, it will go up to 62% (Table 3).
The government is expected to keep debt ratio below 70% as it implements fiscal consolidation strategy
Table 2: 2021 estimated actual debt to GDP

Table 3: 2022 estimated actual debt to GDP

Consequently, ratings agencies have highlighted the weakening fiscal finances due to the pandemic and therefore increasing risks to the country's credit profile. Fitch Ratings, in a July 2021 release, revised its outlook for the Philippines from "stable" to "negative", citing risks to growth prospects in the medium-term and possible scarring effects due to the pandemic. The negative outlook implies the possibility of a credit rating downgrade, which can mean higher interest rates on external borrowings for the country (Table 4).
Philippines keeps investment grade rating for now.
Table 4: Philippine Credit Ratings

However, the events since the past year could not be considered as "normal." This extraordinary global occurrence needed extraordinary measures. The higher debt-to-GDP ratio could also be attributed to the shrinking of the economy due to the recession. We have posited in our April publication of the RADAR: Investment Grade, Stable Outlook Intact, prudent fiscal management, tax reform, and "good spending" by way of infrastructure spending will continue to anchor the Philippines' investment grade rating this year. Moreover, financing risk and debt position while elevated, remain stable. Still, we expect the government to keep the debt ratio below 70% as it begins fiscal consolidation.
While the debt-to-GDP ratio is commonly used as threshold indicator to determine debt sustainability, it is not an absolute indicator of a country's debt distress. Other factors should also be considered such as the source of debt (domestic-external borrowing mix), the currency of the debt (local vs. foreign), and the debts' maturity profile.
We look at recent data from the Bureau of Treasury (BTr). The share of domestic debt to total debt increased from 53.51% in 2010 to 67.68% in 2019, then 76.7% as of July this year. Peso denominated debt rose from 67.67% in 2019 to 70.45% as of July 2021. Increasing the share of domestic debt and local currency denominated debt reduces vulnerabilities from foreign exchange and external interest rates shocks, and liquidity risks stemming from foreign investor risk appetite.
In a 2002 study done by the IMF on debt sustainability (IMF, Assessing Sustainability May 28, 2002, p. 25), it was determined that an external debt-to-GDP ratio of 40% provides a useful benchmark. For a country with a debt ratio below this level (40%), the conditional probability of a debt crisis or correction is around 2-5%. Currently, based on an assumption of 4.5% GDP growth this year, the country's external debt-to-GDP ratio is 13.5%, way below the 40% benchmark (Table 5).
Table 5: Domestic debt vs External debt
With regard to the debt maturity profile, as of July 2021 medium to long term debt accounted for 86.7% of total debt. Given this, rollover risk is low as short term debt is only 13.3% of total debt (Table 6). We do note that short term debt increased from 6.1% in 2019 to the current level as the government has to raise much needed funds amidst market risk aversion.
Low rollover risk
Table 6: Philippine Debt Indicator (%)
On a medium-term horizon, as the economy recovers, GDP is expected to return to its pre-pandemic level and hopefully back to its growth trajectory. A bigger GDP and with fiscal consolidation in place, debt ratio will fall. However, this is not to paint a rosy picture of the economy going forward. Risks abound that may upend even the smartest of plans.
Next year, the country faces national elections that aside from upping political risk, this also means election period ban on public construction, throwing another roadblock to the government's infrastructure initiative. The government has been banking on its Build, Build, Build program to boost the economy. Other sources of fiscal risks are natural disaster and health emergencies, the Supreme Court ruling on the Mandanas petition, and the Unified Military and Uniformed Personnel Separation, Retirement and Pension scheme if not amended. These last three risks we discussed in our latest published RADAR entitled No Relief from Deficit Spending Part 1.
Despite the aforementioned risks, we remain optimistic. The recent lockdown may have less impact on economic activity, as people and businesses adapt to the situation, with businesses introducing new practices and consumers less cautious compared with 2020. As the vaccination rollout expands and gains momentum, giving more confidence to the government and the population to continue returning to pre pandemic activity, economic numbers should improve moving forward. GDP is expected to return to pre-pandemic level by the end of 2022.
In the meantime, the national government continues to raise funds for its pandemic response. Recently, the BTr issued 5 and 10 Year Retail Onshore Dollar Bonds targeted at individual investors. The 5 Year has a coupon rate of 1.375% while the 10 Year has a coupon rate of 2.25%. Rates are higher than market rates of prevailing dollar denominated debt of the Republic. This will be offered until October 1 and will settle on October 8. This is an opportunity to diversify and expand one's investment portfolio.
Read More Articles About:
Philippines Stock Market Outlook for 2022
Learn about the shifts that came in the Philippine stock market and the changes that are possibly about to come.

"
The BTS year.
Inflection point.
The dictionary defines this as a point of a curve at which a change in the direction occurs.  A reversal in sentiment is definitely what the market needs right now as the index is trying to play hide and seek with the 7000 level.  Perhaps change is indeed coming, soon.
In August, foreign funds turned net buyers for the first time in 21 months; the longest streak of outflow on record.  $32M is not big but should offer some reason to take a closer look at local stocks.  Back in the day when Benpres Holdings, San Miguel Corp, Lepanto Mining and even Saniwares were the rock stars of the stock exchange, foreign participation was the "D" problem because they dominated trading so much that the foreign ownership was constantly near the 40% limit.  Today, its "A" problem – a for absence.  Foreign ownership is down to sub-17%, the lowest on record.  Have they run out of stocks to sell?  Mathematically, no.  Realistically, yes.  By the way, August is the so-called ghost month, one of two weakest periods for stocks in a year, the other one being Feb.  So what got them excited?
August saw a reconstitution in the PSEi – the index which brought in fresh names AC Energy Corp.(ACEN) and Converge ICT Solutions, Inc (CNVRG) to the elite 30-company benchmark of the Phil stock market.  Booted out were DMCI and Emperador (EMP); no love lost there actually as these names have little, if not zero following.  The two newbies could be regarded as emerging blue chips owing to the business model.  ACEN is a renewable energy producer which has been the rave of investors both local and foreign.  It also fits nicely as an ESG play.  CNVRG meanwhile is the direct to home fiber internet provider whose relevance amidst the lockdown-induced home set ups, grew exponentially.  There's room for a third player in this segment after all.  The unorthodox move by the PSE in the recent index revamp fanned speculation over soon-to-be index companies like Monde Nisin (MONDE), Wilcon, (WLCON), Century Pacific Food (CNPF) among others.
Fresh themes in the market revived dormant spirits resulting to the extraordinary jubilant market in Aug; +9.35% for the month.  The e-wallet story, a defining catalyst in the economy, was featured in the jaw-dropping +46% surge in GLO's share price all on account of the pandemic buzzword: GCash!  TEL was not so far behind; PayMaya recently announced it secured a digital banking license from the regulator.  Telcos to remain relevant.
"
Fresh themes in the market revived dormant spirits
The Phil leads regional peers in earnings recovery outlook.  This is the latest assessment of Credit Suisse where the Phil is in the company of Korea and Malaysia as having the rosiest projections in 2022.  CS has been bearish on the Phils since maybe four years back, but has now turned "Overweight."  Dan Fineman, you're the man.  Entertained yet?
The 2022 elections are here.  All presidential elections after EDSA have always produced a window for making money; thats the 12 months prior and after the elections.
Is a reversal unfolding?  Climbing out of a pandemic is no easy task especially for a market that has been handicapped the last several years.  The market needs themes, stories and even conspiracy theories to feel alive again.  The things we mentioned can help but we need more solid stories such as ESG plays (AP, FGEN, MONDE and CNPF).  The REITs too have added spice to the market.
"
2022 will be a BTS year.  
We have another date with the ballot next year which will determine where we go in the next six.  Fresh themes will outshine the old economy but not totally push them to oblivion.  Then a shift to a new normal where the economy can return to its normal growth path.  If things fall into place, the PSEi could mount a return to the 8000 area in 2022.  Forgive me for sounding like all's well with PSEi which we think will end this year at 7300.  The fact remains the virus is still very much around and the economy is wobbly.  I understand everybody's pinning their hopes on the herd immunity status which will come sometime in 2H 2022.   No rush then, instead take your time to build your core positions, anchored on the themes mentioned.
Read More Articles About:
Investment Tips
2 MIN READ
Investment Path Advisory
Getting started on investments can be overwhelming, here are some guidelines that can help you carve your investment path.

Have you ever wondered about your investing activities? If you're a new investor, you'd probably have asked yourself multiple times, "How do I start?" or "What am I getting myself into?" For experienced investors, you'd probably have asked yourself the question, "Am I doing this right?" or "What else can I do from here?"
The thing is, there is no universal, strict rule on how to invest. In fact, if you search through Google now, there will be a ton of materials covering the topic with a lot of similarities, while some have differentiations that sometimes end up confusing people more on which ones to believe. Nevertheless, when you read through these rules of investing, try to remember Captain Barbosa in the movie, Pirates of the Caribbean: The Curse of the Black Pearl (2003), where he gleefully reasoned that "the code is more what you'd call 'guidelines' than the actual rules." No, I do not condone piracy or any kind of dishonest activity, but as you read through references that speak about investing, please take them with a grain of salt (this article included!). Always go back to your own situation as your situation will never be exactly the same as any other investor. 
Both in my studies and practice, I've gotten quite some ideas in responding to customer queries on how to go about managing investment portfolios. That's why I came up with a simplified method, an easy-to-remember set of guidelines one may say, on remembering your core reason for why you are investing. During times of doubts, envy, confusion, fear and anxiety, and more importantly in times of joy and confidence, always remember to stick to your own Investment P.A.T.H.
"
Always remember to stick to your own Investment P.A.T.H. 

Purpose of the Investment
Before anything else, let's define the term "investing". Investing is a purpose-driven activity where you match your financial decisions with your financial objectives. Before deciding anything for your investment funds, ask yourself the most important question: "What are these funds for?" Your wealth will always be allocated for something in the future – retirement, school funds, dream wedding, inheritance, house purchase, etc. People have the tendency not to think about these, and simply rest in the simple belief that idle money should earn. Although true, reflecting on the purpose set aside for specific portions of your wealth matter when it comes to the appropriateness of investments.
Further, there are some additional guide questions that can help you understand your purpose better. What are your financial goals? As an investor, do you require a specific practical hurdle rate over the next few years? How do I divide my wealth over the different financial goals that I have set?
I do need to emphasize further that age is only secondary to purpose when it comes to the suitability. For instance, traditional advisors would discourage retirees in investing in risky assets like equities due to the assumption that retirees have a shorter investment horizon. However, if the specific portion of wealth is identified to be for inheritance of the next generation, then the investment can weather riskier assets given the longer investment horizon. In contrast, young professionals should avoid taking huge risks if the identified portion of wealth is to be used for, let's say, purchasing a house within the next 2 years.
Appetite for Risk
Risk is technically defined as the probability of loss due to uncertainties. It may be too technical as a definition, but you can remember this simply: risk arises from uncertainty. The more you don't know, the more probable your losses will be. I try to make it simple by comparing it to driving in a new city. If you don't have a GPS or a map to guide you, you'll probably be more cautious in getting toward your destination – because of uncertainties.
Much like identifying the purpose or objective of the investment fund, it is equally important to know your expectations when it comes to risk. I know it's difficult to grasp the holistic concept of risk-taking for starts, but there are two (2) things you can easily remember: (1) Risk Capacity, and (2) Risk Willingness.
Risk capacity is your wealth's capacity to take in risk. In Filipino, this is your kakayanan ng bulsa. Your wallet can only take so much risk. If your investment funds are basically your life savings meaning you're left with nothing if you lose it, your capacity to take risk may be dampened a little. On the other hand, if your investment funds are a mere 5-10% of your total wealth, then risk can be at your side.
Risk willingness is your own capacity to take in risk. In Filipino, this is your kakayanan ng dibdib. No matter how wealthy you are, there is only so much risk you can appreciate. It's not your fault if you cannot stomach losses due to market volatilities.
These being said, if you get contradicting risk appetites between the above facets, always remember to stick to the more conservative one. Now, with the development of financial markets and investment environments, you may ask what to do or how to be more comfortable in understanding risks. This is where financial education plays its part. If you know more about what you're getting into, the more comfortable you will be in taking risks because you reduce the number of uncertainties you worry about.
Lastly, do not be blinded by the performance of other investors you see in social media or in your circle. Your portfolio is tailor-fit for your own objectives. Your risk profile may be different.
Time Horizon
In the field of investing, time is your friend. The more time you can commit to an investment, the more flexible your investment portfolio will be. Remember, however, that investing is a commitment. If you initially committed five years, it would always be best to stick to that – whether your portfolio is gaining or losing midway. Of course, if the investment objectives have been met, you may have the option to stop, step back, and rethink new investment strategies. Nevertheless, make sure to be comfortable with the time horizon you will set upon yourself.
By lengthening your time horizon, your investment portfolio has more room to take in more risk. The more time you have, the more time you can give risky assets, like equities, to realize investment returns.
Nevertheless, determining the comfortable or appropriate time horizon may also pose a challenge. Some guide questions you can ask yourself may include: How long am I willing to hold onto my investment/s? Will my purpose of the fund be fulfilled within the stated time horizon? Am I amenable to extend my time horizon? Based on the purpose of the fund, will an extension be feasible and for how much longer?
Hurdles
In investing your funds, there are other considerations that you need to take note. Tax concerns, legal challenges including estate management, availability of funds, and other unique circumstances should always be well-thought-out. You see, it is important that your investment portfolio also matches your own values and principles. It is of utmost importance that you only put your money in investments that you will be comfortable associating yourself with. For instance, if you are not comfortable with gambling, then do not invest in securities that fund its operations – no matter how big an opportunity it provides.
Conclusion
Although no guideline, rule, or technique can ever guarantee a positive rate of investment return in the future, the Investment P.A.T.H. grants you something more than any kind of investment return can offer – peace of mind. Since I started with quoting the Pirates of Caribbean, I'll just make the most of it. Captain Jack Sparrow did say "Not all treasure's silver and gold, mate." A good night's sleep knowing that you are earning enough investment returns corresponding the type of risk you're comfortable with is invaluable.
Establishing your Investment P.A.T.H. is challenging. Make sure to consult with your bank and investment partners, consultants, experts, and relationship managers so you will be guided with what would be best based on your profile. Once this is established, identifying investment decisions will be a lot easier.
One more note before I end, trading financial securities is an investing activity, but investing is not all about trading. There's a lot to say about this, but let's save that discussion for another time.
To end, if you feel doubts on your investment decisions…
If you find yourself confused on which decisions to make…
If you feel envious of the returns of others…
If you feel overjoyed about your gains…
If you are confident about a new investment…
… remember to stick to your Investment P.A.T.H.
Savvy?
Read More Articles About:
On Government Debt Thresholds: How Much is Too Much?
The public debt ratio is reaching the 60% threshold that is considered to be high-risk, but should you be worried?

Breaching debt thresholds set by external parties is not necessarily a big issue, and any discussion on debt has to be viewed within the context of the existing health crisis, the spending meltdown it has created, and the need to have government spending that (i) stimulates the economy and, more importantly, (ii) protects the population in an unprecedented pandemic. A strong fixation with debt to GDP levels may simply force a government to avoid incurring debts needed to fund vaccines or other public health measures and also leave the economy alone to its own devices and stagnate for lack of stimulus, contrary to sound economy theory and practice.
"
Is there an ideal debt-to-GDP ratio?
Putting debt into context
The pandemic has pushed the public debt ratio closer to the 60% threshold that was previously considered as dangerous or high-risk for many emerging markets (EMs) including Philippines, India, and Indonesia. Across EMs in Asia, the average debt/GDP ratio rose to 55% in YE 2020 from 47% before the pandemic.
The GDP massively fell so that by itself increases the debt/GDP ratio. Furthermore, given the need to keep the economy afloat via massive stimulus spending, it is only natural that debt would rise.
Chart 1: Debt to GDP Ratios: Emerging Markets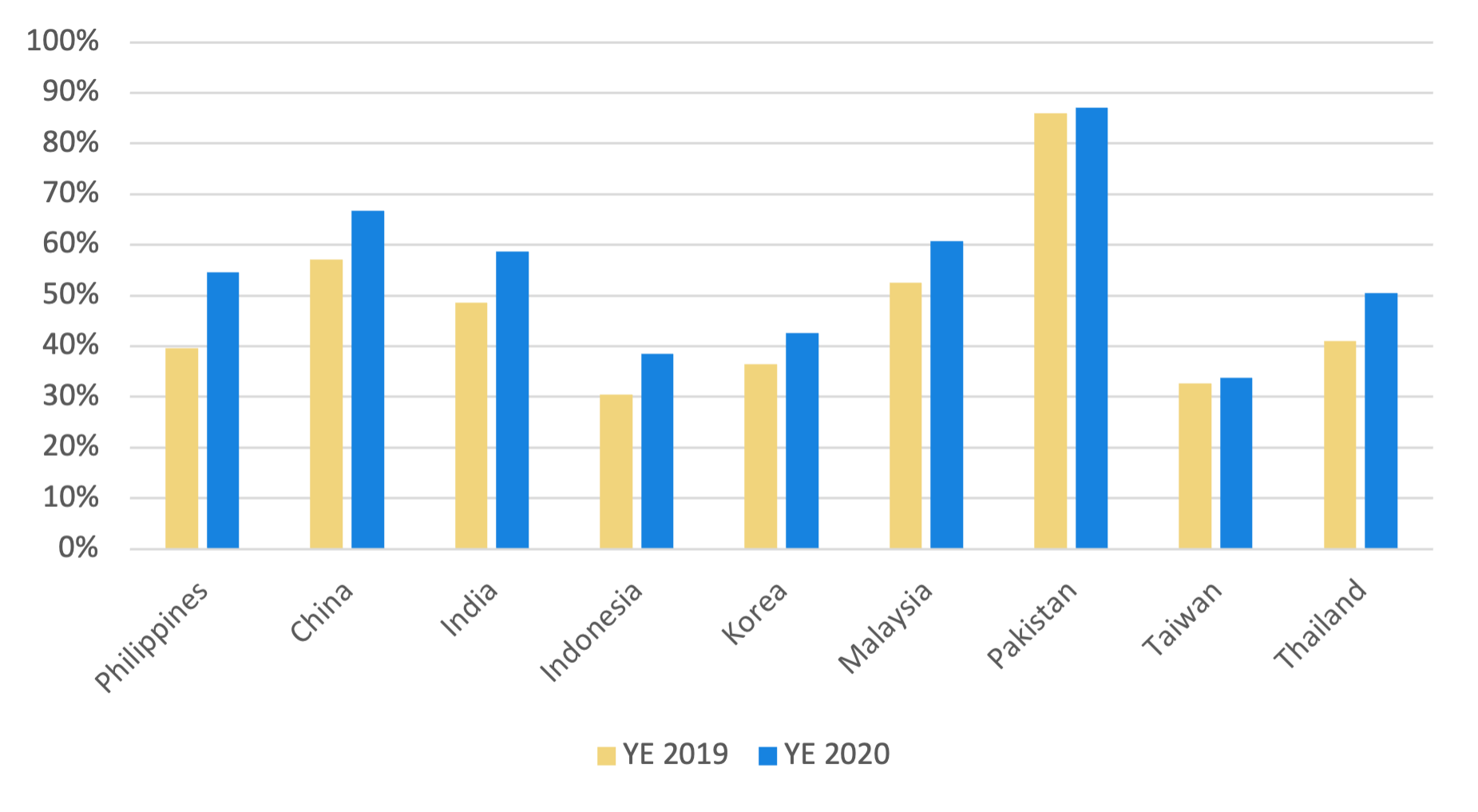 Why is there a sixty percent threshold?
A 60% threshold was the limit set by the European governments at the onset of 1990s for developed countries to prepare for economic and monetary union and the eventual formation of the euro zone. These thresholds were later adopted by global credit rating agencies, that if breached, could prompt a credit rating downgrade.
It should be noted though that the 60% debt level was imposed on EU countries that would adopt the euro as its official currency to replace their own currencies (deutschmark, francs, etc.). Such countries could not "print euros" upon monetary union and in this sense, the euro is like a foreign currency to them. Thus, the 60% debt to GDP ceiling for the euro zone should be treated as a "foreign currency debt" or "external debt" ceiling for such countries as they could not print their own currency to pay their way out of debt denominated in euros.
However, for countries that borrow in their own currency, that is, in currencies they themselves create, such as in Japan and the US, their debt to GDP ratios are way higher than 60%, with Japan at 237%, the US at more than 106%, and even Singapore at more than 109%.*  Yet these countries are by no means basket cases and continue to thrive despite their high debt loads mainly denominated in their own currencies.
"
Why breaching the 60% debt limit is not worrisome?
The Philippine public debt is projected to hover around 60% of GDP in the medium-term which is still considered manageable and sustainable for the reasons below.
Majority of the debt is sourced domestically which is a more sustainable borrowing mix in relation to foreign borrowings. This is so because peso debt is just paid in the currency that the country creates. Foreign debt, on the other hand, requires a foreign exchange buffer that is accumulated by earning and building foreign reserves (called GIR- see below), as the country cannot print such currencies on its own.
Healthy gross international reserves (GIR) level ($106.5 Bn fx reserves as of end-July) that are bigger than the external debt (more below). This means there won't be any balance of payment crisis since the external debt can be easily paid from existing reserves.
Manageable external debt ($97 bn as of March). As a solvency indicator, external debt-to-GDP ratio went up to 27.2% in the Q1 2021 vs 21.4% in 2020 and is projected to decline to below 23% in the medium term. The country's external debt-to-GDP ratio is one of the lowest in ASEAN. As reported by BSP, we are still in a healthy position to service foreign borrowings in the medium to long-term amid the pandemic.
Low borrowing costs and longer horizon debt, for both domestic and foreign debt, the longer debt horizons to avoid short term cash crunches and thus, problematic liquidity calls.
Expected economic rebound and fiscal consolidation would lower the debt burden as GDP goes back up.
Still have fiscal space. As of March 2021, World Bank and IMF sets the public debt threshold at 70% of GDP for advanced and emerging market economies. Debt stock as of end-June 2021 stood at 60.4% from 39.6% pre-pandemic.
Should there be a limit in the first place? 
Putting a cap on debt is counterproductive, especially when the pandemic is still upon us, i.e., there is already a crisis and a premature withdrawal of proactive fiscal expansions could put us in an even much worse position.
In essence, debt accumulation is not worrisome as long as interest rates were fixed at low rates, the debt is used for productive capacity (infra projects and yes, health measures to protect the country's biggest asset, its people), external debt is balanced off by FX flows and GIR, and the projected economic targets are achieved. These should help bring down debt to GDP levels gradually over time, and more importantly, bring about progress for the country.
An International Monetary Fund (IMF) study emphasized that the so-called 'debt limit' "is not an absolute and immutable barrier nor should the limit be interpreted as being the optimal level of public debt". Breaching 'debt limits' is not necessarily an indication that a financial crisis is imminent and should not be interpreted too narrowly. The overall context is even more important than these limits, which mean nothing by themselves.
*https://worldpopulationreview.com/countries/countries-by-national-debt.
Read More Articles About: